Homemade Pork Rinds
by KetoFocus.com
Best homemade chicharrones recipe
This fresh, homemade pork rind recipe makes crunchy and airy pork rinds (aka chicharrones) for a tasty, better-than-store-bought snack!
If you're less than impressed with the rancid and stale store-bought pork rinds, then this recipe will become a new favorite! There are a few special steps to this recipe, like boiling the skins, that keep them light and airy, not rock hard like some homemade recipes turn out.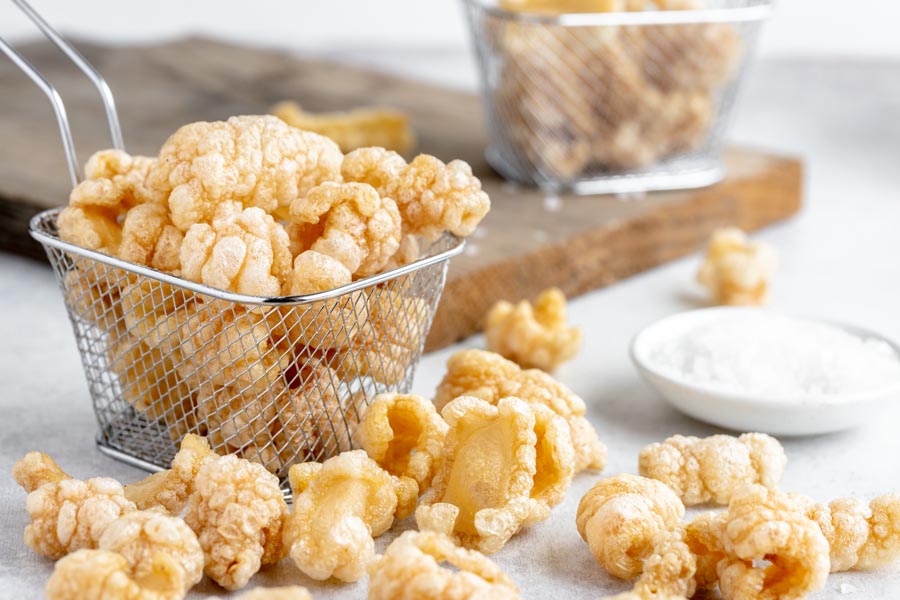 By taking an extra step to remove the excess fat on the skin, you'll watch them puff up like popcorn in the oil for a seriously light and airy crunch.
Pork rinds are the perfect chip replacement whether you are on a low carb diet or just eat normally. They easily sub in for tortilla chips to snack on alone or scoop up a hefty portion of million-dollar dip or 7-layer dip. Plus, if you have leftovers that you want to use up, these crunchy pork chicharrones can be pulverized to make "breadcrumbs". Use them to coat chicken for crispy chicken tenders or to get crunchy, gooey fried mozzarella sticks.  A pork panko breading adds unique flavor to pickle chips cooked in the air fryer.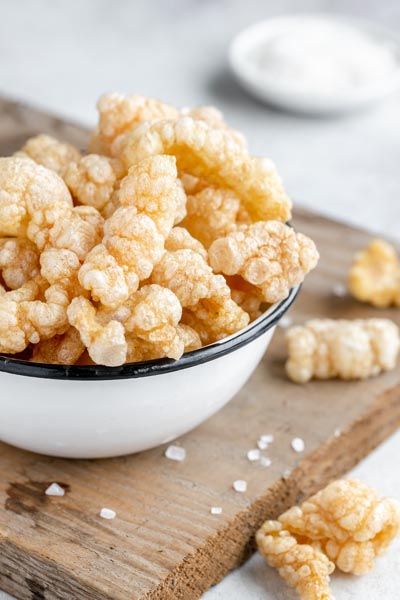 What are chicharrones
Chicharrones or pork rinds are boiled, seasoned, dried, and deep-fried pork skins. The result is a crispy and savory snack that can easily be eaten alone, dipped into your favorite dips, or crunched up and used as keto breadcrumbs. They're the perfect high protein snack food!
It's not difficult to make your own pork rinds. Each step is relatively simple to do. The overall process just requires time. 
Remove the pork skin. If starting with skin-on pork belly, detach the pork skin from the fat using kitchen shears or a sharp knife. Try to remove as much of the fat possible, cutting close to the skin. 
Cut into pieces using kitchen scissors or a knife. Don't have to get to precise with the sizing: 1 x 1- inch squares or 1 x 2-inch strips are fine.
Boil the pork skins in salty water for 30 minutes to soften the collagen in the skin. Then strain off water.
Trim away excess fat from the pig skin. Fat should easily cut or slide off now that it has melted in the boiling water.
Season and dry pork skin pieces in a 200 degree oven for 4 hours.
Fry in lard or an oil with a high smoke point for 2-3 minutes.
Season again.
Subscribe to the KetoFocus YouTube Channel
With 100s of videos and millions of views, Ketofocus is one of the most popular Keto channels on YouTube.
Pork Rinds Ingredients
1-2 lbs pork skin (or ~ 6 lbs skin-on pork belly)
1-2 teaspoons salt + more for seasoning
avocado oil or lard for frying
Homemade Pork Rinds Directions
If starting with pork skin, you can skip this step. If starting with pork belly with the skin on, cut the pork belly into 1 inch strips. Using kitchen shears or a sharp knife, cut the skin away from the fat, cutting as close to the skin as possible without cutting through the skin.

Quick Tip
A little bit of the fat will remain attached to the pork skin. This will come off during the boiling step.

Cut into bite sized pieces

Using kitchen shears or a sharp knife, cut the pork skin strips into bite sized pieces, either 1 x 1 inch strips or 1 x 2 inch strips.

Boil pork skins to soften them

Fill a large pot halfway with water. Add 1-2 teaspoons of salt and pork skins to the water. Bring to a boil. Let boil for 30 minutes, stirring occasionally.

Quick Tip
You will notice some of the fat that was attached to the pork skin begin to melt off. Boiling the pork skins helps to soften the collagen so they aren't so hard when you bite into them.

Remove from the heat and pour the water off of the pork skins by straining it through a colander.

Once the pork skins are cool enough to handle, trim away any excess fat from the skin. Take a paring knife and scrap or slice the fat off the skin of each piece. It's okay if a little bit of the fat remains. These edges just might be a little softer and may not puff up as much.

Quick Tip
Boiling the pork skins doesn't always remove all of the fat but it makes it easy to remove.

Scatter the pork skins on a large baking sheet lined with parchment paper or foil. Sprinkle salt or desired seasoning. Toss to evenly coat. Then evenly space the pork skins on the tray so they don't touch each other. Place them skin side up.

Bake at 200 degrees for 4 hours. Once done baking, remove from the oven. This is a stopping point where you can store your dried pork skins overnight in an airtight container.

Quick Tip
Slowly baking at a low heat will help to dry the skins and release more fat or oils locked into the skins. Fats and oils will cause the pork rinds to not puff fully or get crunchy and crispy.

To fry, fill a large saucepan with 1-2 inches of avocado oil, lard or any other oil with a high smoke point. Heat oil to 350 degrees.

Once oil is hot enough, gently drop in a few pork skins by lowering them into the hot oil with a slotted spoon. Gently stir to help separate the pork skins to keep them from sticking to each other. After a few seconds the pork skins will start to pop like popcorn corn and puff up into a crispy pork rind. Let them cook for 2-3 minutes, gently stirring to ensure they are cooked through and will remain crispy. Pulling them right after they puff will cause them to deflate a bit and they won't be as crunchy. Once they are done cooking, remove them with a slotted spoon and transfer to a paper towel lined plate. Season again if needed. Repeat with remaining pork skins.

Quick Tip
Store in a plastic or paper bag at room temperature.