Keto Ramen
by KetoFocus.com
A Tiktok ramen recipe made keto
Straight from the kitchens of TikTok, this famous ramen recipe has twist using keto ramen noodle, butter, garlic, red pepper, sweetener and Everything Bagel Seasoning. It's the perfect combo of spicy, sweet and savory.
Another TikTok food hack that you have to try. Just like baked feta pasta and White Claw Slushies – this recipe went viral for a reason. It is uniquely delicious!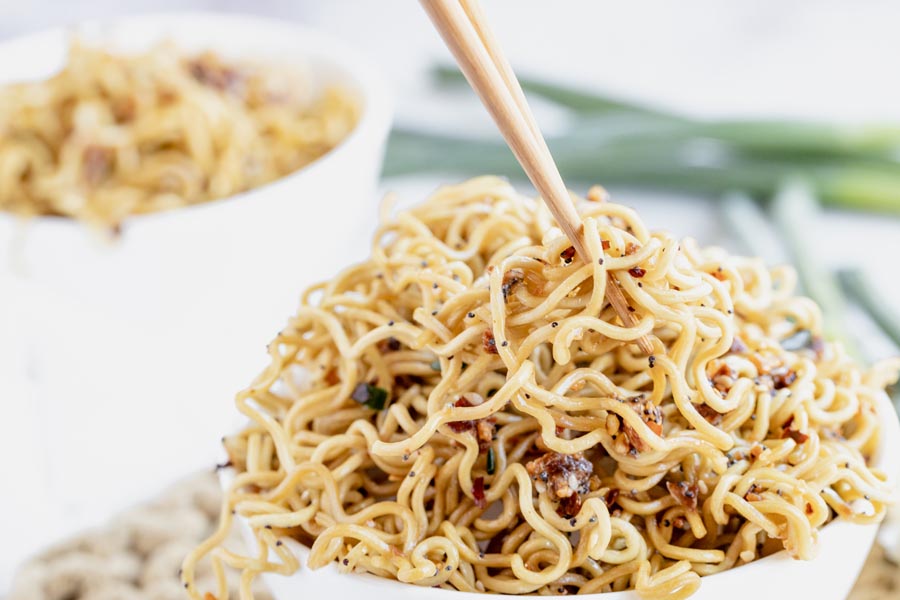 I guilty of watching TikTok but the only reason I do is for the food. It has some of the most innovating recipes on there and I love turning them into keto creations! The keto ramen is one of them. Add simple ingredients like butter, garlic, red pepper flakes, sweetener and everything bagel seasoning makes the perfect spicy and sweet, savory sauce to drench in keto ramen noodles.
Melt butter in a skillet.
Add seasonings – garlic, red pepper flakes, brown sugar free sweetener and Everything Bagel Seasoning. Stir until fragrant.
Add keto ramen noodles.
TikTok Ramen Recipe Video
Subscribe to the KetoFocus YouTube Channel
With 100s of videos and millions of views, Ketofocus is one of the most popular Keto channels on YouTube.
Keto Ramen Directions
Discard the spice packet that comes with the keto ramen noodles. Add noodles to a medium saucepan filled with water and bring to a boil. Boil for 3-4 minutes or until noodles have softened. Strain noodles to remove the water. Set aside.

To a medium skillet, melt butter over medium heat. Stir in garlic and red pepper flakes and cook until fragrant. Stir in brown sugar sweetener, everything bagel seasoning and soy sauce (if using).

Add the cooked ramen noodles to the skillet and stir to evenly coat sauce on the noodles.

Quick Tip
Consider adding other add-in ingredients like egg, sliced green onion or sesame seeds.