Air fryer hard boiled eggs
by KetoFocus.com
The easiest method to cook perfect hard boiled eggs is in the air fryer. You will never use a pot and stove top again!
Nutrition Facts
Serving Size:
1 hard boiled egg
Eggs are one of the most popular breakfast foods. It's easy to prepare them, you can fix eggs in a variety of ways – from fried, boil, scrambled and poached and they pair perfectly with other breakfast foods like bacon and sausage.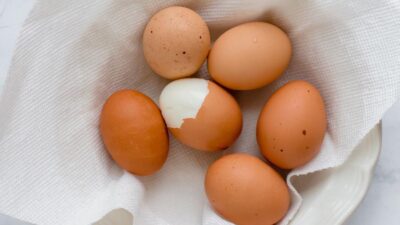 Depending on the way you cook your eggs, they all have different cooking times and techniques. Making boiled eggs on the stovetop can require a watchful eye to make sure your water is boiling and to know when your eggs should come out to prevent overcooking. Also, it's not convenient to walk away from a stove with the burner on.
Instead, many have started using other methods to make a hard boiled egg that allow you walk away and speed up the cooking process so you get perfectly cooked eggs every time. The instant pot is a favorite but the air fryer is quickly becoming America's favorite appliance and cooking hard boiled eggs in the air fryer is simpler than even using your Instant Pot!
How to make hard boiled eggs in air fryer
Add eggs to the basket or tray of the air fryer.
Air fry at 250-260 degrees for 15 -25 minutes depending on how you like the eggs cooked.
Immediately transfer cooked eggs to an ice water bath. The cold water will stop the cooking process and make the eggs easier to peel. 
Let cool for 5 minutes before peeling the air fryer boiled eggs.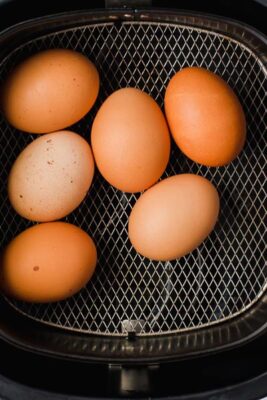 Air Fryer Hard Boiled Eggs Recipe Video
Subscribe to the KetoFocus YouTube Channel
With 100s of videos and millions of views, Ketofocus is one of the most popular Keto channels on YouTube.
Air Fryer Hard Boiled Eggs Ingredients
Air fryer hard boiled eggs Directions
Layer eggs on a metal rack or trivet in the air fryer.

Quick Tip
It's okay for the eggs to touch and stack as long as there is room for hot air to flow around.

Air fry at 250-260 degrees for 15 minutes for a soft boiled egg. 20 minutes for medium-boiled eggs. 25 minutes for hard-boiled eggs.

Quick Tip
The cold water will make it easier to peel off the shell from the hard boiled eggs.

Let cool for 5 minutes before cracking and peeling the shell off.