Grilled Dry Aged Tomahawk Steak
by KetoFocus.com
The most impressive ribeye steak grilled to perfection
A tomahawk steak is iconic rib steak with a long rib bone handle perfect for holding as you gnaw on this juicy ribeye like a true carnivore. Grilled dry aged tomahawk steak is the ultimate way to feast and make the best steak ever.
One of the most impressive cuts of beef is the tomahawk steak. Sure, there are other tasty cuts of beef and ways to prepare it like sous vide steak or grilled smash burgers. But the tomahawk is in it's own class.
The tomahawk is a cut of rib steak that has a long bone of at least 6-8 inches attached. It serves as a handle like a giant lollipop made for a true carnivore. This is one cut of steak you may want to reserve for a special occasion but I'd enjoy this juicy steak any day!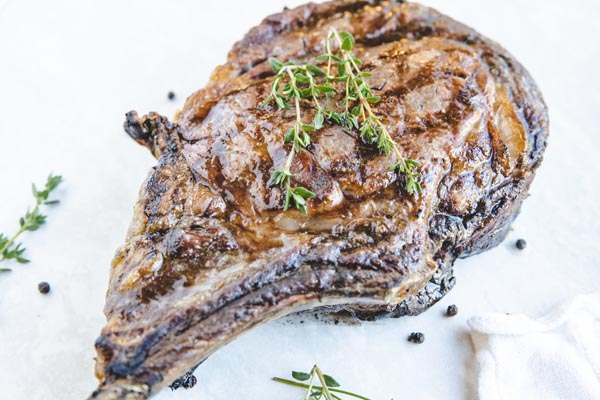 How to grill a tomahawk steak
The cooking method of this Tomahawk steak is opposite to that of a traditional steak. Generally, we will sear the steak and after cooking it, but in this case, since the Tomahawk is thicker, we will cook it first over direct heat and grill it at the end on the cooler side of the grill.
Season your tomahawk ribeye steak on all sides with kosher salt and black pepper. Some people will even uses a little bit of olive oil; however, this is not necessary. Season the ribeye steak at least 2 hours before grilling.
If you are using the direct heat method, sear your steak on the gas grill or charcoal grill at high heat for a few minutes. Sear on all sides.
Then move to the other side of the grill grate and cook on indirect heat until steak reaches an internal temperature of 125 degrees for the perfect medium rare steak or continue cooking tomahawk steak until your desired level of doneness.
Subscribe to the KetoFocus YouTube Channel
With 100s of videos and millions of views, Ketofocus is one of the most popular Keto channels on YouTube.
Grilled Dry Aged Tomahawk Steak Ingredients
Grilled Dry Aged Tomahawk Steak Directions
Season the tomahawk steak

Season all sides of the tomahawk steak generously with salt and pepper at least 2 hours before grilling. Recommended to salt a thick ribeye steak around 6 hours to overnight for optimal salt penetration. Store in the refrigerator until ready to cook; however, let steak come to room temperature before grilling. Insert a meat thermometer into the steak.

Quick Tip
Optional, but garlic salt and olive oil can also be used for additional flavor to this ribeye.

Preheat the grill to at least 500 degrees. Grill the tomahawk ribeye over direct heat for about 1 minute each side (cook the edges too).

For indirect grilling, move steak to indirect heat until the internal temperature reaches 125 degrees.

Quick Tip
Cooking your steak to 125 degrees will give the perfect medium-rare doneness.

Pull the steak off the grill and let rest about 10 minutes or until the internal temperature of the meat thermometer reaches 135 degrees.