Keto Hard Seltzer Strawberry Slushy
by KetoFocus.com
A keto white claw slushie is a boozey blended sugar free cocktail filled with juicy strawberries and hard seltzer. This slushy is perfect for hot summer days by the poolside.
Summertime is the perfect time to enjoy a blended sugar-free cocktail especially if you are lounging by the pool or camping with your family. This recipe for keto hard seltzer strawberry slushy is an easy cocktail you can blend up for yourself and your friends and you enjoy a smash burger. The inspiration for this sugar-free alcohol drink comes from TikTok. It has been overloaded with videos of White Claw slushies, so I figured I should show you how to make a keto version of this fun cocktail.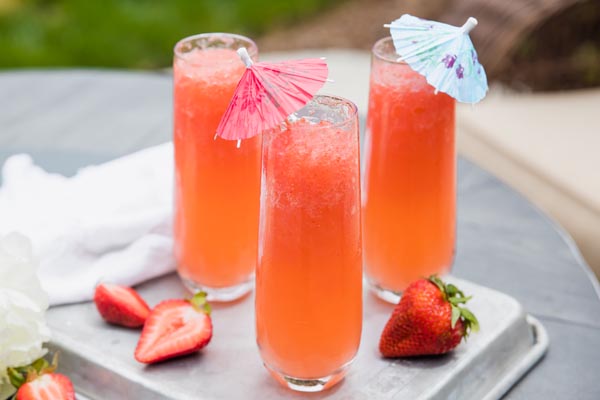 The ingredients are simple. You can use fresh or frozen strawberries, or another favorite frozen fruit that is keto friendly. You will also need sugar-free ginger ale, hard seltzer and ice to make this delicious keto strawberry frozen cocktail.
How to make a white claw slushie
Add ice, frozen or fresh fruit, sugar free ginger ale, sweetener and hard seltzer to a blender
Blend until smooth.
Pour into your glass and insert an umbrella. Enjoy!
Subscribe to the KetoFocus YouTube Channel
With 100s of videos and millions of views, Ketofocus is one of the most popular Keto channels on YouTube.
Keto White Claw Slushie Ingredients
Keto Hard Seltzer Strawberry Slushy Directions
Add 3 cups of ice to a blender.

Add frozen strawberries to the blender.

Pour in sugar-free ginger ale.

Pour in two cans of hard seltzer.

Blend until smooth. Serve immediately.