Egg White Wraps
by KetoFocus.com
A gluten-free keto wrap made out of eggs
With just two ingredients, you can make these delicious zero-carb egg white wraps to replace tortillas in any of your favorite recipes!
Tortillas are perfect for holding all sorts of delicious food together, but with 30 grams of carbs or more per wrap, they just don't have a place in a keto or low carb diet. These egg white wraps look just like real tortillas but without any of the carbs! They're an Egglife wrap copycat, just more economical because they are cheaper to make than the store bought wraps.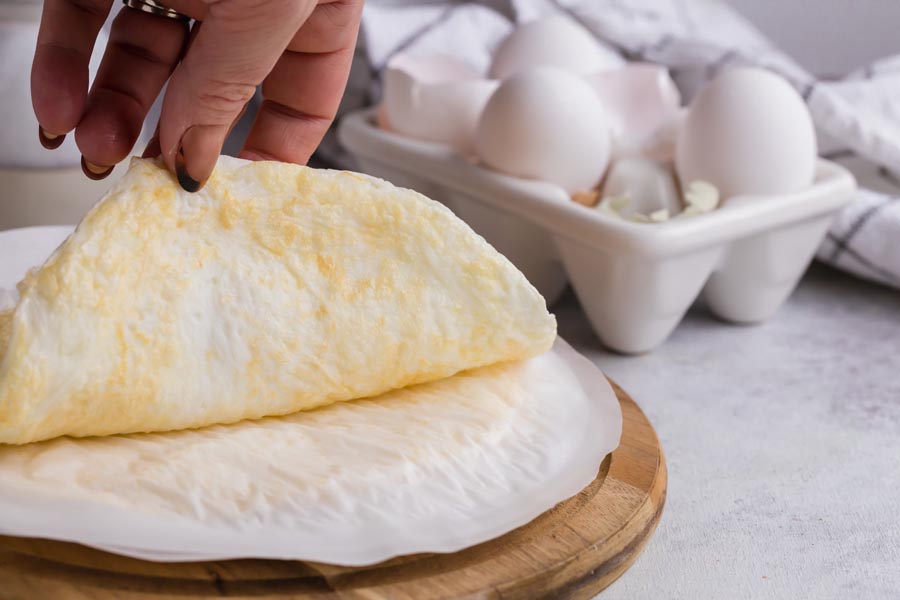 With only two ingredients and zero carbs, this recipe is the perfect budget-friendly choice for replacing tortillas and other wraps or noodles. Plus, you can make them as big as you want, depending on the size of your skillet. I use a medium-sized, 8-inch skillet, but you can use a 10-inch skillet for burrito-sized wraps or a small 6-inch skillet for small wraps that would be perfect for tacos or small quesadillas.
Use these keto wraps to make enchiladas, sandwich wraps, or even use as noodles in keto lasagna. If you're sticking to breakfast, make a breakfast taco by adding more eggs, bacon, and cheese as a filling.
How to make egg white wraps
Mix egg whites and protein powder or xanthan gum in a blender until foamy.
Pour ⅓ cup of the mixture into a non-stick skillet. Swirl the pan to coat an even layer around the bottom of the skillet
Cook the keto egg wrap for 1-2 minutes each side.
Remove the wrap from the skillet and repeat two more times with the remaining egg mixture.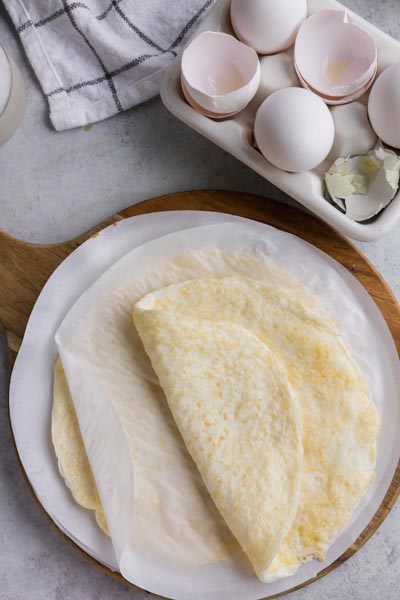 Key ingredients & substitutions
Egg whites – You can use liquid egg whites or remove the yolks yourself. If using eggs, save the yolks to add to scrambled eggs or some homemade mayonnaise to go in your wrap.
Protein powder – Any unsweetened, unflavored low-carb protein powder will work. This protein powder is zero carbs.
Xanthan gum – In this egg white wrap recipe, either protein powder or xanthan gum can be used as a thickener and for stability. Using xanthan gum is a more affordable option.
Egg White Wraps Recipe Video
Subscribe to the KetoFocus YouTube Channel
With 100s of videos and millions of views, Ketofocus is one of the most popular Keto channels on YouTube.
Egg White Wraps Ingredients
Egg White Wraps Directions
Heat a small non-stick skillet (6 inches) over medium low heat. Spray with cooking oil.

Quick Tip
Can use larger skillets for larger wraps.

In a blender, mix egg whites and protein powder or xanthan gum until mixed and mixture has foamed a bit.

Ingredients

1 cup liquid egg whites
2 tablespoons protein powder or 1/4 teaspoon xanthan gum

Quick Tip
Can use protein powder or xanthan gum.

Pour ⅓ cup mixture into the preheated skillet. Swirl pan in order to coat an even layer around the bottom of the skillet. Let cook for 1-2 minutes, then flip and cook the other side for additional 1-2 minutes. Remove from heat and place wrap on a plate. Repeat with remaining egg mixture.

Quick Tip
If egg wraps are sticking together, separate them with a circle of parchment paper.