Keto Crunchwrap
by KetoFocus.com
A Taco Bell favorite turned keto
A copycat version from Taco Bell, this keto crunchwrap supreme tastes better than original and way less carbs!
Nutrition Facts
Serving Size:
1 crunchwrap
Crunchwrap Supremes are a tortilla pillow filled with seasoned ground beef, nacho cheese, sour cream, lettuce, more cheese with a corn tortilla inside the pillow that gives this Taco Bell favorite it's iconic crunch that we love.
Between the flour tortilla, the corn tortilla and nacho cheese sauce, it's not exactly keto. Luckily, it's easy to make your own keto crunch wrap using keto tortillas and a crunchy keto tostada shell. With this keto Taco Bell recipe you can make up a bunch of crunch wraps to enjoy throughout the week!
How to make crunchwrap supreme
Make keto tostada shells using almond flour, protein powder, xanthan gum, salt and water. Use a tortilla press to flatten them and fry in avocado oil until stiff and golden brown.
Lay down a large tortilla.
Add a few scoops of taco meat to the center.
Top with melted nacho cheese sauce.
Add the crunchy tostada shell on top.
Spread on sour cream and top with lettuce, tomato and cheese.
Top with a final soft tortilla that is the same size as the tostada hard shell.
Fold your large tortilla over the top to form a pocket.
Spray a skillet with cooking oil and heat over medium heat.
Place crunchwrap supreme seam side down and let cook for several minutes until golden brown, flip and fry the other side.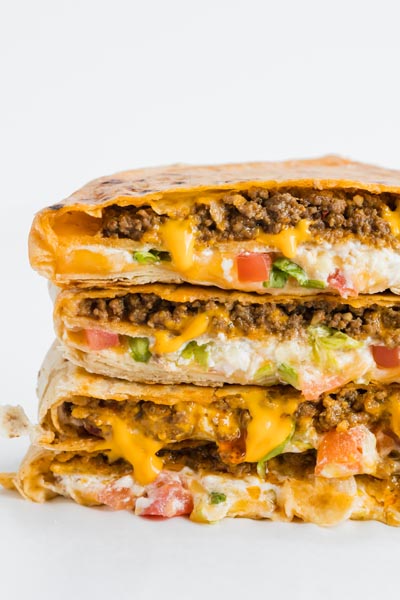 What is in a crunchwrap supreme?
A Taco Bell Crunch Wrap Supreme contains the following:
Flour tortilla
Seasoned ground beef
Nacho cheese sauce
Hard corn shell
Sour cream
Shredded lettuce
Diced tomatoes
Shredded cheese
Keto Crunchwrap Recipe Recipe Video
Subscribe to the KetoFocus YouTube Channel
With 100s of videos and millions of views, Ketofocus is one of the most popular Keto channels on YouTube.
Keto Crunch Wrap Supreme Ingredients
Keto Crunchwrap Directions
In a large skillet, add avocado oil and heat over medium high heat. Add ground beef, break up with a spatula and let cook until browned. Stir in taco seasoning and pour in 1/4 cup of water. Turn down heat to low, cover and let simmer for 5 minutes.

Tostada shells: dry ingredients

To a small bowl, whisk together almond flour, protein powder, xanthan gum and salt.

Ingredients

Almond flour
Protein powder (low carb or zero carb)
Xanthan gum
Salt

Tostada shells: form dough

Stir in hot water and mix until a dough ball forms. Divide the dough into 8 even balls.

Quick Tip
Easiest to cut the dough ball in half, then quarters, and so on.

Using a tortilla press or a rolling pin, place a ball of dough in between two parchment circles and press or roll out to a thin circle.

Ingredients

Tortilla press
parchment circles

Quick Tip
The thickness of the tostada should be the same as a tortilla. Leave tortilla sandwich between parchment circles for storing if needed.

Tostada shells: get them crispy

To a medium skillet, add enough avocado oil to fill the bottom of the skillet 1 cm from the bottom (just enough so the tortilla will submerge while frying) and heat over medium heat. Once oil is hot, peel off the parchment paper from each side and place in the oil. Press down tortilla with a spatula and let fry for 2-3 minutes or until golden brown. Flip over and fly the other side for 1-3 minutes until golden brown, hardened or almost hardened. Remove from oil and place on a paper towel lined plate to dry. Repeat with remaining shells.

Quick Tip
The shells will continue to harden as they dry and cool.

Scoop about 1/3-1/2 cup of taco meat in the center of the large tortilla.

Quick Tip
Don't add too much seasoned beef or the crunch wrap won't fold.

Nacho cheese and tostada shell

Drizzle melted 2 tablespoons nacho cheese sauce on top of the beef and top with the tostada hard shell.

Ingredients

Nacho cheese
Keto tostada shell

Quick Tip
Nacho cheese sauce is optional. You could use store bought; however, the carb count may increase.

Spread 1 tablespoon sour cream on top of the tostada shell. Then top with 1/2 cup shredded lettuce, diced tomatoes and 1/4 cup shredded cheese.

Ingredients

Sour cream
Shredded lettuce
Diced tomato
Shredded cheese

Place the small tortilla on top of the ingredients and fold the ends of the large tortilla to meet the small tortilla.

Spray a medium skillet with cooking spray and heat over medium heat. Place keto crunch wrap in the skillet seam side down and let cook for 2-3 minutes or until it starts to brown and the seam is set (meaning your crunch wrap won't fall open). Flip and fry the crunchwrap on the other side for 2-3 minutes or until golden brown. Cut in half and serve.