Keto Skillet Lasagna
by KetoFocus.com
This one pot dish is perfect for busy weeknights when dinner needs to be on the table is less than 30 minutes. Keto skillet lasagna has all the meaty, creamy layers of a classic lasagna combined into one skillet. Sheets of low carb, gluten-free noodles made from hearts of palm round out this family loving keto dinner.
Low Carb Skillet Lasagna Recipe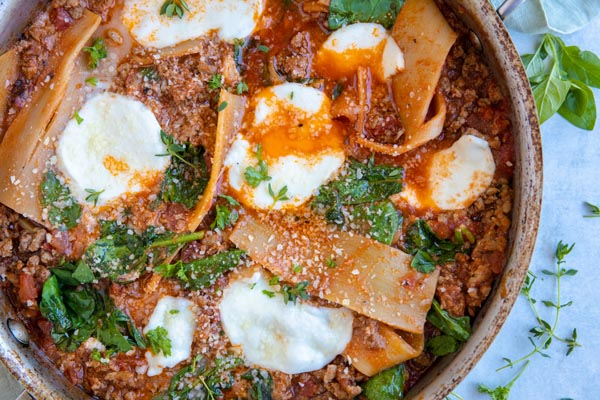 If one of the reasons you visit my website is that you are in need of family friendly, easy keto recipes, you came to the right recipe!
This keto skillet lasagna recipe can be made in less than 30 minutes and this creamy, cheesy, beefy lasagna will surely please all palates. Even the pickiest of eaters will love this take on classic keto lasagna.
This versatile beef lasagna recipe is quick to prepare in one pan or skillets. Throw in all your ingredients and dinner is served! Clean up is a breeze too because you didn't dirty every dish in your house either.
You can still enjoy the savory flavors of your favorite Italian dish using special keto noodles are are easy to prepare and incorporate into this low carb one dish wonder!
Keto Skillet Lasagna Recipe Video
Subscribe to the KetoFocus YouTube Channel
With 100s of videos and millions of views, Ketofocus is one of the most popular Keto channels on YouTube.
Keto Skillet Lasagna Ingredients
1 pound ground sausage
1 pound ground beef
2 teaspoons italian seasoning
1 teaspoon salt
2 clove garlic, minced or 1 teaspoon garlic powder
14 oz canned crushed tomatoes
1/2 cup tomato sauce
9 oz Natural Heaven Hearts of Palm Lasagna Noodles
2 cups fresh spinach leaves
1/2 cup ricotta cheese
4 ounces fresh mozzarella cheese, sliced
1/4 cup grated parmesan cheese
Keto Skillet Lasagna Directions
Add ground sausage and ground beef to a preheated skillet and cook over medium-high heat until browned, about 5-7 minutes. Add Italian seasoning, salt and garlic. Mix until combined.

Stir in crushed tomatoes and tomato sauce. Bring to a boil.

Add hearts of palm lasagna noodle. Reduce heat and simmer, covered for 20 minutes, stirring occasionally.

Stir in spinach and ricotta cheese. Top with mozzarella slices. Cover and remove from heat. Let stand for 5 minutes, then top with parmesan cheese.