Keto Wonderbread Chaffle Sandwich
by KetoFocus.com
You can easily enjoy a sandwich on the keto diet - make a keto chaffle sandwich! This chaffle bread tastes like Wonder Bread and makes the perfect sandwich when piled with cold cuts, cheese, lettuce, and tomato. The crispy outside and fluffy inside make it such an enjoyable dish to eat! If you want the perfect recipe, then just keep reading. Pair it with a bowl of soup for a satisfying soup and sandwich lunch.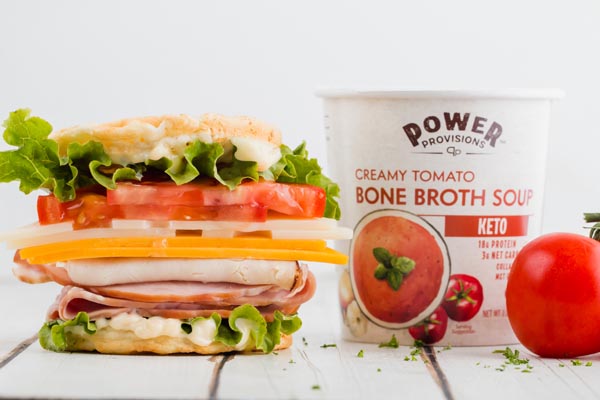 Lunchtime just got a whole lot better now that you can make a keto sandwich and slurp some creamy tomato soup with it! It's easy to make keto sandwich bread when you have a waffle maker. It only takes a few minutes to make and you will be chomping down into a keto chaffle sandwich that tastes like Wonder Bread with all your favorite cold cuts, cheese, lettuce and tomato sandwiched in between. It's the best thing since sliced bread.
A chaffle is a keto waffle that is made of up of mostly egg and cheese. In this chaffle sandwich recipe, we add a few different ingredients to give the chaffle bread a flavor similar to white bread.
Instead of using a whole egg, we use two egg whites. This yields a fluffy chaffle that reminds me of thick fluffy slices of sandwich bread. Just add almond flour for flavor!
We also use mayonnaise as the fat instead of cheese. This helps to give the chaffle sandwich bread more of the Wonderbread flavor.
Subscribe to the KetoFocus YouTube Channel
With 100s of videos and millions of views, Ketofocus is one of the most popular Keto channels on YouTube.
Wonderbread Chaffle Ingredients
2 egg whites
2 tablespoons almond flour
1 tablespoon mayonnaise
1 teaspoon water
1/4 teaspoon baking powder
pinch of salt
Sandwich Components Ingredients
2 tablespoons mayonnaise
1 slice deli ham
1 slice deli turkey
1 slice cheddar cheese
1 slice of tomato
1 leaf of green leaf lettuce
Keto Wonderbread Chaffle Sandwich Directions
Preheat waffle maker. Mix all the wonder bread chaffle ingredients (egg whites, almond flour, mayonnaise, water, baking powder and salt) in a small bowl.

Pour 1/2 the batter into the waffle maker and cook until set - about 3 to 5 minutes.

Cook the white bread waffle

Remove the waffle once finished cooking. Repeat with remaining batter.

Spread mayonnaise on one side of each sandwich bread chaffle. Layer on cold cuts, tomato and green leaf lettuce.