Lettuce Wraps
by KetoFocus.com
Easily enjoy a sandwich without the bread
Lettuce Wraps are a gluten-free, low carb replacement for a sandwich made with bread. Using this technique to roll your lettuce wrap, you can easily enjoy a wrap filled with your favorite deli meats, veggies, and cheese without it all falling out of the lettuce leaves.
Lettuce wraps can be made with all kinds of meats, vegetables, and sauces. Instead of using bread, we use lettuce leaves as a wrap! It's the original way of using something other than bread to make a sandwich or wrap. Since then, we have discovered that bell pepper can be used, like this bell pepper sandwich as another tasty lunch option.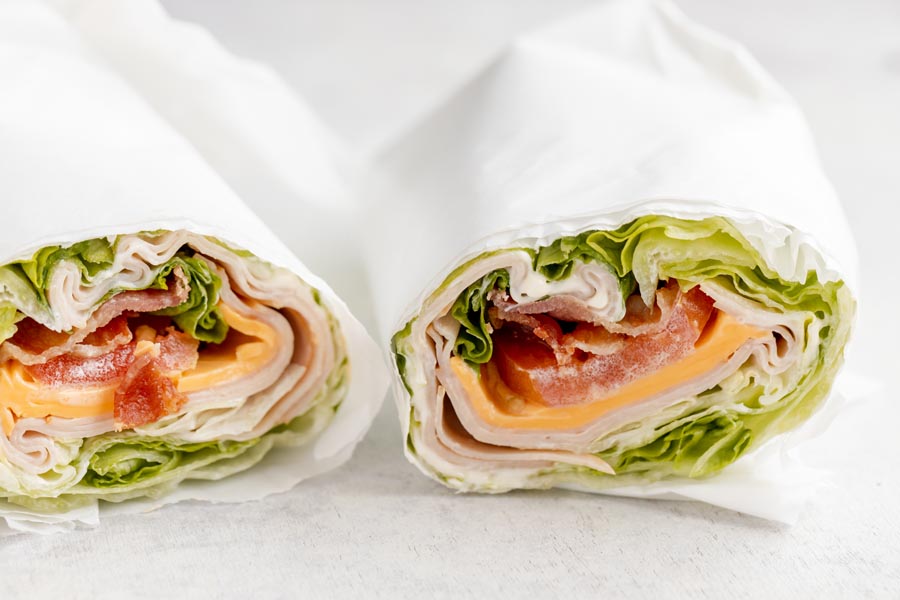 This version of a lettuce wrap is special because of how it's wrapped. One of the downsides of eating a lettuce wrap is that it comes undone as you eat it. Using parchment paper angled a certain way and strategically rolling the lettuce leaves ensures that nothing falls out of this wrap.
They are easily customizable, and you can add or remove your favorite ingredients depending on what you have on hand or what you like best.
This is the perfect crunchy snack or weekday lunch. It's easy to make, and your kids will love it!
How to make lettuce wraps
These lettuce wraps are wrapped differently, so they are tight and mess-free. Here is how to put them together.
Cut iceberg lettuce in half and remove the core. Wash lettuce and let dry completely.
Layer 8 large leaves of the lettuce in a small rectangle on top of two sheets of parchment paper.
Spread on the mayo.
Layer down meats, cheese, tomato, and bacon. Or other sandwich fixings that you love. 
Roll and tuck until the lettuce wrap is wrapped tightly.
Cut in half to serve.
To eat: Peal back the parchment paper of the lettuce wrap as you eat.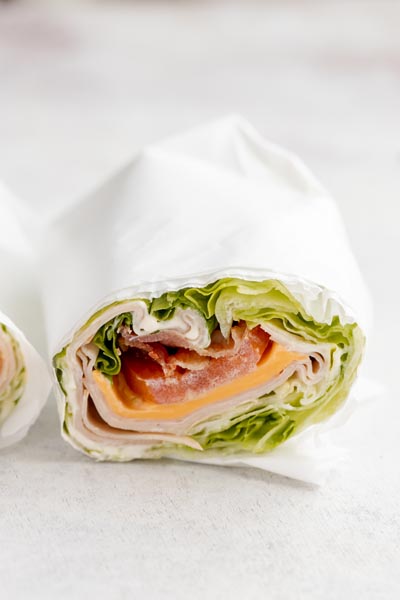 Key ingredients
The ingredients for this lettuce wrap recipe are the makings for the perfect club wrap. You'll most likely have them in your fridge already, but if not, you easily can get them from your local grocery store. Again you can customize these ingredients to your liking and I have variations listed below.
Iceberg lettuce: This crunchy lettuce is perfect for making wraps. It is very low in calories, high in water content and fiber.
Mayonnaise: Spread a little mayo on the lettuce to ensure it all sticks together. Use avocado mayo for a healthy mayonnaise option.
Turkey: Sliced turkey is a great addition.
Ham: You can get any variety of sliced ham that you'd like from the deli section at the grocery store. Look for sugar free options if low carb.
Cheese: Thinly sliced Colby jack or cheddar cheese pairs nicely with the other ingredients.
Tomato: Fresh tomatoes make these wraps sweet and juicy.
Bacon: Crispy bacon gives this dish a rich flavor that everyone will love.
Lettuce Wrap Recipe Video
Subscribe to the KetoFocus YouTube Channel
With 100s of videos and millions of views, Ketofocus is one of the most popular Keto channels on YouTube.
Lettuce Wrap Ingredients
8 large leaves of Iceberg lettuce
2-3 tablespoons mayonnaise
2 slices deli turkey meat
2 slices deli ham
2 slices cheddar cheese
2 slices tomato
2 slices fully cooked bacon
Lettuce Wraps Directions
Lay down two sheets of parchment paper on top of each other.

Cut & tear lettuce leaves

Cut iceberg lettuce in half and remove the core. Wash lettuce and let dry completely.

Layer 8 large leaves of the iceberg lettuce in a small rectangle on top of two sheets of parchment paper.

Spread on mayonnaise, mustard or whatever condiments you choose to use. Layer down meats, cheese, tomato, bacon and/or other vegetables, meats and cheeses.

Roll one corner of the parchment papers and tuck it tightly over the sandwich. Then start rolling and tucking at the same time. Before you get to the end, tuck in the edges and continue the roll until the end.

Cut lettuce wrap in half to serve.