Keto Yogurt
by KetoFocus.com
Making your own keto yogurt at home is not only more budget friendly than buying store bought yogurt, but this low carb yogurt tastes better too!
This keto yogurt recipe is not just for the DIYer or homesteader. Anyone can make up a big batch of creamy yogurt that can be used as a base to create any flavor of yogurt you can imagine. Not only will you be able to enjoy keto yogurt for breakfast or as a treat but you can use this plain yogurt when you make my recipe for keto rolls or carrot cake.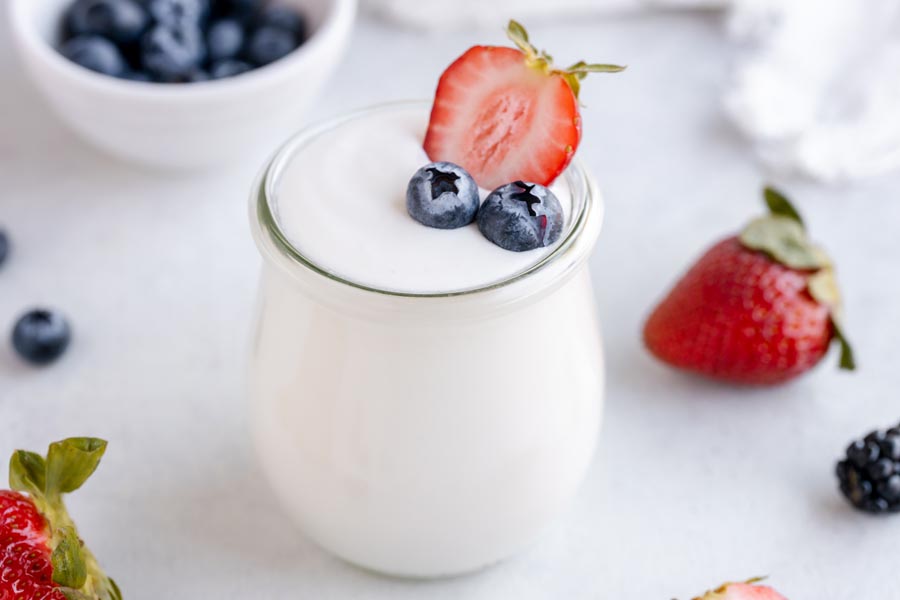 From strawberry yogurt to lemon meringue pie or peach yogurt, it's easy to make varieties of yogurt flavors from plain keto yogurt.
Three ingredients and an Instant Pot is all you need to create a silky plain yogurt that is only 3.5 g carbs per 5 oz serving. You don't even need the Instant Pot with the yogurt button. In this recipe, I give instructions for making homemade yogurt in the Instant Pot without the Yogurt button.
To make a high-fat keto yogurt, use all or half heavy whipping cream to the recipe. Each 5 oz serving will be 346 calories and 32 grams fat. This is a great option for those looking to increase their fat macro to help keep you full.
To make a lower calorie keto yogurt, use all ultra-filtered milk. Each 5 oz serving will be 96 calories and 5.1 grams of fat. 
Gently warm the milk to 180 degrees Fahrenheit. Gently heating the milk to this temperature will help to kill off any bad bacteria that could be lingering around. After adding ultra-filtered milk and heavy whipping cream to the liner of the instant pot, gently heat by pressing the "yogurt" button. Or if your instant pot doesn't have a yogurt button, press the "keep warm" button and let sit for 40-45 minutes. Then press "sauté" and let heat until a thermometer reads 180 degrees.

Some yogurt makers, will say you can do cold start yogurt making if you are using ultra-pasteurized milk. Cold start yogurt is where you don't heat the milk to 180 degrees to kill off bacteria. Using the pasteurized milk, it is assumed that all of the bad bacteria is gone, but you be the judge.

Let cool to proper incubation temperature. Remove the liner from the Instant Pot and let the mixture cool until it reaches 110-112 degrees. This is the ideal temperature for good bacteria cultures in the yogurt starter to propagate growth.
Add yogurt starter culture and let incubate. Add about 1/4 cup of plain yogurt with live cultures, whisk and place lid on the instant pot. Press the "yogurt" button again and the instant pot will maintain the ideal temperature for culture growth. If you don't have a yogurt button, then wrap your instant pot with a towel or sleeping bag to help insulate it. Let incubate 8 hours.
Store in the refrigerator.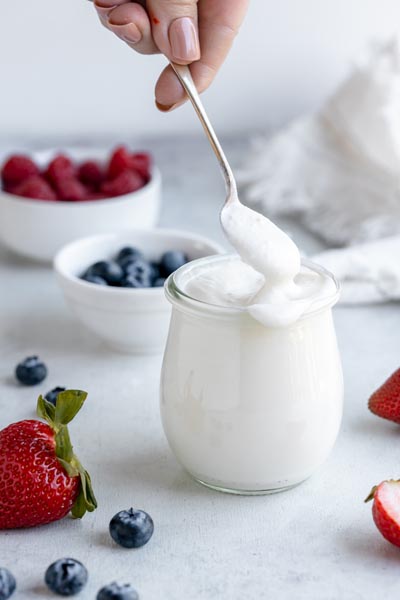 Key ingredients
Whole milk – Although you could just use regular ultra-pasteurized milk, I recommend using ultra-filtered, ultra-pasteurized milk. Milk that has been passed under pressure through a thin, porous membrane to separate out the majority of the sugars and lactose in the milk. The milk I recommend is by Fairlife. It's best to use ultra-pasteurized milk to ensure the milk is clean and doesn't contain bad bacteria that could incubate in the culture.
Heavy whipping cream – Another way to lower the carbohydrate and sugar amounts in homemade yogurt is to use heavy whipping cream. Heavy cream is very low in carbs. Generally, there are 0.3 grams of carbohydrate per tablespoon of heavy whipping cream. Again, use ultra-pasteurized cream.
Yogurt – The easiest way to make yogurt is from yogurt. Make sure the yogurt you are using is plain and contains live active cultures. Some yogurts don't contain live cultures, so read the label!
Equipment needed
Instant Pot (try to find the one with the yogurt button, but you can still make yogurt in the Instant Pot without the Yogurt button. See instructions below)
Subscribe to the KetoFocus YouTube Channel
With 100s of videos and millions of views, Ketofocus is one of the most popular Keto channels on YouTube.
Flavored Yogurt (5-6 Oz Serving) Ingredients
Keto Yogurt Directions
Add 32 oz ultra-filtered, ultra pasteurized whole milk and 32 oz of ultra pasteurized heavy whipping cream to the liner of an instant pot. (For a lower calorie, lower fat option, use 64 oz whole milk only.) Put the lid on and seal closed. Instant Pot with Yogurt Button: Press the "yogurt" button. Instant pot will slowly heat the milk up to 180 degrees. If your Instant Pot doesn't have a Yogurt Button: Press the "keep warm" and heat milk for 40-45 minutes. Remove the lid and press "sauté". Insert a candy thermometer and heat milk until it reaches 180 degrees F.

Ingredients

32-64 oz whole milk
32 oz heavy whipping cream (optional)

Quick Tip
Heating the milk to 180 degrees Fahrenheit will kill any lingering bad bacteria.

Remove the liner from the instant pot and place on cooling rack or pad to cool. Let milk cool to 110-112 degrees. DO NOT let the temperature drop passed 110 degrees or else your yogurt cultures may not grow.

Quick Tip
If a film develops on top of the yogurt, you can skim it off.

Once the milk temperature has lowered to 112 degrees, whisk in the yogurt. Replace the lid. Instant Pot with Yogurt Button: Press the "yogurt" button. The Instant Pot will maintain the ideal temperature for incubation. If your Instant Pot doesn't have a Yogurt Button: Turn off the Instant Pot. Wrap the Instant Pot with a large beach towel or sleeping bag to help insulate and let sit at room temperature for 8 hours. Insulating the pressure cooker, will help to keep it at the ideal temperature to allow the yogurt to grow.

Once the yogurt is done incubating, scoop into Mason jars and store in the refrigerator. The yogurt will continue to thicken as it cools.

Quick Tip
If there is thinner liquid on top of the yogurt mixture, you can either pour it off to yield a thicker yogurt or stir it into the mixture to make a thinner yogurt.

Make flavored keto yogurt

To make flavored yogurt, portion out 5-6 oz of yogurt in a small bowl. Stir in powdered sweetener, flavoring extract and 1-2 drops of food coloring (if using).

Ingredients

1/2 teaspoon powdered sugar-free sweetener
1/4 teaspoon flavoring extract
food coloring (optional)