Keto Chocolate Chip Yogurt Popsicles
by KetoFocus.com
Yogurt popsicles are a great way to cool off on hot summer days. These keto yogurt bars are sweet, chocolatey and sugar free!
Summer isn't summer without popsicles. These keto yogurt popsicles are an quick and easy way to enjoy a creamy frozen treat when the weather is hot. It's like eating ice cream but without all the calories or carbs.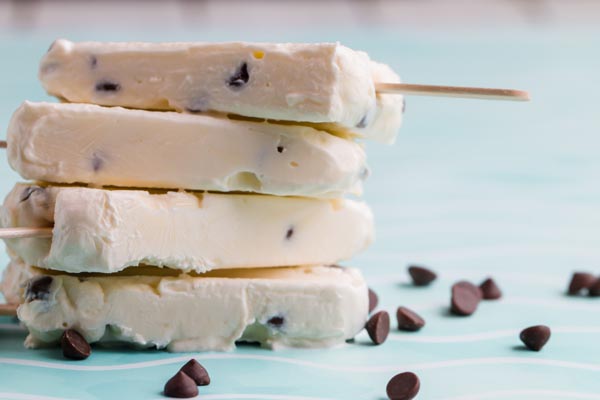 Plus, with just three ingredients – yogurt, sugar free sweetener and chocolate chips – you can easily fit this recipe in your busy keto lifestyle. And this yogurt pop recipe doesn't mess with other stuff like coconut milk or cream cheese which are often found in other keto yogurt bar recipes.
Subscribe to the KetoFocus YouTube Channel
With 100s of videos and millions of views, Ketofocus is one of the most popular Keto channels on YouTube.
Keto Yogurt Bars Ingredients
Keto Chocolate Chip Yogurt Popsicles Directions
Add low carb yogurt, sweetener and chocolate chips to a small bowl. Stir to combine.

Spoon yogurt mixture into popsicle molds or place yogurt mixture into a piping bag and squirt into the popsicle molds. The later is less messy and preferred.

Insert popsicle stick and freeze yogurt bars overnight or until frozen.