Frozen Yogurt Bark
by KetoFocus.com
Frozen yogurt bark makes a delicious keto snack to beat the heat in the hot weather. You can customize your bark by adding berries and coconut to low sugar or greek yogurt, it makes a refreshing make ahead treat or healthy snack to keep a batch always ready in the freezer.
Not only tasty and healthy, but the frozen yogurt bark recipe is also quick to prepare. The creative snack lets you use a range of ingredients to create fun flavors.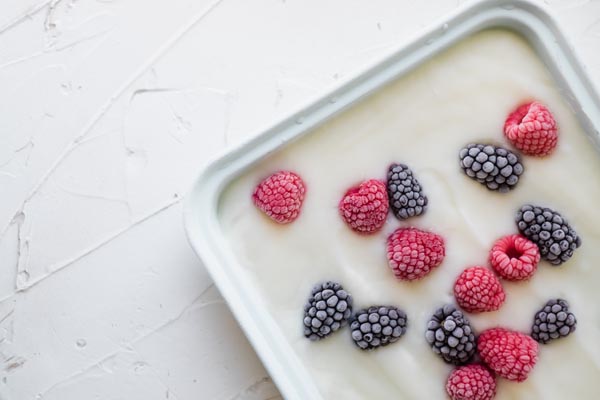 This yogurt bark starts by using yogurt (low carb or Greek yogurt) as the base. Then berries and coconut are added for flavor, extra crunch and color. You can even add coconut flakes, chocolate, nut and even sugar-free syrup. After all, what is this homemade summer dessert if not a cool fruity treat!
Frozen yogurt bark is the perfect substitute to ice cream when you are craving something frozen and sweet.
Subscribe to the KetoFocus YouTube Channel
With 100s of videos and millions of views, Ketofocus is one of the most popular Keto channels on YouTube.
Frozen Yogurt Bark Directions
Line a baking tray with parchment paper.

Spread yogurt on top of the parchment paper.

Sprinkle on berries, coconut flakes, chocolate chips or nuts if using. Freeze for 2-4 hours or overnight.

Once yogurt bark has hardened, break into small or large chunks. Store in the freezer when not eating.