Keto Panna Cotta
by KetoFocus.com
A sweet and creamy dessert - perfect to serve at any dinner party! This is an easy creamy keto panna cotta made from low carb yogurt and nut milk.
Keto panna cotta uses low carb yogurt and gelatin to create the perfect smooth, creamy jello texture. This delicious, low carb treat is ideal for anyone with a sweet tooth!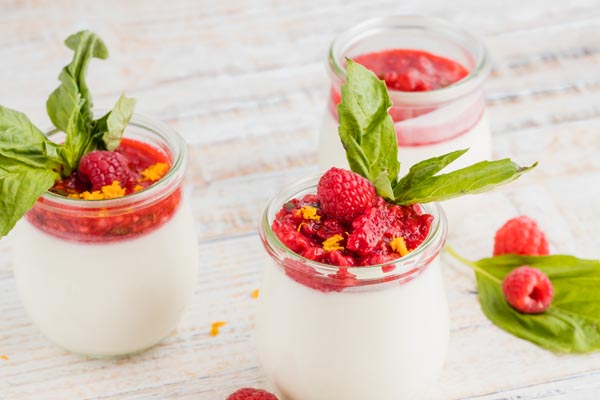 Our panna cotta is topped with an orange basil raspberry syrup for a delicious twist. This is such an easy dessert option and it takes less than 20 minutes to prepare. It takes more patience waiting for it to set!
Keto panna cotta is the perfect dessert to serve after dinner if you are having guests over as it is sweet, low in carbs and always a crowd pleaser. Everyone will be asking for the panna cotta recipe after and raving about it to their friends!
This silky dessert is super versatile as you can make it with various toppings and flavors.
Keto Panna Cotta Recipe Video
Subscribe to the KetoFocus YouTube Channel
With 100s of videos and millions of views, Ketofocus is one of the most popular Keto channels on YouTube.
Keto Panna Cotta Ingredients
Raspberry Orange Basil Sauce Ingredients
1 cup raspberries
3 tablespoons monkfruit blend sweetener
zest from one orange
5-6 basil leaves, minced
2 tablespoons water
1 teaspoon xanthan gum
Keto Panna Cotta Directions
Pour 1/4 cup coconut milk in a small bowl and sprinkle in gelatin. Set aside for 10 minutes.

Start the panna cotta base

In a large saucepan, simmer the remaining milk over low medium heat. Add sweetener and stir to combine. Add gelatin mixture and whisk vigorously until dissolved. Remove from heat and add vanilla.

Stir in yogurt. Divide into serving dishes and refrigerate for 3 - 4 hours until set.

Add berries and sweetener in a saucepan. Cook over medium heat until berries have softened and released their juices. Add basil, orange zest, water and xanthan gum. Cook for 5 minutes until thickened. Spoon over set panna cotta.