Creamy Feta Dressing
by KetoFocus.com
A twist on traditional salad dressing, this creamy feta dressing will soon become your favorite topper to leafy greens and vegetables. The fresh dill and cumin provide a unique flavor to this tangy dressing.
When following a strict keto diet, you indulge in lots of greens — garden salads, celery snacks and veggie sides. Why not jazz these up with a creamy feta dressing?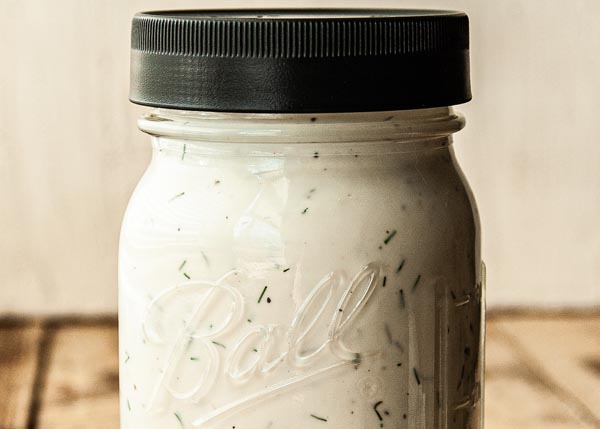 This recipe calls for a majority of yogurt, feta cheese, and vinegar (or substitute with lemon juice) with tiny amounts Worcestershire sauce, garlic, cumin, ground mustard, salt, and black pepper. To top it off, you will drop in a pinch of dill (or dill leaves) and a splash of cream or milk. Then, all you have to do is seal the lid to your container and shake up your ingredients! A stirring method will also do, but it is much less fun.
This creamy feta dressing is so versatile. You can use this keto salad dressing as a sauce or a dip — put it on homemade gyros (using keto flatbread, of course) for your on-the-go lunch or low carb crackers with olive oil into a big bowl at a party. I love it as a Greek salad dressing with Kalamata olives.
Subscribe to the KetoFocus YouTube Channel
With 100s of videos and millions of views, Ketofocus is one of the most popular Keto channels on YouTube.
Keto Feta Dressing Ingredients
1 cup plain low carb yogurt
4 oz. feta cheese, crumbled (½ a block)
1 clove garlic, minced
2 tablespoons of heavy cream or nut milk
1 tablespoon fresh dill, chopped
½ teaspoon white vinegar or lemon juice
½ teaspoon Worcestershire sauce
Pinch ground cumin
Pinch ground mustard
½ teaspoon salt
¼ teaspoon black pepper
Creamy Feta Dressing Directions
Add yogurt, crumbled feta cheese, minced garlic, cream or nut milk, dill, vinegar, Worcestershire sauce, cumin, ground mustard, salt and pepper to a mason jar a medium bowl.

Tightly fasten a lid on the mason jar if using. Shake the jar for 1-2 minutes or until all of the ingredients are incorporated. Serve on your favorite salad, spoon onto homemade keto gyros, or serve as a dip with fresh veggies.