Bacon Wrapped Brussel Sprouts
by KetoFocus.com
Make everyone a fan of brussel sprouts by wrapping them in bacon and add a hint of sweetness
Wrapping bacon around a brussel sprout and coating it with maple syrup will turn the pickiest of eaters into a huge fan of these bacon wrapped brussels sprouts.
Nutrition Facts
Serving Size:
1 brussels sprout
Not everyone is a fan of brussels sprouts. They can be bitter, but to offset that, we wrap them in bacon. Bacon makes just about anything taste better, like bacon wrapped cod – it makes it taste like lobster. Or get any kid to eat their vegetables when you make bacon and green beans.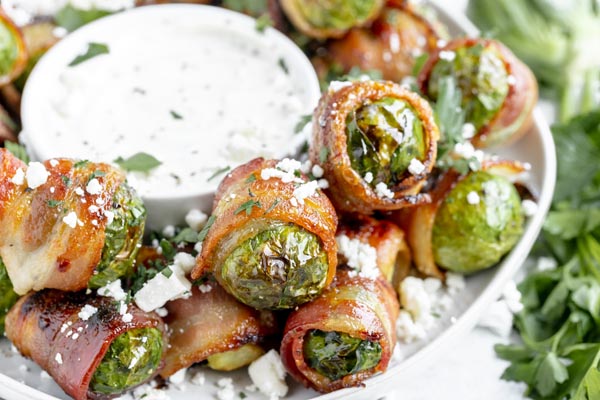 Bacon wrapped brussels sprouts make a crowd pleasing appetizer – you will be amazed how fast these disappear at holiday parties or game day. They are a bite sized explosion of flavor! As the crispy bacon bakes, it infused the roasted brussels sprouts with flavor. The maple syrup caramelizes and adds sweetness to balance out the salty bacon. With only 3 ingredients needed, you can make these in less than 30 minutes!
How to make bacon wrapped brussel sprouts
Wash and trim the brussels sprouts.
Toss brussels sprouts in salt, pepper and oil.
Cut each strip of bacon in half.
Brush maple syrup on one side of each half strip of bacon.
Wrap bacon around each brussels sprout place on a baking sheet or in the air fryer basket.
Brush a dab of maple syrup on the top of each bacon wrapped brussels sprout.
Bake or air fry.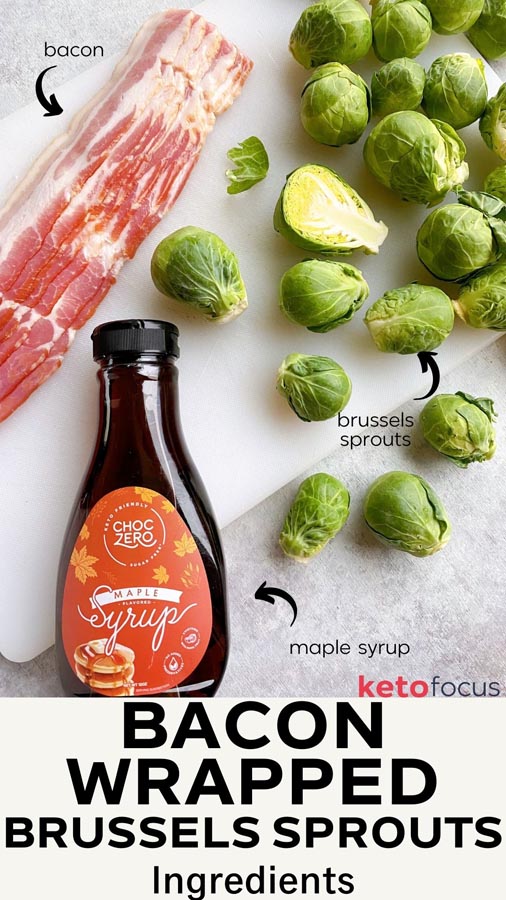 Key ingredients
Brussels sprouts – I usually grab the bag of pre-washed and trimmed brussels sprouts. Make sure the ends of your brussels sprouts are cut and any unsightly leaves at torn off. Give a one more good wash before cooking and let them dry.
Bacon – You can use regular, center cut or thick cut bacon. Isn't not necessary to par-cook the bacon. It will cook all the way through as it bakes and your be left with crispy bacon.
Maple syrup – Adds a hint of sweetness to balance the salt bacon and will caramelize as it bakes. Sugar free maple syrup can be used. You can also substitute a brown sugar substitute for the maple syrup.
Bacon Wrapped Brussel Sprouts Recipe Video
Subscribe to the KetoFocus YouTube Channel
With 100s of videos and millions of views, Ketofocus is one of the most popular Keto channels on YouTube.
Bacon Wrapped Brussel Sprouts Ingredients
Bacon Wrapped Brussel Sprouts Directions
In a large bowl, toss brussels sprouts with 1/4 teaspoon salt and pepper and a splash of avocado oil or olive oil.

Using a knife, cut down the center of 14 strips of bacon to cut them in half. You will be left with 28 half slices.

Quick Tip
You can use regular or thick cut bacon.

Using a brush or the back of a spoon, brush maple syrup on the top of each strip of bacon.

Quick Tip
Only coat on side of bacon.

Lay a brussels sprout on one end the maple coated bacon strip and roll until the bacon is wrapped around the brussels sprout. Repeat with remaining brussels sprouts.

Quick Tip
The maple coated side of the bacon should be touching the brussels sprout.

Final maple syrup coating

Place bacon wrapped brussels sprouts on a foil lined baking sheet or air fryer basket. Brush a small amount of maple syrup to the top of each sprout.

Quick Tip
Don't coat the entire bacon wrapped sprout with maple syrup - only the top. As it bakes, the syrup will melt and drip down coating the entire sprout.

Bake in a 400 degree oven for 20-25 minutes. After 8 minutes, turn brussel sprouts over to allow for evening baking. Remove and let cool for a few minutes before serving.

Air fry at 380 degrees for 10-12 minutes.

Quick Tip
No need to turn the wrapped brussels sprouts halfway through baking as the bacon grease and maple syrup will drip down to the bottom.