Keto Parmesan Bread Puffs
by KetoFocus.com
These buttery keto parmesan bread puffs will become your new favorite low carb poppable low carb bite! They make a great appetizer with ranch or marinara sauce and they can also be served as a side dish along with some keto spaghetti!
Tonight's the night… well, may not "tonight", but I think you know what I mean. You know, the kind of night where you are craving a chicken parmesan or a steaming lasagna? These parmesan bread rolls are the perfect compliment to complete the meal!
Why I love these low carb puffy parmesan bread puffs
They can be a wonderful appetizer
Keto Parmesan Bread Puffs are buttery, cheese puffy low carb rolls that you can easily pop in your mouth.
They are the ideal snack to serve at a party when you are hosting guests or even if you are invited over for a small get together!
These perfect bite sized buttery rolls can be served as an appetizer and dipped in low carb marinara sauce or ranch dressing. There won't be anyone else bringing the same delicious home-made cheesy snack! You might want to make a larger batch if you're serving them at a party as they'll be gone in seconds!
They're great as a side dish
These low carb parmesan bread puffs also make a great side dish and can be used to serve with a bowl of keto spaghetti or Salisbury steak. They perfectly complement any meal which requires a cheesy taste!
Keep them as a snack
You can even make them to eat as a snack throughout the week for when those savory cravings kick in. Preparing keto friendly snacks in advance helps to reduce the urge of eating the first thing that comes in sight when you feel hungry, which might usually be something full of carbs. They make the perfect replacement for crisps or for dough balls!
I can make these fast
This recipe can be made in less than 15 minutes, making them the ideal snack for any day! The parmesan and mozzarella are what give the puffs a cheesy flavor. These low carb puffs have such a great taste, they will become your kids' favorite snack!  This is such an easy yet tasty recipe, you will be making it all the time.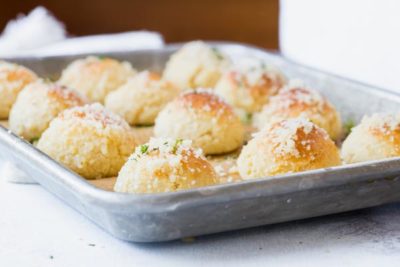 Keto Parmesan Bread Puffs Recipe Video
Subscribe to the KetoFocus YouTube Channel
With 100s of videos and millions of views, Ketofocus is one of the most popular Keto channels on YouTube.
Keto Parmesan Bread Bites Ingredients
Butter & Parmesan Bread Coating Ingredients
1/4 cup unsalted butter, melted
1/3 cup grated parmesan cheese
Keto Parmesan Bread Puffs Directions
Preheat oven to 350 degrees.

Add almond flour, protein powder, baking powder, xanthan gum and salt to a food processor. Pulse to combine. NOTE: Can use an electric mixer or blender to mix up the dough. A food processor is the easiest.

Add egg, melted cheese, butter and sour cream. Pulse until a dough forms. NOTE: You can melt the cheese in the microwave for 60 seconds or in a non-stick skillet on the stove top.

Pinch off dough and roll into a ball about an 1 inch diameter. Place on a parchment lined baking tray. Space balls around 1 to 1 ½ inches apart. Brush each ball with egg white wash.

Bake at 350 degrees for 6-8 minutes on the middle rack of the oven. Move rack high and broil on high for 90 seconds or until the tops of the puffs turn golden brown. Remove from the oven.

Once cool enough to handle, brush one puff with melted butter. Then roll in grated parmesan cheese. Repeat with remaining puffs.