Keto Pizza Sauce
by KetoFocus.com
Keto pizza sauce is a delicious and easy alternative to using tomato sauce for your low carb pizzas. This recipe uses canned whole tomatoes that are puréed just before they are cooked to maximize flavor and garlic sautéed in lots of olive oil for that Italian garlic aroma. Don't be surprised if you find yourself making more keto pizzas once you have a batch of this red pizza sauce ready to go.
Low Carb Pizza Sauce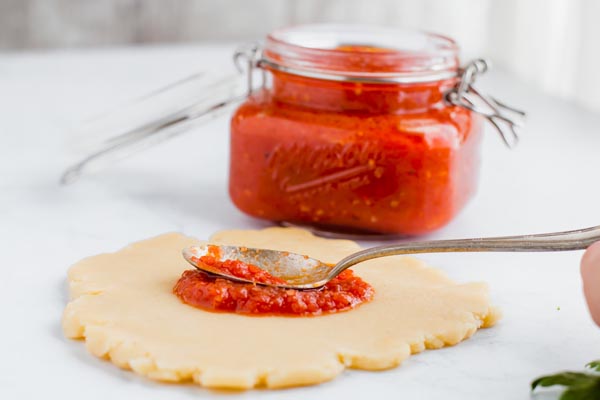 When it comes to pizza sauce, I used to just use a tomato sauce with the lowest carb count possible for our low carb pizzas. There are a couple at my local supermarket that have about 3 grams of carbohydrates per ¼ cup of sauce; however, they contain added sugar. On top of that, canned tomato sauce is completely bland. It has zilch authentic Italian flavor.
In order to find a pizza sauce that was both low in carbohydrates and flavorful, I decided to make my own sauce. But it had to be easy, of course. If I get the urge to make pizza on the fly, I want a sauce that's quick to put together.
Looking for a keto pizza recipe? Try my fathead dough pizza crust. Along with the pizza sauce from this recipe, just add mozzarella cheese and your favorite toppings like pepperoni, sausages and parmesan cheese!
How to make homemade keto pizza sauce?
This is a simple pizza sauce recipe with just four ingredients :
olive oil
garlic
canned whole tomatoes
salt
After puréeing the tomatoes in a food processor, the crushed tomatoes are added to a saucepan of fragrant, sautéed garlic in olive oil and cooked over medium heat for up to 15 minutes. The sauce will thicken as it cooks. Salt is added at the end for that Italian zing to the tomato based pizza sauce.
Adding four tablespoons of olive oil to this red pizza sauce helps to bring up the fat count in this keto recipe. Canned tomato sauce doesn't contain any fat. This keto pizza sauce has 2.3 grams per tablespoon of sauce. The olive oil also provides more flavor to the sauce.
Besides being easy to make, keto pizza sauce makes about 12 servings (serving size is 2 tablespoons) which is enough for six to twelve pizzas, depending on how much red sauce you like to add.
Keto Pizza Sauce Recipe Video
Subscribe to the KetoFocus YouTube Channel
With 100s of videos and millions of views, Ketofocus is one of the most popular Keto channels on YouTube.
Keto Pizza Sauce Ingredients
4 tablespoons olive oil
2 cloves garlic, minced
1 (28 ounce) can whole tomatoes
salt and pepper to taste
Keto Pizza Sauce Directions
Food process the tomatoes

Using a food processor, blender, or immersion blender, puree the whole tomatoes for about 8 to 10 seconds or until all tomatoes are broken down.

Preheat a medium saucepan over low heat, then add olive oil and garlic. Sauté until garlic is fragrant, about 1 to 2 minutes.

Add tomato puree and increase heat to medium. Cook sauce until slightly thickened, about 10 to 15 minutes.

Remove from heat and season with salt and pepper.