Keto Chocolate Pancakes
by KetoFocus.com
Who says you can't have chocolate for breakfast?!
If you're looking for some satisfying, kid friendly keto chocolate pancakes, you've come to the right place! These low carb pancakes are easy to make for breakfast and are sugar free. Perfect for every morning!
Pancakes are something which a lot of people on a keto diet tend to miss. The traditional pancakes are full of carbs and sugar. With this recipe for keto chocolate pancakes, you don't have to miss pancakes anymore! And this is one low sugar breakfast recipe your kids will love to eat! I mean, chocolate pancakes for breakfast?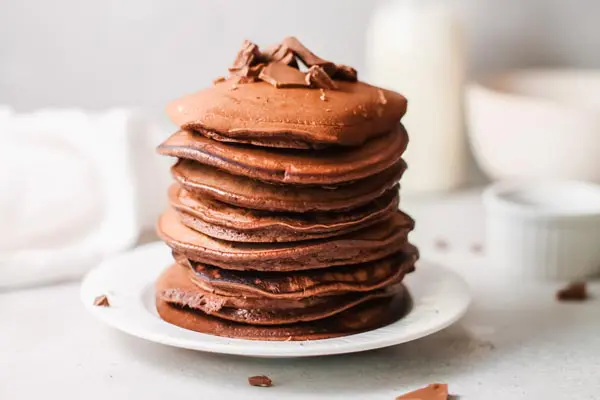 Keto Chocolate Pancakes Recipe Video
Subscribe to the KetoFocus YouTube Channel
With 100s of videos and millions of views, Ketofocus is one of the most popular Keto channels on YouTube.
Keto Chocolate Pancakes Ingredients
8 oz cream cheese, softened
4 eggs
1/2 cup heavy whipping cream or nut milk
1/3 cup coconut flour
1/4 cup monkfruit sweetener or sweetener of choice
1/4 cup unsweetened cocoa powder
2 teaspoons baking powder
Keto Chocolate Pancakes Directions
Preheat your griddle or non stick skillet over low heat.

Add all ingredients in a blender. Blend until smooth.

Pour pancake batter onto a preheated griddle or skillet. Make pancakes no larger than 3 inches wide. Larger pancakes are harder to flip. Let cook on low heat for several minutes (3-5 minutes) or until you can easily side a spatula under the pancake to flip. When ready, flip the pancakes and cook a few minutes on the other side. Remove from skillet.