Air Fryer Bacon
by KetoFocus.com
Air fryer bacon makes for a delicious, easy keto breakfast! Learn how to cook bacon in the air fryer with this recipe to make crispy, juicy, perfect looking bacon within minutes and without the mess or the smoke!
Cooking bacon in the air fryer is an easy way to enjoy bacon in the morning as it is easy to make and only requires minimal clean up after.
The benefit of following these instructions for cooking bacon in the air fryer is that you will get minimal smoke. We fry the bacon at a lower temperature in order to avoid going over the smoke point of bacon grease. The great thing about a keto diet is that you don't have to cut out bacon from your meals!
In fact, crispy bacon is actually encouraged on a keto diet as it is zero carbs and high in fat.
Simple keto breakfast
This air fryer bacon makes for the perfect breakfast, but it can also be served for other meals or even as a snack on its own if you wish!
You can also serve eggs with this air fryer bacon to make an extremely satisfying meal! You can easily make this for the whole family on a weekend, as who's going to say no to bacon for breakfast?
Bacon with any meal
This air fryer bacon can also be used in salads, soups and with lower carb sides such as roasted mushrooms, green beans and mixed grilled vegetables. These can all quickly be made while the bacon is cooking in the air fryer, so you would have a full meal ready in less than 15 minutes!
Air fried bacon will only take around 10 minutes to cook. However, thick cut bacon will take a few minutes longer. With our method, the bacon becomes perfectly crispy all over, yet still juicy!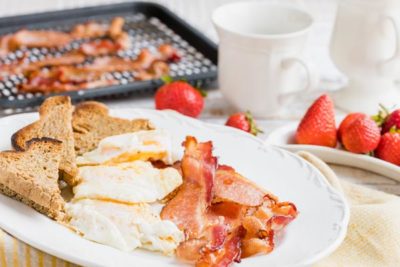 How to cook bacon in the air fryer
Cooking bacon in the air fryer is very simple and quick.
All you need to do is
Place your bacon in the air fryer tray or basket
Set it to 365 degrees for 6-10 minutes
You might need to place the cooked bacon pieces on a paper towel after and blot them to drain off any excess grease
See the full recipe below for full instructions.
Subscribe to the KetoFocus YouTube Channel
With 100s of videos and millions of views, Ketofocus is one of the most popular Keto channels on YouTube.
Air Fryer Bacon Ingredients
Air Fryer Bacon Directions
If you air fryer does not preheat on it's own, you will need to preheat it. Preheat at 360 degrees for 5 minutes.

Add bacon in the air fryer basket

Add bacon to your air fryer basket or tray. It's okay to cut your bacon or lay the bacon strips on top of each other in order to fit more into the air fryer basket.

Air fry the bacon at 360 degrees for 6-8 minutes. For chewy bacon, air fry for 6 minutes. For perfect bacon, air fry for 8 minutes. For crispy bacon, air fry for 9-10 minutes. For thick cut bacon, add an additional 2 minutes.