Almond Flour Pancakes
by KetoFocus.com
Start your morning with these thick and buttery almond flour pancakes. They're gluten-free and keto-approved and have only 1.7 grams of carbohydrates per pancake!
Pancakes on keto? You heard that right! These almond flour pancakes are thick, fluffy, buttery, and have less than 2 carbs per serving. Plus, they're gluten-free and can easily be made dairy-free with just a few simple swaps.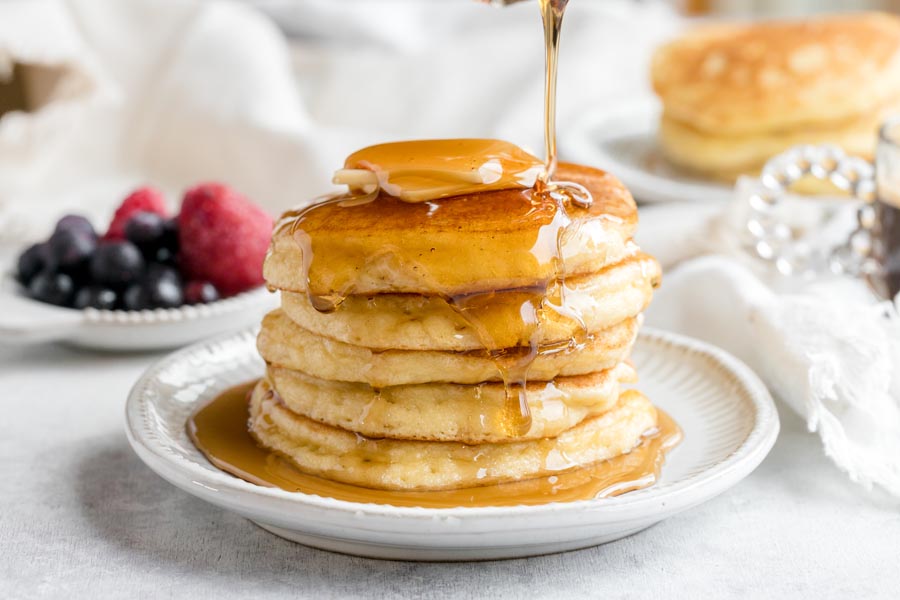 Put these keto pancakes in rotation with my coconut flour pancakes served with a side of air fryer bacon for a breakfast that will have the whole family begging for more! You'll love how easy they are to make – just a few simple steps with ingredients you probably already have in your pantry. Plus, they're perfect for freezing, so make a big batch and freeze them for a healthy keto breakfast any day of the week.
And while a big fluffy pancake is satisfying on its own, check out the keto-approved mix-ins and toppings to make your pancake breakfast extra special.
How to make pancakes with almond flour
Whisk dry ingredients – Mix blanched almond flour, baking powder, and salt in a large bowl.
Gently stir in the remaining ingredients until the batter resembles regular pancake mix consistency.
Cook pancakes by pouring batter on a non-stick skillet and cook over medium heat.
Flip your jacks. After 2-3 minutes, flip your pancake and cook the other side.
Top with your favorite sugar free maple syrup or other pancake syrup, jam, jelly or even peanut butter!
Pro Tip: For dairy-free pancakes, swap the heavy cream for nut milk and replace the butter with coconut oil. You may only need to use ¼ cup of nut milk total for this recipe.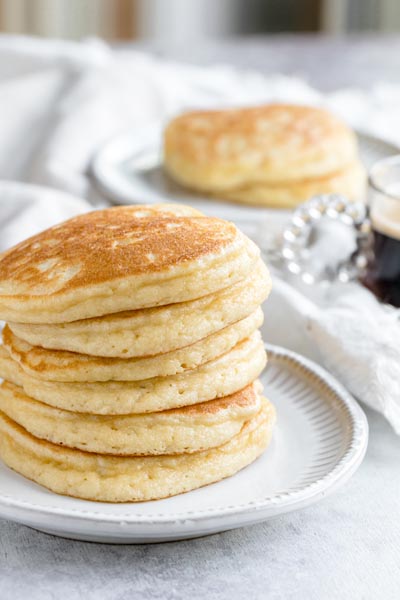 Key ingredients & substitutions
Almond flour – This flour is perfect for gluten free keto baking. I recommend using superfine blanched almond flour for this recipe. Blanched almond flour is free of skins and helps the pancakes reach a soft and fluffy texture. Almond meal it too gritty and not a preferred flour for making keto almond flour pancakes.
Heavy cream – This adds a healthy dose of fat to the pancakes and helps moisten the other ingredients. You can swap this out for nut milk, like coconut milk, almond milk or macadamia nut milk, if preferred.
Eggs – Use whole eggs for this recipe to help hold the pancake batter together and to help make these pancakes fluffy.
Sugar-free sweetener – Use your favorite granulated sugar-free sweetener for this recipe. Monkfruit sweetener and Swerve are a couple of good options.
Subscribe to the KetoFocus YouTube Channel
With 100s of videos and millions of views, Ketofocus is one of the most popular Keto channels on YouTube.
Almond Flour Pancakes Ingredients
Almond Flour Pancakes Directions
In a large bowl, mix together almond flour, baking powder and salt.

Ingredients

1 ⅓ cup almond flour
1 teaspoon baking powder
¼ teaspoon salt

Stir in remaining ingredients - heavy cream, eggs, nut milk, butter, sweetener and vanilla - to complete the keto pancake batter.

Ingredients

¼ cup heavy cream
2 eggs
2 tablespoons nut milk (ie coconut or almond milk)
1 tablespoon unsalted butter, melted
1 tablespoon sugar free sweetener
1 teaspoon vanilla extract

Quick Tip
Batter will resemble pancake batter consistency.

Preheat a non-stick skillet or griddle to medium heat. Spray with cooking spray. Pour 2-3 heaping tablespoons of batter onto the surface. Let cook for 2-3 minutes or until the underside is golden brown.

Quick Tip
Space pancakes about an inch apart.

Flip each pancake and cook the other side for 1-2 additional minutes. Remove from the griddle and repeat with remaining batter. Top with your favorite toppings like maple syrup.

Quick Tip
If pancakes look like they are starting to burn before they can be flipped, then lower the heat.