Keto French Toast
by KetoFocus.com
A classic breakfast favorite, keto french toast tastes just like the original but it is low carb and only 237 calories. It's perfect for a lazy weekend morning.
Low-Carb Keto French Toast
This recipe for keto French toast starts by making an egg loaf. Egg loaf is a low carb version of a quick bread with hints of cinnamon and vanilla.
Since this low carb bread is made up of primarily eggs it makes the ideal keto toast for making this sweet breakfast classic.
Cut out thick slices from a baked egg loaf and fry the keto bread slice in butter in a skillet. This creates a crisp, golden brown crust on the sides of the bread. The result is low carb French toast! Now all you need is to pour on the sugar free maple syrup and maybe add a dollop of whipped cream.
This iconic breakfast will surely make your morning brighter and you family happy.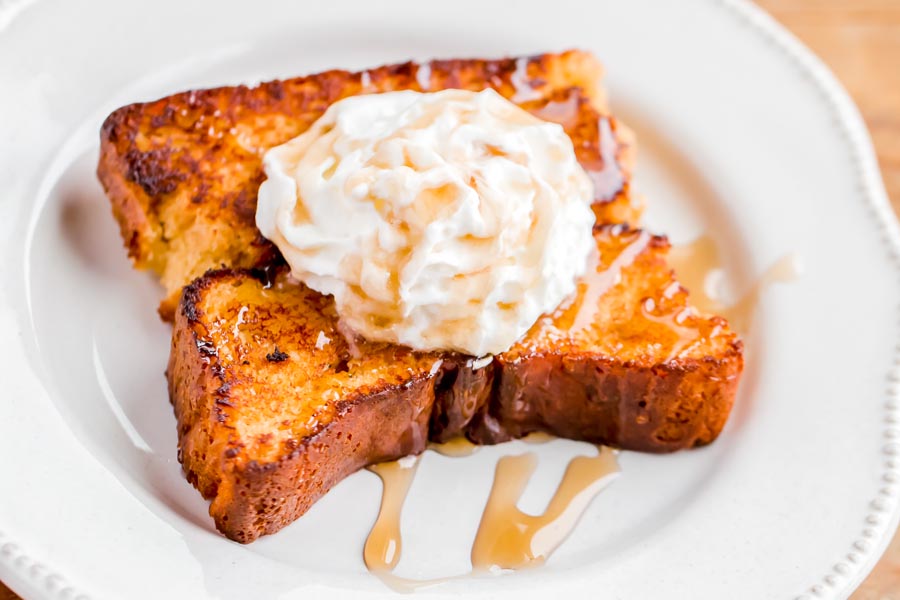 Another fun option for the kids is to make French toast sticks. Cut into thinner slices and dip in syrup. The kids will take joy in paying with their food with not having to use a fork. These keto French toast sticks make a fun on-the-go breakfast too.
How to make keto french toast
Make the egg loaf. Combine cream cheese, egg, butter, sweetener, coconut flour, baking powder and cinnamon.
Slice the loaf into bread slices.
Fry in butter until golden and crispy on each side.
Keto French Toast Recipe Video
Subscribe to the KetoFocus YouTube Channel
With 100s of videos and millions of views, Ketofocus is one of the most popular Keto channels on YouTube.
Keto French Toast Ingredients
8 oz cream cheese, softened at room temperature
4 eggs
4 tablespoons unsalted butter, melted
1/4 cup heavy cream
1 teaspoon vanilla
3 tablespoons sugar free sweetener
1/3 cup coconut flour
2 teaspoons baking powder
1 teaspoon cinnamon
Keto French Toast Directions
Preheat oven to 350 degrees.

Add cream cheese, eggs, butter, heavy cream, vanilla, sugar free sweetener, coconut flour, baking powder and cinnamon to a bowl or blender and mix together until cream cheese is fully incorporated.

Pour into a loaf pan lined with damp parchment paper. Leave a couple of inches of parchment paper hanging over the edges for easy lifting out of the pan.

Bake at 350 degrees for 45 minutes. The loaf should be firm to the touch but will deflate as it cools. Once cooled slice up into the desired thickness.

To make keto french toast, heat a griddle or skillet over medium heat. Add 1-2 tablespoons of butter. Fry each slice in the pan or griddle until crisp and browned on each side.