Keto Pumpkin Pancakes
by KetoFocus.com
Celebrate pumpkin season with these fluffy low carb pancakes filled with pumpkin flavor
The best way to start off an Autumn morning is with keto pumpkin pancakes. As the weather turns, these Fall flavored pancakes are fluffy, scrumptious and will keep you full all morning long.
Pumpkin spice everything season has arrived! So let's celebrate by starting off the morning with some keto pumpkin pancakes! These low carb pancakes are fluffy and filled with pumpkin flavor. These hot cakes have the same amazing spongy texture as my basic keto pancake recipe, but just pumpkin flavored. So grab yourself a sugar free pumpkin spice latte and grab a skillet.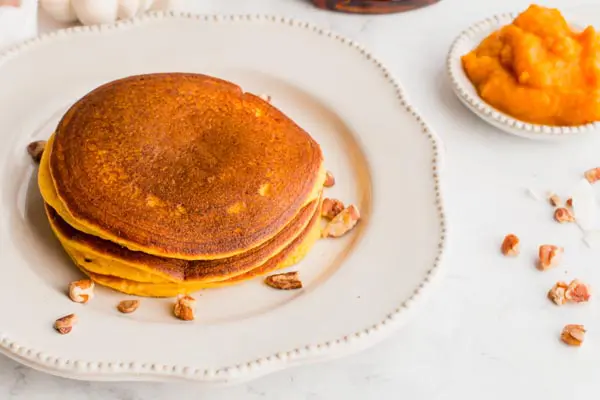 The best part is these coconut flour pancakes are easy to make. Just add all of your ingredients to a blender, mix and pour out your pancakes! Perfect for busy Fall mornings when the kids or yourself are hustling off back to school.
How to make keto pumpkin pancakes
Add ingredients to a blender or food processor – eggs, cream cheese, pumpkin puree, coconut flour, heavy cream, sweetener and baking powder.
Blend until smooth.
Pour pancake batter onto a non-stick skillet or griddle coated with butter or coconut oil. Cook until your fluffy pancakes are golden brown.
Top with sugar free maple syrup or whipped cream dusted with pumpkin pie spice.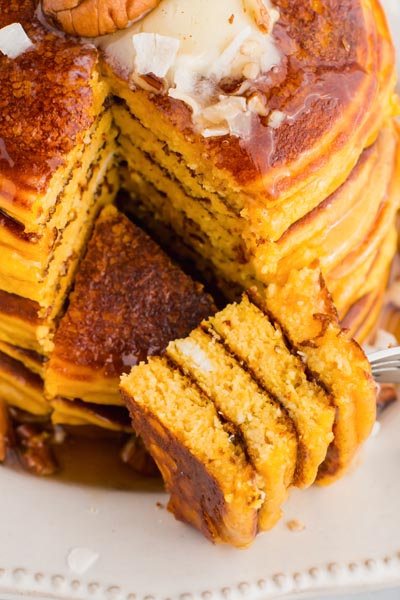 Key ingredients & substitutions
Eggs – The main ingredient that helps to makes these keto pancakes fluffy.
Cream cheese – Since this keto pumpkin pancake recipe uses three eggs, they might taste eggy. To neutralize that flavor, we add cream cheese.
Pumpkin puree – Can use canned or fresh pumpkin.
Coconut flour – The keto flour to give these structure. Coconut flour is preferred as almond flour tends to burn easily. Using coconut flour will yield a perfect golden brown pancake.
Heavy cream – Use for flavor and as a liquid to mix the pancake batter. Nut milks like almond milk, coconut milk or macadamia nut milk can be substituted.
Keto Pumpkin Pancakes Recipe Video
Subscribe to the KetoFocus YouTube Channel
With 100s of videos and millions of views, Ketofocus is one of the most popular Keto channels on YouTube.
Keto Pumpkin Pancakes Ingredients
3 eggs
4 oz cream cheese, softened
1/2 cup pumpkin puree
1/2 cup coconut flour
1/3 cup heavy whipping cream
1/4 cup monkfruit, or other favorite sweetener
2 teaspoons baking powder
1 teaspoon pumpkin pie spice, optional
Keto Pumpkin Pancakes Directions
Add all ingredients to a blender.

Blend ingredients until combined and smooth.

Pour pumpkin pancake batter onto a preheated electric griddle or skillet set to low heat. Pour enough batter to make a pancake about 3 inches in diameter. Smaller keto pancakes are easier to flip. Cook until the edges are set and a spatula can easily slip under the pancake.

Flip each pancake once the edges are set and continue cooking for another 3 minutes.