Keto Buttermilk Pancakes
by KetoFocus.com
Fluffy, buttermilk pancakes just like iHOP but keto
Pancakes are a highly requested breakfast item in the mornings. Keto Buttermilk Pancakes are thick, fluffy and full of pancake flavor without the eggy flavor of most keto pancake recipes. Top them with whipped cream or sugar free syrup for an extra treat in the mornings.
Buttermilk pancakes are fantastic and have unique sweet and tangy taste.
These keto pancakes remind me of the ones my grandpa used to make on when we would visit him on Sunday morning. The flavor is worthy to serve center stage at IHOP should they ever decide to make low carb pancakes with coconut flour.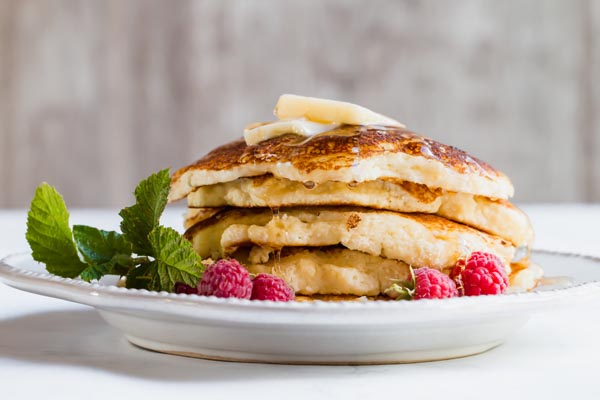 These keto buttermilk pancakes are fluffy and thick. Most low carb pancakes recipes use multiple eggs (sometimes up to 4-6 eggs) to achieve a fluffy pancake, but the result is a pancake that tastes like an egg.
This recipe for keto pancakes, only has one egg! Instead of relying on the egg to produce volume, this recipe uses a little chemistry with help of acidic buttermilk and baking soda. The result is thick, fluffy and delicious keto buttermilk pancakes!
Another way to make easy low carb pancakes is to make them using coconut flour, cream cheese and eggs. The cream cheese helps to reduce the eggy flavor and gives these pancakes incredible flavor. This buttermilk flapjack recipe uses coconut flour instead of almond flour, so it's ideal for someone with nut or gluten allergies so they can still enjoy a plate of pancakes for breakfast and still stay gluten free.
How to make keto buttermilk pancakes
You can make these easy keto pancakes any day of the week since you just need a few simple ingredients and these steps:
Preheat a griddle or a skillet.
Mix dry ingredients – coconut flour, sweetener, baking powder, baking soda, salt and xanthan gum.
Combine wet ingredients – buttermilk, sour cream, egg and melted butter.
Mix the dry ingredients into the wet ingredients.
Cook over low medium heat on a griddle until golden brown on the bottom.
Flip you flapjacks and cook for an additional 2-3 minutes.
Serve with sugar free maple syrup or a cold glass of almond milk.
Key ingredients
Coconut flour – This low carb pancake recipe is coconut flour based. It is the preferred keto flour over almond flour since almond flour tends to burn easier leaving your pancakes dark brown, with a slightly burnt flavor.
Sweetener – Can use any sugar free sweetener that measures cup for cup with sugar. Erythritol, monk fruit, blended sweeteners, all can be added to add a slight sweetness to the buttermilk pancakes.
Buttermilk – Wouldn't a buttermilk flavored pancakes with butter. This crucial ingredient provides that classic buttermilk flavor in regular pancake.
Sour cream – Add for extra tang and to help the pancakes rise by serving as a acid for the leavening agents.
Subscribe to the KetoFocus YouTube Channel
With 100s of videos and millions of views, Ketofocus is one of the most popular Keto channels on YouTube.
Keto Buttermilk Pancakes Ingredients
⅓ cup coconut flour
1 tablespoon sugar-free sweetener
½ teaspoon baking powder
½ teaspoon baking soda
¼ teaspoon salt
¼ teaspoon xanthan gum
½ cup buttermilk
2 tablespoons sour cream
1 egg
1 tablespoon unsalted butter, melted
Keto Buttermilk Pancakes Directions
Preheat griddle to low heat.

In a small bowl, combine coconut flour, erythritol, baking powder, baking soda, salt and xanthan gum. Mix until combined. Set aside.

In a medium bowl, combine buttermilk, sour cream, egg and melted butter.

Mix in dry ingredients to the wet ingredients. Stir until just combined. Don't overmix. Pancake mixture will be thick.

Spray the griddle with cooking spray or add a teaspoon of coconut oil. Spoon pancake batter onto the griddle. Flatten out with the back of a spoon. Each pancake can have a diameter of up to 3.5 inches. And larger may be hard to flip.

Quick Tip
Cook keto buttermilk pancakes over low-medium heat.

Cook the keto pancakes at low heat until the edges start to set and a spatula can easily slide under the pancake. If the pancake starts to break as you slide the spatula, let it cook for a minute longer. Flip the pancakes once ready (about 3-5 minutes)

Cook the pancakes on the flipped side until set.