Keto Crack Chicken
by KetoFocus.com
Creamy, cheesy chicken dish with bacon & ranch
This addictive and delicious keto crack chicken recipe is easy to whip together with only a handful of ingredients and three ways to make it!
If you love delicious comfort food, you've probably got some casseroles taking up space in your weekly meal rotations. Chicken Cordon Bleu Casserole and Broccoli Chicken Casserole are two of my favorite comforting keto casseroles.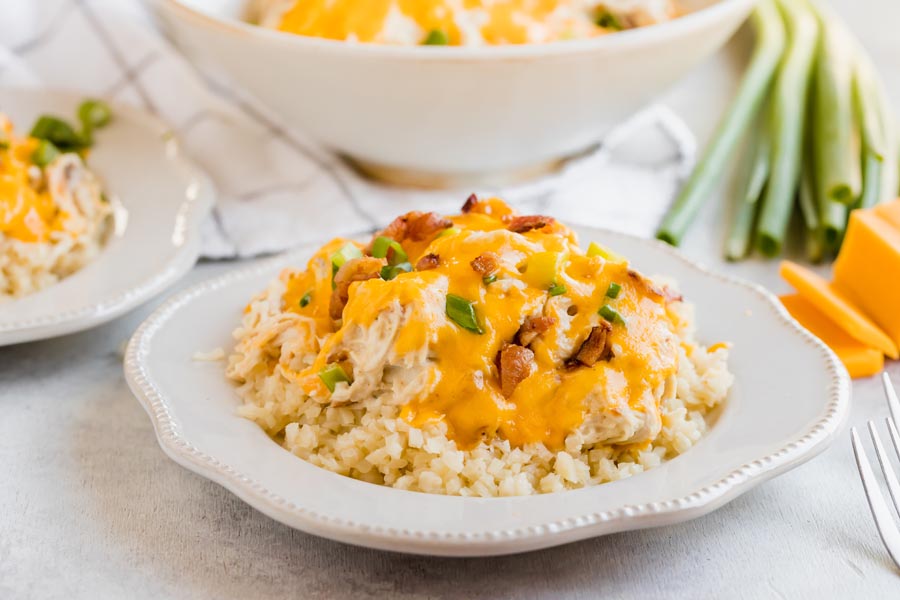 Another delicious and easy way to whip up a craveable chicken comfort meal is with this crack chicken! Shredded chicken mixed in a creamy chewy sauce with bits of bacon and green onion is so addictive you'll want to eat it on everything! This crack chicken recipe has instructions for slow cooker, pressure cooker and the oven. For an easy keto chicken recipe, serve the chicken over cauliflower rice and top with more shredded cheese for a quick dinner, then use leftovers to make chicken sandwiches the next day with this bread roll recipe.
What to eat with keto crack chicken
Instead of just eating it out of the pan (not like there's anything wrong with that!), try serving crack chicken with these other keto recipes to make it a complete meal!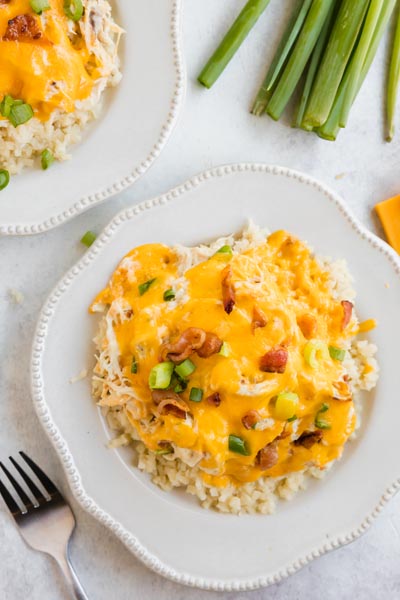 Key ingredients & substitutions
Chicken – Use boneless skinless chicken thighs or breasts. If you're using the instant pot or slow cooker, feel free to use frozen chicken and add 5 minutes to the instant pot and 1-2 hours to the slow cooker.
Ranch seasoning – Make your own homemade ranch seasoning or buy premade ranch seasoning packets.
Cream cheese – Use block cream cheese cut into cubes for this recipe. Alternatively, you could blend together equal parts plain greek yogurt and cottage cheese for a cream cheese replacement in this recipe.
Bacon – Cook your bacon using the air fryer, on the grill, or in the oven, then chop it into bite-sized pieces.
Cheese – Shredded cheddar cheese goes well with crack chicken, but you can also use shredded Colby, Monterey jack, pimento, swiss, gouda, or a combination of cheeses.
Green onions – Freshly sliced green onions. You can use both the green and white parts if you'd like.
Chicken broth – This is only needed for the Instant Pot method as pressure cooking requires liquid.
Keto Crack Chicken Recipe Video
Subscribe to the KetoFocus YouTube Channel
With 100s of videos and millions of views, Ketofocus is one of the most popular Keto channels on YouTube.
Keto Crack Chicken Ingredients
2 pounds boneless, skinless chicken thighs or breasts
1 packet ranch seasoning
16 oz cream cheese, cubed
10 slices bacon, cooked & chopped
1 ½ cups shredded cheddar cheese
⅓ cup sliced green onions
½ cup chicken broth (only for instant pot)
Keto Crack Chicken Directions
Add chicken to the liner of a slow cooker. Sprinkle ranch seasoning over chicken. Top with cubed cream cheese. Cover and let cook on low for 5-6 hours or high for 3-4 hours. Turn heat to warm. Shred chicken. Stir in bacon. Top with shredded cheddar cheese. Cover and let sit for 5-10 minutes or until cheese has melted. Top with green onions.

Quick Tip
Shred chicken using an electric mixer or two forks.

Pour chicken broth to the liner of the Instant Pot. Add chicken and sprinkle ranch seasoning over chicken. Secure lid. Pressure cook on high for 15 minutes. Do a quick release, open lid and shred chicken. Switch to SAUTE mode and stir in cream cheese and bacon until cheese is melted. Top or stir in shredded cheese. Garnish with green onions.

Quick Tip
Pressure cook high for 25 minutes if using frozen chicken. Shred chicken using an electric mixer or two forks.

Oven instructions for crack chicken casserole

Preheat oven to 400 degrees. Pound chicken breast or thighs until they are about ¼ inch thick to ensure even cooking. Place chicken in a single layer of a 9x13 baking dish. In a medium bow, mix together cream cheese, ranch seasoning, ½ cup cheddar cheese and bacon. Spread over the chicken. Top with remaining shredded cheddar cheese. Bake chicken in the oven for 20-25 minutes or until chicken is fully cooked. Remove and top with green onions.