Salsa Chicken
by KetoFocus.com
A zesty baked chicken dish with creamy salsa
This easy baked salsa chicken recipe is the perfect meal for busy nights. The possibilities to enjoy this five ingredient dump and go meal are limitless with instructions for Instant Pot and slow cooker.
This is the kind of recipe you need to have around for the days you didn't plan dinner, don't feel like cooking, or just don't have the time to do a lot of dinner prep. Just dump over Spanish rice or shred the salsa chicken recipe to scoop up with tortilla chips.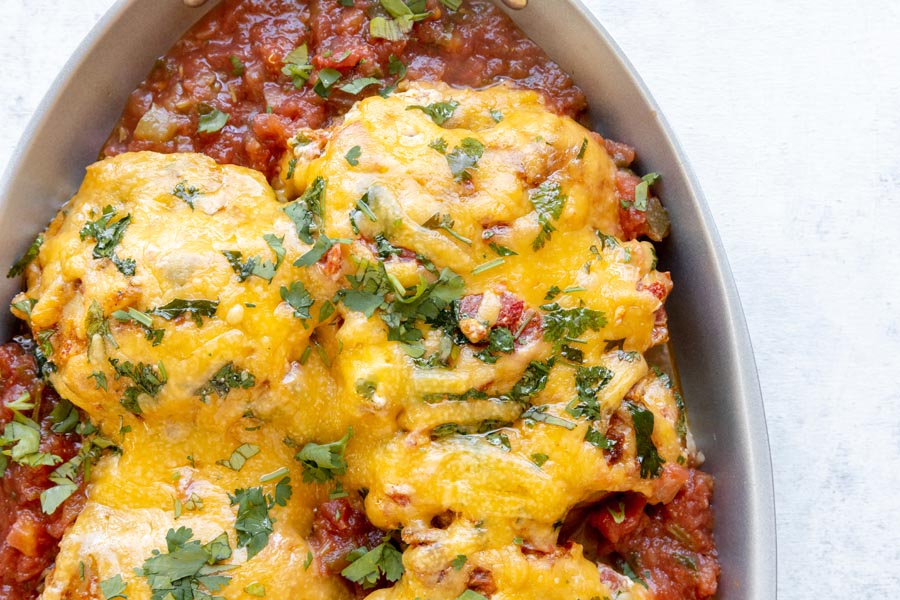 With only five ingredients, this salsa chicken uses ingredients you probably already have in the house, can be tossed together in minutes, and is ready to eat in thirty minutes! You can even dump everything in the slow cooker in the morning so that dinner is already made for you at the end of a long day. Or for a quicker fix, make it Instant Pot salsa chicken.
Salsa chicken in a pressure cooker and slow cooker salsa chicken can be shredded and used for multiple meals like chicken tacos or burritos.
How to make salsa chicken
Prepare chicken thighs or breast by seasoning with salt, pepper and taco seasoning.
Spread on a mixture of softened cream cheese and drained Rotel or salsa on top o the chicken.
Bake for 30-35 minutes or until chicken is cooked through.
Remove the chicken top with shredded cheddar cheese. Then bake for a few more minutes so the cheese can melt.
Serve with rice and top with sour cream and cilantro.
Optional: If you want shredded chicken, gently shred with 2 forks or in a stand mixer with a paddle attachment on low speed.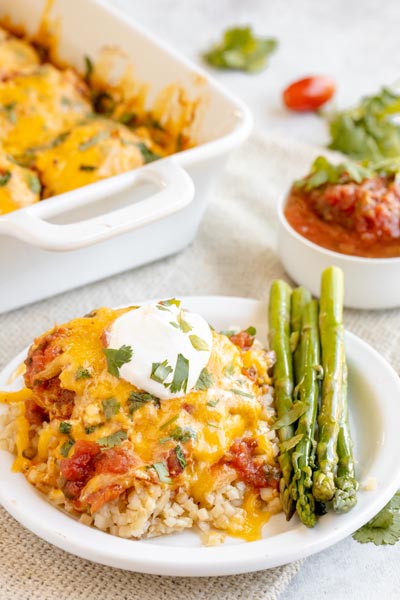 Key ingredients & substitutions
Chicken – Choose boneless, skinless chicken for this recipe. You can use either chicken breasts or thighs. Chicken thighs will be more tender and juicy because of their higher fat content.
Taco seasoning – Store-bought taco seasoning works just fine, but you can always make your own customizable and homemade taco seasoning that doesn't have a bunch off added fillers, junk or sugar. Plus, this option is less expensive.
Rotel – This is a great all-in-one tomato, chili, and seasoning option, but you can also use salsa or even finely diced fresh tomatoes with a can of green chilis.
Cream cheese – Makes this chicken salsa recipe creamy and satisfying.
Cheddar cheese – Cheddar cheese is what I used, but feel free to use other types like pepper jack, a Mexican blend, or Colby to change up the flavor. If you don't have shredded cheese, you can crumble up or shred block cheese.
Salsa Chicken Recipe Video
Subscribe to the KetoFocus YouTube Channel
With 100s of videos and millions of views, Ketofocus is one of the most popular Keto channels on YouTube.
Salsa Chicken Ingredients
2 lbs skinless, boneless chicken (breast or thighs)
4 teaspoons taco seasoning
4 oz cream cheese, softened
1 (10 oz) can Rotel or salsa, drained
1 cup shredded cheddar cheese
Salsa Chicken Directions
Preheat oven to 375 degrees. Place chicken in a 9x13 baking dish and season both sides generously with salt and pepper. Then sprinkle taco seasoning on both sides of chicken and rub into the top.

Ingredients

Chicken breast or chicken thighs
Salt & pepper
Taco seasoning

In a medium bowl, add softened cream cheese and drained Rotel. Stir to combine.

Ingredients

Cream cheese (softened)
Rotel (drained)

Quick Tip
Can substitute with salsa. Use green salsa to make salsa verde chicken. To keep this dish from being watery, push the Rotel through a fine mesh strainer to get as much liquid out as possible before adding it to the recipe.

Spread salsa cream cheese mixture on top of chicken. Bake at 375 for 30-35 minutes or until chicken is cooked through.

Quick Tip
Chicken is considered done when it reaches an internal temperature of 165 degrees.

Remove from the oven. Top with shredded cheddar cheese. Return to the oven and continue baking for 3-5 more minutes or until cheese is melted.

Quick Tip
Serve with sour cream and cilantro on top if desired.

Add chicken to the bottom of the slow cooker. Season with salt, pepper and taco seasoning. Pour rotel over the chicken and top with cream cheese. Cook on high for 3 ½ hours or low for 6-8 hours. Option to make shredded chicken by shredding cooked chicken with 2 forks.

Add chicken, taco seasoning, 1 teaspoon salt, ½ teaspoon pepper, Rotel (undrained), ½ cup chicken broth or water. Pressure cook on high for 12 minutes. Allow pressure to release naturally for 8 minutes, then open the valve for quick release. Remove some of the liquid if desired. Shred chicken with softened cream cheese.