Keto Hamburger Buns
by KetoFocus.com
No more bunless burgers! Now you can enjoy a juicy hamburger with this fluffy gluten-free keto hamburger bun recipe.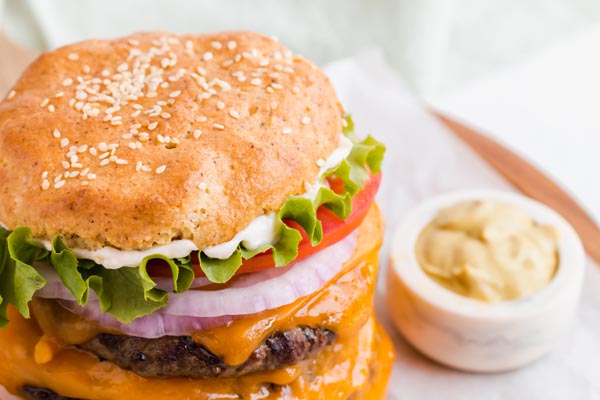 I know you have missing bread and a regular burger with a bun. I have been too.
There are only so many bunless burgers I can take. Luckily, I created this keto hamburger bun recipe for you and me. These buns are gluten free. They are not made out of a bunch of mozzarella cheese like a fathead dough hamburger bun. These keto buns rise and tastes delicious with a juicy burger smashed in the middle.
Plus, these low carb hamburger buns are easy to make. They only take a few minutes to mix the ingredients and about 12 minutes to bake.
Once you start to heat your grill, you can prep the hamburger bun batter. Once the burgers go on, you can put these keto burger buns in the oven. Both should be done around the same time and you can be enjoying a REAL hamburger for dinner.
Heads-up! If you are here looking for keto buns, I am sure you would be interested in my keto bread recipe or my keto rolls!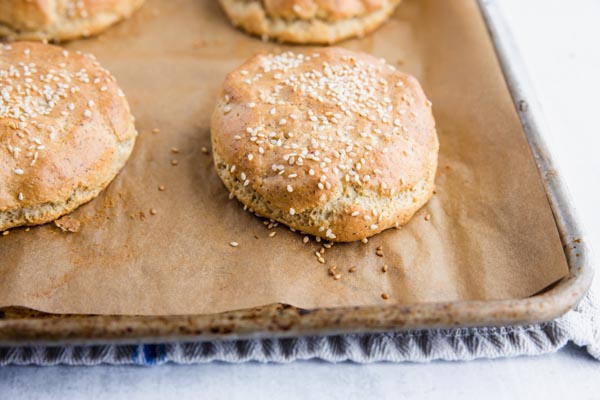 Keto Hamburger Buns Recipe Video
Subscribe to the KetoFocus YouTube Channel
With 100s of videos and millions of views, Ketofocus is one of the most popular Keto channels on YouTube.
Keto Hamburger Buns Ingredients
Keto Hamburger Buns Directions
Preheat oven to 400 degrees. Place a sheet of parchment paper on a baking tray and set aside.

Whisk or sift together dry ingredients in a medium bowl. Sifting the dry ingredients is preferred to get a finer texture.

Ingredients

Almond flour
Whey protein powder
Psyllium husk flakes
Golden flax seed meal
Baking powder
Xanthan gum
Salt

Add eggs, melted butter and sour cream to dry ingredients. Mix together until combined.

Wet your hands with some water or oil in order to handle the dough as it is sticky. Divide the bread dough into four balls and mold each ball into a round disc shape and place on a parchment lined baking tray. Continue with remaining dough. Place each dough ball about 1-2 inches apart.

Sprinkle sesame seeds on top of each bun if you want to make a sesame seed bun. Some add bagel seasoning here for a 'kitchen sink' keto burger bun topping!

Bake at 400 degrees Fahrenheit for 12-13 minutes or until slightly hardened on the outside and spongy to the touch. Let cool for 3-5 minutes before slicing.