Chicken Cordon Bleu Casserole
by KetoFocus.com
Fancy chicken cordon bleu turned into an easy weeknight casserole
A simple way to enjoy the flavors of swiss cheese, ham and chicken but without all the fuss. Turn this blue ribbon iconic dish into Chicken Cordon Bleu Casserole - same classic flavor of Dijon mustard, white wine sauce paired with swiss and ham.
Deconstructing classic dishes and dumping everything into a casserole dish is an easy way of getting that sought after flavor but without the hassle and mess. Chicken Cordon Bleu Casserole is one of those dishes – just like my tried and true lasagna or pizza casserole.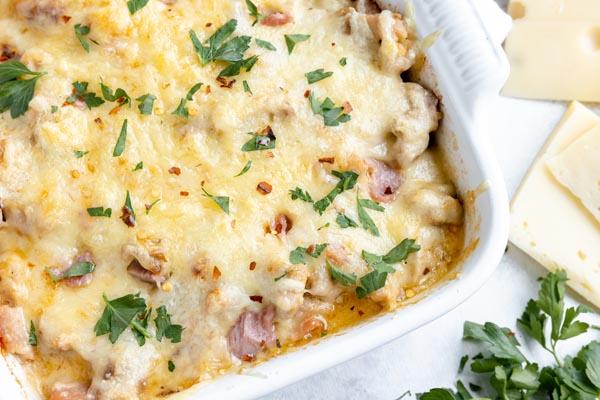 No need to stuff, roll and bread your chicken with this chicken cordon bleu recipe. Instead we add our chicken and ham to a casserole dish and top it a creamy white wine sauce and top with Swiss cheese. It's comfort food at it's finest, an easy weeknight dinner you can make, and you won't even miss the breading!
How to make chicken cordon bleu casserole
Cook cubed chicken in a skillet.

Add cubed ham and cook for a few minutes. 

Make white wine sauce by adding butter, cream, chicken broth and white wine to the skillet breaking up the brown bits for added flavor. Add in other flavor components like Dijon mustard, cayenne pepper, red pepper flakes and salt & pepper. Stir in shredded Monterey jack cheese to thicken.

Pour sauce over chicken and ham. Top with Swiss cheese and bake.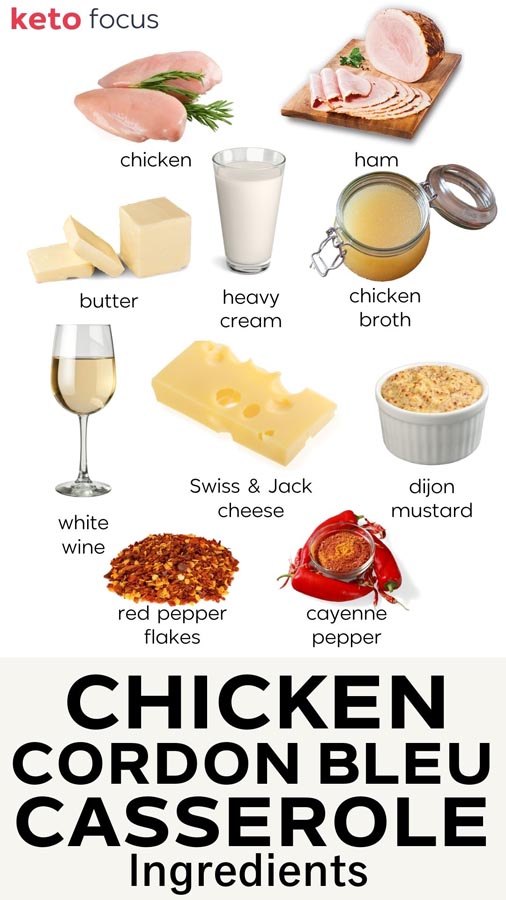 Key ingredients in chicken cordon bleu
Chicken – Of course it wouldn't be a chicken cordon bleu recipe without chicken. Since we are turning this into a casserole, you can use any cut of chicken you prefer – chicken thighs, chicken breast, tenderloins. Traditional chicken cordon bleu uses chicken breasts because they are easy to slice, pound, stuff and roll in the cheese and ham.
Ham – Usually pre-cooked sliced ham is layered inside chicken breast but since we are making a casserole, cooked ham can be cubed and tossed into the skillet with the chicken to cook. If you choose a ham with a higher moisture content, it is best to cook some of the moisture out of the ham so you aren't left with a soupy casserole. This is a great way to use up leftover ham from the holidays. Bacon can be used in place of ham as a substitution.
Cream – To make a creamy sauce, you need to add cream. Nut milk can be used instead if you are trying to limit calories, fat or dairy. Other recipes use cream cheese or sour cream; however, this using cream to make a white wine cheese sauce is the closest flavor to classic chicken cordon bleu.
White wine – The sauce poured over chicken cordon bleu is a white wine based sauce. I chose a Sauvignon Blanc but other white wines you may want to try are Pinot Grigio or Chardonnay. If you are a dry household and didn't want to use wine or alcohol in your cooking, omit this completely and add 1-2 teaspoons of lemon juice after the sauce is finished to help brighten up the sauce.
Dijon mustard – A key component for a flavorful cordon bleu sauce. Stone ground mustard and yellow mustard couple be used in a pinch.
Cayenne pepper & Red pepper flakes – Added for a little kick or spice to the sauce. These are optional but highly recommended.
Cheese – Both Monterey jack cheese and Swiss cheese are used in this casserole recipe. The Monterey jack is used in the cheese sauce as it melts very well. The Swiss cheese is added because that is a key component to chicken cordon bleu.
Chicken Cordon Bleu Casserole Recipe Video
Subscribe to the KetoFocus YouTube Channel
With 100s of videos and millions of views, Ketofocus is one of the most popular Keto channels on YouTube.
Chicken Cordon Bleu Casserole Ingredients
2 lbs boneless, skinless chicken breast or thighs
1 tablespoon avocado oil or olive oil
8 oz cubed ham (precooked)
2 tablespoons butter
1/3 cup heavy cream
1/4 cup chicken brothchicken broth
1/4 cup white wine
1 1/2 cups shredded Monterey Jack cheese
2 tablespoons Dijon mustard
1/2 teaspoon red pepper flakes, optional
1/4 teaspoon cayenne pepper, optional
1/4 teaspoon salt
1/4 teaspoon black pepper
1 1/2 cups shredded Swiss cheese
Chicken Cordon Bleu Casserole Directions
Preheat oven to 350 degrees.

Cut the chicken thighs or chicken breast into bite sized chunks.

Ingredients

Chicken (breasts or thighs)

Quick Tip
Cut off the chicken fat if desired. You can use chicken thighs, chicken breasts or tenderloins in this recipe. To save time, use pre-cooked shredded chicken instead.

Add avocado oil to a skillet and heat over medium high heat. Working in batches, pan sear chicken until cooked evenly on all sides.

Add ham to the skillet with the cooked chicken and cook for 1 minute to heat through. Remove all chicken and ham from skillet and set aside.

Lower heat on the skillet to medium heat. Melt butter in the skillet. Slowly whisk in heavy cream, chicken broth and wine into the melted butter. Scrape the bottom of the pan to break up the flavor bits stuck to the bottom. Let cook for 1-3 minutes. Don't let boil. Slowly stir in shredded Monterey Jack cheese. Add one handful at a time and stir until melted.

Ingredients

Heavy cream
Chicken broth
White wine
Monterey Jack cheese (shredded)

Quick Tip
May omit wine and use 1 - 2 teaspoons lemon juice instead.

Stir in Dijon mustard, red pepper flakes, cayenne pepper, salt and pepper. Remove sauce from heat.

Ingredients

Dijon mustard
Red pepper flakes (optoinal)
Cayenne pepper (optional)
Salt
Pepper

To a square or rectangle baking dish, add chicken and ham mixture to the bottom. Pour on white wine cheese sauce. Top with shredded Swiss cheese. Bake at 350 degrees for 20-25 minutes.

Quick Tip
No need to grease the inside of the casserole dish.