Keto White Chicken Chili
by KetoFocus.com
This white chicken chili recipe will warm your soul. Regardless if you follow the keto diet or not, this chicken chili will be a hit!
Creamy keto white chicken chili made with tender chicken thighs, cauliflower rice and a spicy, creamy broth. This beanless white chili recipe is a hearty bowl of keto comfort on a cold Fall or Winter day.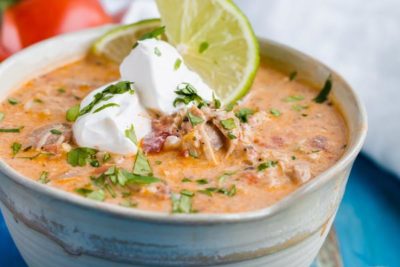 Our easy white chicken chili is the recipe you need when you are craving a bowl of something warm, spicy and creamy and often struggle between choosing this chili recipe and keto taco soup!
You'll love the way the flavors of the chilis, tomatoes, and spices blend together with the tender pieces of shredded chicken and the creamy, cheese broth in this beanless chili recipe.
Your entire family will love this low carb chili and you will love that it only takes about 30 minutes to cook. This is an easy keto dinner recipe you can make either in the Instant Pot, slow cooker or stove top.
This keto chicken chili is even better when you add on your favorite toppings, like avocado, shredded cheese, cilantro and a squeeze of lime. Scoop up with pork rinds for a chili dip.
Make sure you check out our beef chili recipe and our clam chowder.
How to make low carb white chicken chili?
3 methods to cook white chicken chili
As promised our keto recipe includes 3 different methods to get the job done!
Instant Pot Method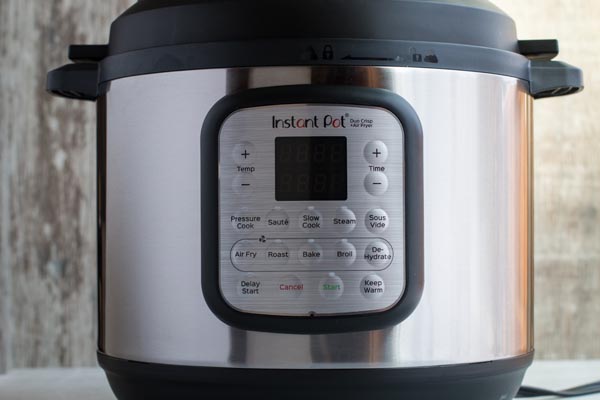 Pressure cookers are vital when you are in a jam and need to prepare a dinner fast because of how simple, easy and fast they are.  This recipe for white chicken chili is a basic recipe you can make on those nights when time is limited. Plus, there is a good chance you probably already have the ingredients on hand!
25 minutes from start to table
When you get home from work, toss all the ingredients in the Instant Pot and pressure cook for 15 minutes. After the pressure releases, you will have dinner ready in 10 minutes!
My favorite pressure cooker is the Instant Pot. It has multiple functions like sauté, slow cook, steam, pressure cooker and more. By using an Instant Pot, you can speed up the cooking time compared to if you cooked the same meal on the stove top.
Slow Cooker Method
Slow cookers the perfect solution to having dinner ready for you when you get home from work. Dump all the chili ingredients into the crock pot first thing in the morning. Cook on low for 6 to 8 hours. Your keto white chicken chili will be ready for you when you get home.
Stove Top Method
It's not required that you cook this keto chili in a pressure cooker or crockpot. If you don't own either, you can cook this chicken chili on the stove top. It will take longer to cook this keto soup but it will taste just as good.
To cook your soup in the stove, add all of the chili ingredients to a stock pot except the cream cheese. Bring to a boil, then reduce heat to low. Cover and let simmer on the stove for 30 minutes or until chicken is cooked through. Add in cream cheese. Stir until melted and creamy. Shred chicken as instructed below.
Keto White Chicken Chili Recipe Video
Subscribe to the KetoFocus YouTube Channel
With 100s of videos and millions of views, Ketofocus is one of the most popular Keto channels on YouTube.
Keto White Chicken Chili Ingredients
1.5 to 2 pounds skinless, boneless chicken thighs
1 1/2 cups chicken broth
1 (14.5oz) can diced tomatoes
1 (4.5 oz) can diced green chiles
2 tablespoons heavy whipping cream
1 1/2 teaspoons chili powder
1 teaspoon salt
1 teaspoon dried parsley
1 teaspoon cumin
1/2 teaspoon garlic powder
1/2 teaspoon onion powder
1/2 teaspoon dried oregano
1/2 teaspoon black pepper
8 oz cream cheese, cut into 6 to 8 pieces
1 1/2 cups (10 oz) cauliflower rice, frozen or fresh
toppings for chili- avocado, limes, cheese, cilantro
Keto White Chicken Chili Directions
Add chicken thighs, chicken broth, diced tomatoes, green chiles, heavy cream and seasonings to the liner of the Instant Pot. Stir to combine.

Ingredients

Chicken thighs
Chicken broth
Diced tomatoes
Green Chiles
Heavy Cream
Chili powder
Salt
Dried parsley
Cumin
Garlic powder
Onion powder
Dried oregano
Black pepper

Spread cubed cream cheese around the chicken chili broth mixture. Secure the Instant Pot lid and set the valve to seal. Pressure cook on high for 15 minutes. Let the pressure release naturally for 10 minutes before releasing the remaining pressure manually by turning the valve to vent.

Shred chicken using an electric mixer or two forks.

Add cauliflower rice. Let set for 2 minutes until cauliflower rice is heated through.

Add the chicken broth, diced tomatoes, diced chiles and seasonings to the liner of a slow cooker. Mix to combine. Add in chicken thighs and cream cheese. Cover and cook on high for 3 to 4 hours or low for 6 to 8 hours. Twenty minutes before you want to eat, add in cauliflower rice.

Ingredients

Avocado (optional)
Limes (optional)
Cheese (optional)
Cilantro (optional)