Chicken Bone Broth
by KetoFocus.com
Chicken bone broth is a simple recipe that delivers much needed vitamins and minerals to your diet. Your immune system will thank you for this nutrient rich liquid gold. Bone broth's value extends beyond the kitchen, boosting the health of your hair, skin, nails and other vital collagen requiring parts of the body.
How to make Chicken Bone Broth?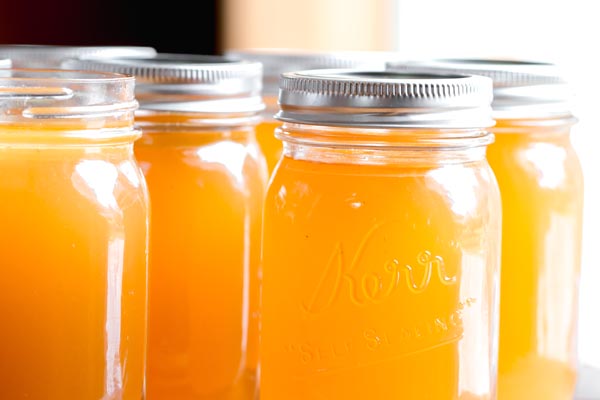 Bone broth is one of the most nutritious foods. It is filled with collagen, amino acids, gelatin and minerals. It has been used for centuries in cooking and for health benefits. Homemade bone broth is made by simmering bones and connective tissues in water. Often times vegetables and aromatic herbs are added to provide flavor.
Chicken bone broth is made by cooking chicken bones in water. The difference between chicken bone broth and chicken stock (aka chicken broth) is the length of time it is simmered. Bone broth is cooked for longer to allow for more nutrients and minerals to leach from the bones. The longer it cooks, the more nutrient dense the bone broth is. Ideally, you want a bone broth that is gelatinous when cold. This is a good sign that your broth is loaded with joint healthy collagen and minerals.
Chicken Bone Broth Recipe Video
Subscribe to the KetoFocus YouTube Channel
With 100s of videos and millions of views, Ketofocus is one of the most popular Keto channels on YouTube.
Chicken Bone Broth Ingredients
6 to 10 pounds chicken bones, necks, feets, wings, or legs
2 onions, roughly chopped
4 celery stalks, roughly chopped
1 carrot, chopped
1 leek, sliced
4 garlic cloves, smashed
1 tablespoon fennel seeds
1 tablespoon coriander (seeds or powdered)
1/2 tablespoon whole peppercorns
3 bay leaves
1/2 teaspoon thyme
1/2 teaspoon sage
1/2 teaspoon rosemary
3 tablespoons apple cider vinegar
4 teaspoons salt
Chicken Bone Broth Directions
Add the ingredients to the bowl of a slow cooker and fill with water.

Cover with the lid and Cook on low for at least 24 hours. You can let it cook for 2-3 days. Please watch the water level. You may need to add more water as it cooks to account for evaporation.

After 2 - 3 days, remove from heat and strain out vegetables and bones using a strainer.

Pour into mason jars for storage. It is safe to freeze