Keto Chicken Schnitzel
by KetoFocus.com
Chicken Schnitzel is a thin slice of chicken fried in avocado oil. It is breaded in almond flour and ground pork rinds to create a low carb crispy chicken crust.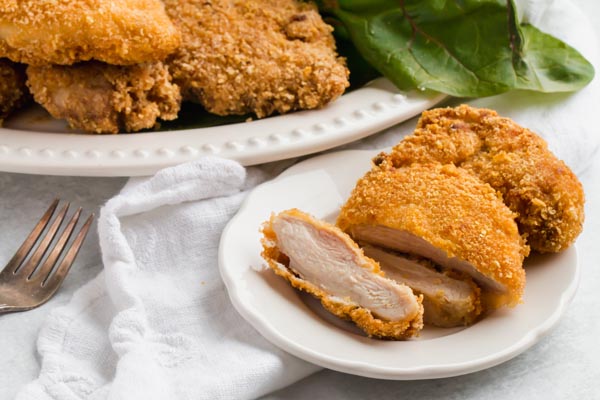 There are a number of recipes that I keep close and ready. My chicken parmesan, white chicken chili and this recipe are wonderful chicken treats!
Schnitzel is traditionally a German recipe where breaded, thinly sliced meat is fried in oil to create a crispy outer crust. To make a low carb version, we use almond flour and ground pork rinds, aka pork panko, for the breading. Frying the chicken thighs in avocado oil creates a crispy breading and juicy interior.
This one meal we make frequently in our house. It's a family favorite and easy to make for dinner. If you make up a large batch of it, you can reheat the leftovers in the oven or the air fryer to re-crisp up the outside.
Keto Chicken Schnitzel Recipe Video
Subscribe to the KetoFocus YouTube Channel
With 100s of videos and millions of views, Ketofocus is one of the most popular Keto channels on YouTube.
Keto Chicken Schnitzel Ingredients
1.5 pounds skinless, boneless chicken thighs or chicken breast cutlets
½ cup almond flour or coconut flour
2 eggs
1 ½ cups ground pork rinds
avocado oil or ghee for frying
Keto Chicken Schnitzel Directions
Season & prep the chicken

Season each chicken thigh with salt and pepper. To get thinner cuts of thighs, place the thigh in a ziploc bag or between two pieces of plastic wrap or parchment paper. Using a mallet or rolling pin, pound the meat until the chicken is ¼ inch thick.

Ingredients

Chicken thighs
Salt
Pepper

Place almond flour in a shallow dish. Place eggs and 1 tablespoons of water in another shallow dish and beat. Place ground pork rinds in a third shallow dish.

Ingredients

Almond flour
Eggs
Water
Ground pork rinds

Dip each chicken thigh in almond flour bowl to evenly coat with a light dusting of flour.

Dip the floured chicken thigh in the egg mixture.

Finally dip the chicken in the ground pork rinds.

To a large skillet, add ½ inch of avocado oil or ghee. Heat over medium high heat. The oil is hot enough when a small piece of the breading mixture sizzles in the skillet.

Add 2-3 chicken thighs to the skillet. Only add in enough chicken to allow for evenly cooking. Have about ½ inch room around each thigh. You will have to cook the thighs in batches. Shake the pan back and forth over the burner to allow for the hot oil to slide over the edges and top of the coated chicken. This gets the edges crispy.

Cook the thighs until golden brown, turning halfway through. Transfer to a paper towel lined plate when done.