Keto Chicken Fried Steak
by KetoFocus.com
This chicken fried steak with gravy checks all of the deliciousness boxes!
Steak cooked in a gluten-free, low carb crust and fried to a perfect crispy golden brown. This keto chicken fried steak is juicy, tender and can be made in less than 30 minutes, including the gravy!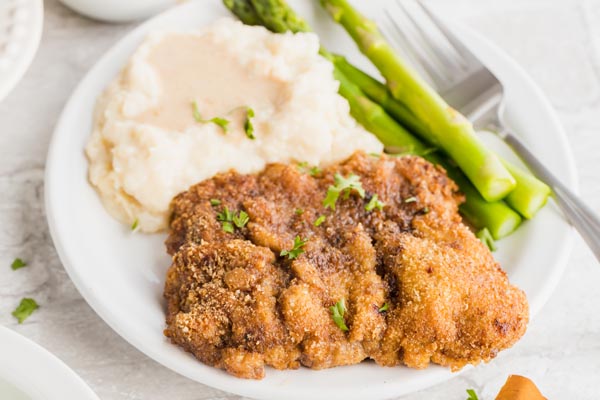 Keto chicken fried steak is my husband's favorite keto meal.
He could eat it for breakfast, lunch or dinner, but I usually only make it for dinner. It's the ideal recipe for when you get off work and want to make a homecooked meal that doesn't require a lot of time and effort. In fact, this easy keto dinner can be made in less than 30 minutes!
Juicy and tender cubed steak is coated in a gluten-free, low carb breading and fried in butter to create a thick, crispy crust that is perfect for soaking up that delicious easy keto gravy you can make with the leftover brown bits and butter in the skillet.
Serve with my famous mashed cauliflower recipe and steamed green beans for an easy homecooked keto dinner everyone will enjoy!
Keto Chicken Fried Steak Recipe Video
Subscribe to the KetoFocus YouTube Channel
With 100s of videos and millions of views, Ketofocus is one of the most popular Keto channels on YouTube.
Keto Chicken Fried Steak Ingredients
2 tablespoon butter
4 cubed steaks
1/2 cup almond flour
2 eggs
1 cup ground pork rinds
1 teaspoon garlic powder
1/4 cup heavy whipping cream
1/2 to 1 cup chicken broth
1 teaspoon arrowroot powder, optional
Keto Chicken Fried Steak Directions
Season both sides of each cubed steak generously with salt and pepper.

Using three shallow bowls, add almond flour to one bowl. Whisk together eggs with 2 tablespoons water in the second bowl. In the third bowl, combine ground pork rinds with garlic powder.

First, dip a cubed steak in the almond flour to coat.

Dip the almond flour coated cubed steak into the egg wash.

Next, place the cubed steak in the ground pork rinds to coat on both sides. Repeat with remaining cube steak and set aside.

In a large skillet, add 1 tablespoon of butter and melt over medium high heat. Add 2-3 cube steaks to the skillet and fry over medium heat on both sides for 4-5 minutes. Be careful not to overcrowd the skillet or else your steaks will steam cook and not get crispy. Work in batches if needed.

Remove chicken fried steak from skillet. Whisk in heavy cream and chicken broth. Simmer until sauce reduces and thickens. For a thicker gravy, whisk in arrowroot powder.