Keto Chicken Crust Pizza
by KetoFocus.com
5 Stars (10 Reviews)
12 Comments
Scan me to find recipe on Ketofocus.com.
An almost zero carb chicken pizza crust that is made without nut flours. This delicious keto chicken pizza crust is loaded with protein and healthy fats. It's an easy keto pizza recipe the whole family will love!
How to make chicken crust pizza
Just 4 ingredients
Chicken crust pizza is one of the easiest keto friendly pizza recipes you can make. This low carb pizza recipe only requires four ingredients – ground chicken, egg, mozzarella cheese and parmesan cheese. The seasonings add additional Italian flavor to the pizza crust but are optional. It's an easy keto pizza recipe the whole family will enjoy; especially if they like chicken!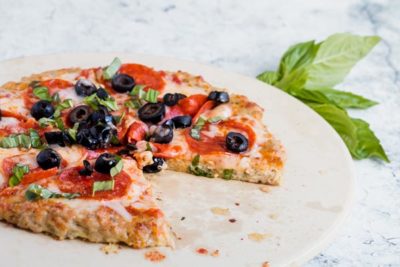 Tools you will need
To make chicken crust pizza, outside of the ingredients listed above, you will need:
an oven
parchment paper
a bowl
a baking tray or pizza pan
Subscribe to the KetoFocus YouTube Channel
With 100s of videos and millions of views, Ketofocus is one of the most popular Keto channels on YouTube.
Chicken Crust Pizza Ingredients
1 pound ground chicken
1 egg
1/2 cup mozzarella cheese
1/4 cup parmesan cheese
1 teaspoon salt
1 teaspoon italian seasoning (optional)
1/2 teaspoon garlic powder (optional)
Keto Chicken Crust Pizza Directions
Preheat oven to 450 degrees.

Combine all ingredients in a medium bowl and mix until combined. Form chicken mixture into a ball.

Press into pizza crust shape

Place a piece of parchment paper on a baking tray, pizza pan or pizza stone. Press chicken mixture out onto the parchment paper to form a pizza crust shape that is about 1/2 inch thick.

Bake in a 450 degree oven for 15 minutes.

Add your favorite pizza toppings. Broil on high to melt the cheese on the toppings until bubbly.