Keto Chicken Soup with Egg Noodles
by KetoFocus.com
Keto chicken soup with optional keto egg noodles, is a bowl of comfort, packed with healthy bone broth, protein, vegetables and low carbohydrate noodles. For this recipe, we make our own homemade keto egg noodles which are very satisfying to make and easy to prepare!
Sometimes all you really crave is a bowl of warm, comforting chicken soup, especially on cold Winter nights, or when you feel like you may be getting a cold. When such circumstance arise, I reach for a keto soup recipe.
This keto chicken noodle soup is a wonderful comfort food, is very easy to make and is packed with protein, vegetables and healthy chicken bone broth. You can load it with your favorite low carb vegetables or just add the basics – celery, onion and carrot. This keto soup is healthy, low in carbs and delicious, which is why it makes for the perfect keto friendly dinner for the whole family during cold weather!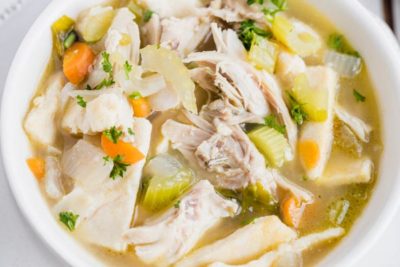 Chicken noodle soup is popular in a lot of countries around the world.
It is such a classic heart warming recipe but the traditional recipe is typically packed with carbs particularly because of the noodles and the choice of vegetables used which are usually higher in carb, thus making it not keto friendly. Chicken noodle soup is also used as a remedy for colds in many countries. This recipe has all the components of a traditional chicken noodle soup, but it is a lot lower in carbs and keto approved! There are only 3.2 grams net carbs per serving of the tasty keto chicken soup.
For this chicken soup recipe we use keto egg noodles which are very easy to make and can be added when the soup is ready. You can even make extra to use for other recipes! We also use chicken bone broth as it takes the soup to the next level when it comes to taste and also health benefits. Bone broth is rich in collagen and minerals which help build and strengthen your bones. Bone broth also makes for a great gut healing base.
Keto chicken noodle soup is great to eat on its own as a meal as it is filling enough. However, if you wish to serve something with it for a nicer presentation, you can use keto bread rolls, low carb crackers or even a simple chopped garden salad for a refreshing side!
How to make keto chicken soup?
Step One: Preheat the oven to 200 degrees
Step Two: Cook your choice of low carb vegetables
Step Three: Add the chicken broth, bay leaf and chicken. Bring to a boil and then reduce to a simmer.
Step Four: Make your homemade keto egg noodles.
Step Five: Add noodles to the keto chicken soup recipe and serve.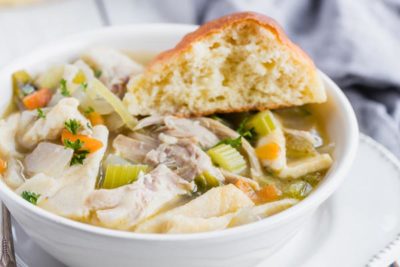 Keto Chicken Soup Recipe Video
Subscribe to the KetoFocus YouTube Channel
With 100s of videos and millions of views, Ketofocus is one of the most popular Keto channels on YouTube.
Low Carb Chicken Soup Ingredients
2 tablespoons butter
½ cup diced onion
3 stalks celery, sliced
¼ cup chopped carrots
½ teaspoon salt
3 cups chicken bone broth
1 bay leaf
2 cups shredded, cooked chicken
1 garlic clove, minced, (optional)
Keto Egg Noodles Ingredients
1 cup almond flour
1 tablespoon xantham gum
½ teaspoon salt
½ teaspoon onion powder, optional
⅓ cup hot water
1 egg
Keto Chicken Soup with Egg Noodles Directions
Preheat oven to 200 degrees.

Add butter to a large stock pot and melt over medium heat. Add onion, celery, carrots and salt. Cook until just tender.

Ingredients

Butter
Onion
Celery
Carrots
Salt
Garlic (optional)

Stir in chicken broth and add bay leaf. Add chicken. Bring to boil, then reduce to a simmer. Let simmer uncovered while making noodles.

Ingredients

Chicken broth
Bay leaf
Chicken

To make the keto egg noodles, combine almond flour, xanthan gum, salt and onion powder to a small bowl. Whisk in hot water and egg. Mix to combine. Place dough in between two sheets of parchment paper.

Ingredients

Almond flour
Xanthan gum
Salt
Onion powder
Hot water
Egg

Using a rolling pin, roll out dough until it is about ⅛ to ¼ inch thick. Using a pizza cutter or knife, cut the dough into thin or thick strips - which ever you prefer. Transfer the noodles to a parchment lined baking tray and bake at 200 degrees for 15 to 20 minutes.

Remove noodles from the oven. Remove the soup from the stove top and add the noodles to the soup. Serve.