Keto Chaffle Breakfast Sandwich – The Keto McGriddle
by KetoFocus.com
The McGriddle for the keto diet
A keto version of the classic sausage, egg breakfast sandwich with a maple flavored chaffle instead of a pancake, this Keto McGriddle is freezable and packable - you can prep your keto breakfast ahead of time and eat it on the go.
If you are looking for an easy keto breakfast that you can take with you on the go – to work or school, then this keto chaffle breakfast sandwich is your answer. Egg and sausage are sandwiched between two maple flavored chaffles resulting in a breakfast bite that is similar to a McGriddle sandwich! But instead, we will call this the Keto McGriddle instead!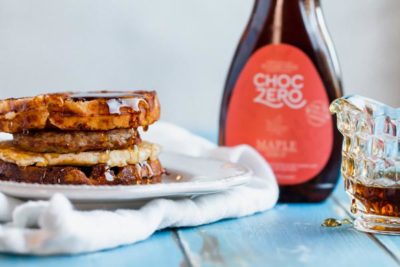 Similar to other breakfast sandwich recipes, you can mix and match the sandwich ingredients too. Not a fan of sausage? Try bacon! Want some cheese in there? Sure, add some cheddar cheese or even pepper jack cheese for a sweet and spicy twist! This recipe is customizable to your keto taste buds!
What makes this the ultimate on-the-go keto breakfast is that you can meal prep these ahead of time and store in the freezer for later. Then when you are running late for school or work, wrap it in a paper towel and microwave for 90 seconds. You'll be headed out that door in less than two minutes with a Keto McGriddle Sandwich in your hands.
How to make a Keto McGriddle
Unlike McDonalds, this keto breakfast sandwich will not use pancakes. Instead we are making maple flavored chaffles with just a few simple ingredients.
Make the maple waffles by combining the egg, shredded mozzarella cheese, almond flour or coconut flour, sugar free maple syrup and baking powder.
Cook waffles in the waffle maker until golden and crispy.
Assemble the sandwich with breakfast sausage, fried and scrambled egg. Drizzle extra syrup on if desired!
Keto Chaffle Breakfast Sandwich – The Keto McGriddle Recipe Video
Subscribe to the KetoFocus YouTube Channel
With 100s of videos and millions of views, Ketofocus is one of the most popular Keto channels on YouTube.
Maple Chaffle Ingredients
1 egg
1/2 cup shredded mozzarella cheese
2 tablespoons almond flour or 2 teaspoons coconut flour
1 tablespoon sugar free maple syrup
1/2 teaspoon baking powder
Sandwich Components Ingredients
1 tablespoon butter or cream cheese
1 fried or scrambled egg
1 sausage patty, cooked
Keto Chaffle Breakfast Sandwich – The Keto McGriddle Directions
Preheat waffle maker. Mix all the maple chaffle ingredients in a small bowl.

Pour 1/2 the batter into the waffle maker and cook until set - about 3 to 5 minutes.

Quick Tip
It's not necessary to spray the waffle iron plates with cooking spray but can be done.

Remove the maple waffle once finished cooking. Repeat with remaining batter.

Spread butter or cream cheese on one side of each maple chaffle. Top with fried egg or scrambled egg and heated sausage patty.

Quick Tip
Use crispy bacon and cheese instead.