Keto Biscuits and Gravy
by KetoFocus.com
Your favorite diner breakfast, biscuits & gravy, but low carb
An easy and delicious recipe for creamy sausage gravy poured over flaky, tender keto biscuits. This hearty low carb breakfast of keto biscuits and gravy will keep you going all morning long.
Biscuits and gravy will always remind me of my grandpa. He loved them and either made them most mornings or talked about them quite often. When I met my husband is was equally obsessed over this hearty breakfast dish, so I knew it was meant to be! This recipe is for you both!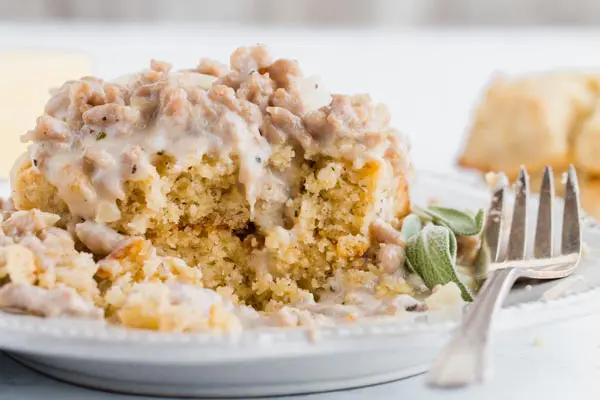 Keto biscuits and gravy are actually quite easy to make. You can have both the biscuits and the gravy done in under 30 minutes. Even though it's pretty simple to prepare, we generally enjoy this breakfast on mornings when things slow down, like the weekends. That way you have time for those tender biscuits to marinade in that thick keto sausage gravy, made without cream cheese.
Biscuits and gravy are a quintessential breakfast comfort food. But just because we are on a ketogenic diet, doesn't mean we can't ever have our favorite foods anymore. My recipe for low carb biscuits creates a tender crumb bread that will soak up every drop of thick, creamy sausage gravy. The combination is unreal and is worthy of any country breakfast plate including chicken fried steak and beef tips and noodles.
How to make keto biscuits and gravy
Start making the keto biscuits. Whisk together dry ingredients – almond flour, coconut flour, psyllium husk, baking powder, salt and baking soda.
Grate butter. A key step for making flaky keto biscuits.
Add wet ingredient for the biscuits – heavy cream, sour cream, melted butter.
Laminate the dough by folding it onto itself several times. A key step for making flaky biscuits. 
Cut into biscuit shapes and bake.
Meanwhile, start the keto sausage gravy by cooking the sausage and onion. Then add xanthan gum and heavy cream. Simmer to thicken.
Pour a heaping spoonful of gravy over the biscuits and dig in!
Keto Biscuits and Gravy Recipe Video
Subscribe to the KetoFocus YouTube Channel
With 100s of videos and millions of views, Ketofocus is one of the most popular Keto channels on YouTube.
Keto Biscuits Ingredients
1 1/4 cups almond flour
1/3 cup coconut flour
2 tablespoons whole psyllium husk
1 tablespoon baking powder
1/2 teaspoon salt
1/4 teaspoon baking soda
6 tablespoons frozen unsalted butter
1/2 cup heavy whipping cream
1/4 cup sour cream
2 tablespoons butter, melted
Sausage Gravy Ingredients
1 tablespoon butter
1 pound pork breakfast sausage or ground pork
1/2 cup chopped onion
1/2 teaspoon xanthan gum
1 cup heavy whipping cream
1 cup chicken broth
Keto Biscuits and Gravy Directions
Start by making the biscuits. Preheat oven to 400 degrees. Whisk dry ingredients together in a medium bowl.

Grate frozen butter into the bowl of dry ingredients using a cheese grater. Gently stir in grated butter. Do not overmix. It make cause your butter to soften or melt, which will not yield a flaky biscuit.

Stir in the whipping cream and sour cream. Combine until just incorporated.

Gently shape the dough into a rectangle that is 1 inch tall on top a piece of parchment paper.

Folding hamburger style, fold one half of the dough onto itself. Again, press into a rectangle shape that is 1 inch tall. Continue to fold and mold into a rectangle shape four more times. This will create flaky layers in the keto biscuit.

Cut the biscuits into six squares using a knife. Brush each biscuit on the top and sides with melted butter. Place each biscuit on a parchment lined baking tray. Bake at 400 degrees for 10 minutes.

Remove from oven, and let sit on the baking tray for about 5 minutes before transferring to a wire rack. Using a spatula, gently transfer each biscuit to a wire rack to finish cooling. These biscuits will be very delicate when they first come out of the oven, but will firm up once they cool. For a firmer biscuit, let sit overnight.

Meanwhile, while the biscuits are cooking and cooling, start the sausage gravy. Melt butter in a large preheated skillet over medium heat. Add the sausage and cook until no longer pink, about 5 minutes. Use a wooden spatula or spoon to break up the meat into smaller chunks.

Add the onion and cook until softened.

Stir in the xanthan gum and cooking until absorbed completely, about 30 seconds. Gradually, whisk in the heavy cream. Mixture should start to thicken. Then whisk in broth. While whisking, let simmer until thickened, about 2-3 minutes. Season with salt and lots of black pepper.

Assemble keto biscuits and gravy

Assemble by placing a biscuit on a plate or shallow bowl. Pour gravy over the top. Enjoy.