Sheet Pan Eggs
by KetoFocus.com
Delicious and simple to make, these sheet pan eggs make for a delicious breakfast. The best thing is that this recipe is work for anyone, whether you follow the keto diet or not. And, you can go crazy with the variations too!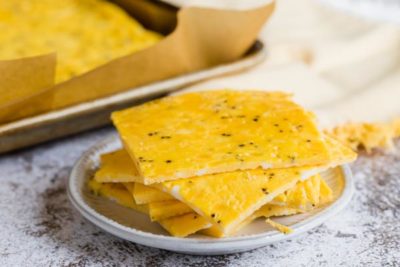 Let's be honest, eggs are a wonderful nutrient dense food, but sometimes they can get…. err, boring.
But maybe we can switch things up a bit?
Sheet pan eggs are a great way to serve eggs to the crowd and it's the best way to meal prep eggs. Simple to make and even more delicious to eat, you must not miss out on them. If you want to surprise everyone, you can also call them cookie sheet eggs because they're made in a cookie sheet.
It's a great idea to try out these baked eggs whenever you have a huge crowd to feed. Just dump as many eggs as you want and blend them. Ta-da! Imagine making 12 omelets separately!
The best thing about this sheet pan eggs recipe is that it is keto. You can add in your favorite vegetables, maybe some slices of cooked bacon or pepperoni into the egg mixture for an easy sheet pan omelet.
Serve along side some bacon or keto hash browns for the ideal keto breakfast.
How to bake eggs on a sheet pan?
The ingredients of our sheet pan eggs recipe can be as simple or complex as you want them.
If you want to keep it simple, all you need is a single ingredient – just the eggs.
But if you want to get fancy (and impress everyone), you can add other ingredients too – especially if you want creamy eggs.
A great idea is to add cream to the eggs. This will make your eggs soft and creamy while adding flavor as well. If you are allergic to dairy or can't tolerate dairy, try using a nut milk instead like macadamia nut milk. To keep the recipe keto, you should add plant-based milk.
If you want the eggs to taste even yummier, you can add cream cheese or a low carb yogurt instead. The softness of the eggs will just melt on your tongue!
An obvious one – add your favorite veggies, bell peppers, onions, spinach, olives, etc.
Another delicious addition to the sheet pan eggs recipe is breakfast meat. Some of my favorites are bacon slices and pepperoni. Pepperoni in particular is simply phenomenal with eggs! It's like having a pizza but with eggs.
The beauty about making eggs on a baking sheet is that it's easy. Mix your ingredients. Pour onto a sheet pan and bake! It's makes a golden yellow color thanks to the yolks. Of course, you can leave out the yolks and make an egg white only eggs.
Sheet Pan Eggs Recipe Video
Subscribe to the KetoFocus YouTube Channel
With 100s of videos and millions of views, Ketofocus is one of the most popular Keto channels on YouTube.
Sheet Pan Eggs Ingredients
12 eggs
1/2 cup shredded cheddar cheese
1/4 cup heavy cream
1 teaspoon salt
1/2 teaspoon pepper
Sheet Pan Eggs Directions
Preheat oven to 350 degrees. Line a rimmed sheet pan with parchment paper and coat with cooking spray.

Add eggs to a medium bowl. Whisk in shredded cheese, heavy cream, salt and pepper.

Pour egg mixture onto prepared baking tray.

Bake at eggs at 350 degrees for 5-6 minutes or until eggs are set and no longer jiggly.

Using a pizza cutter or knife, cut eggs into 12-15 portions.