90 Second Keto Bread
by KetoFocus.com
Fluffy keto sandwich bread in 90 seconds
The best airy, fluffy keto bread that looks and tastes like bread - all without that eggy flavor typical of most keto bread recipes. Just 90 seconds to bake and you see what this recipe is better than sliced bread.
Being able to make gluten-free keto bread in minutes is key to sticking to the low carb lifestyle. In fact, having access to easy portion-controlled recipes are ideal for when cravings hit, like these keto hostess cupcakes, which makes 2 cupcakes, or this sugar free chocolate mug cake.
If you have tried other recipes for 90 second keto bread before, you may have been disappointed. Most recipes for this quick bread fall flat because they have an overwhelming eggy flavor, taste like baking powder, have a strange yellow appearance or don't taste like bread at all.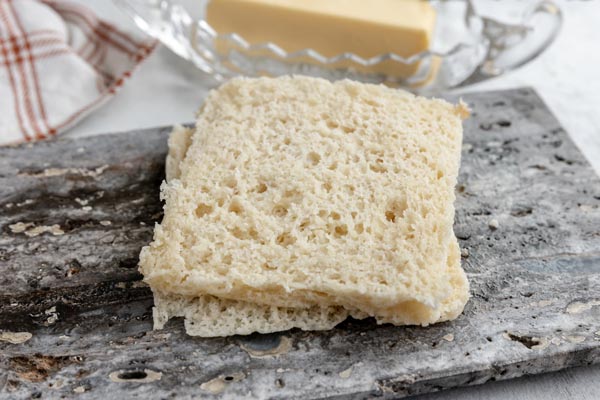 I tested many variations and came up with a recipe that looks like real sandwich bread. This 90 second bread made with almond flour is a fluffy low carb version of white bread with air holes through out to make it spongy and ready to soak up butter or mayonnaise. In fact it's perfect for making sandwiches like grilled cheese. We disguise the eggy flavor thanks to a key ingredient. With instructions for baking bread in the microwave or oven, you simply can't beat this recipe.
The best part is that this keto sliced bread toasts in a toaster to give you that perfectly golden brown crust and crunchy texture! Now you can have a side of toast with your eggs and bacon.
How to make 90 second keto bread
Mix together the dry ingredients. Add almond flour, protein powder, baking powder, allulose and salt (if using) and mix until combined.
Mix in wet ingredients. Add softened butter, egg white, sour cream and heavy cream.
Bake in the microwave or oven. Pour into baking dish. Use a microwave or oven-safe baking dish lined with parchment paper. Bake for 90 seconds in the microwave or 9 minutes in the oven.
Slice and serve. After cooling, slice down the middle to make 2 slices.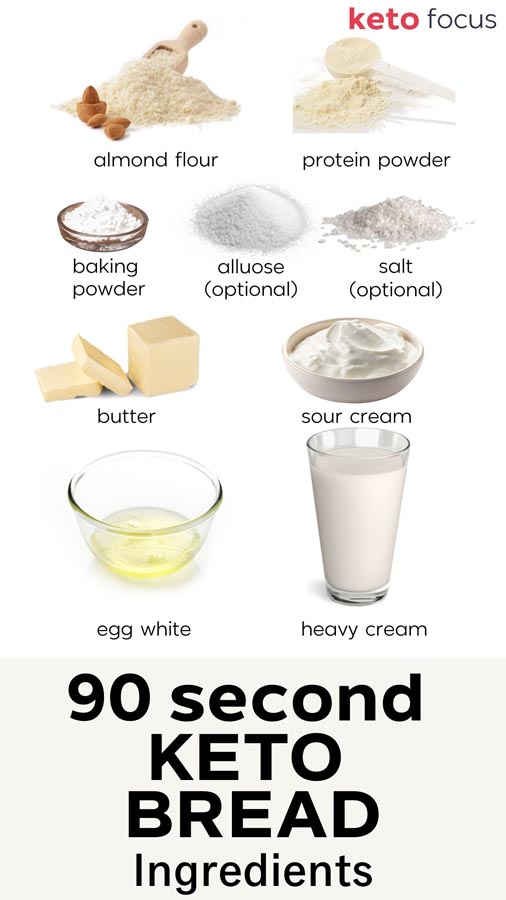 Key Ingredients
Almond flour – I use almond flour in the majority of keto baking as it is easily accessible to most in the grocery store or online. If you have a nut allergy, you can substitute with sunflower seed flour. It measures cup for cup with almond flour.
Protein powder – Protein powder is added to keto breads and baked goods to help puff them up and give them a fluffy texture without the need for additional eggs. The protein powder I use is a zero carb whey protein powder. You can substitute with any type of protein powder for this recipe.
Baking powder – The baking powder acts as an leavening agent to help the bread rise but it also contributes to flavor and browning effect when you toast or cook the bread in a griddle. It's the key ingredient to give this low carb bread that perfect golden brown crust and crunch.
Allulose – An optional ingredient, a small amount of sweetener is added just for a touch of sweetness.
Salt – This is also an optional ingredient. You may want to omit this if you are making grilled cheese sandwiches as the cheese provides enough salt.
Butter – We use softened unsalted butter in this recipe to add fat, flavor and moisture. Many 90 second keto bread recipes can be dry. Butter helps to off-set this.
Egg white – The egg in keto bread helps to make the bread rise and provides structure and support. You could you an whole egg instead but it will change the color of your bread from white bread to yellow bread. If you do use a whole egg, omit the heavy cream.
Sour cream – This is my secret ingredient in keto baking to mask over any eggy flavor that eggs give off in a recipe. You could substitute with a low carb Greek yogurt – possibly cream cheese, although I haven't experimented with this.
Heavy cream – Add for an extra bit of moisture so our bread isn't dry. You can substitute with nut milk if needed.
Equipment needed
Square baking dish – The baking dish I used is both microwave safe and oven safe. It is square and came in a meal prep set similar to this set. The dish I used holds 781 ml.
Parchment paper – This will keep the bread from sticking to the sides of the baking dish. It also makes it easier to lift our your bread loaf.
90 second keto bread Recipe Video
Subscribe to the KetoFocus YouTube Channel
With 100s of videos and millions of views, Ketofocus is one of the most popular Keto channels on YouTube.
Keto Bread Ingredients
1/4 cup almond flour
1 tablespoon low carb protein powder
1 teaspoon baking powder
1/4 teaspoon allulose, optional
1/8 teaspoon salt, optional
2 tablespoons unsalted butter, softened
1 egg white
1 tablespoon heavy cream
2 teaspoons sour cream
90 Second Keto Bread Directions
To a small bowl, add almond flour, protein powder, baking powder, allulose and salt (if using). Whisk until combined.

Ingredients

Almond flour
Protein powder
Baking powder
Alluose (optional)
Salt (optional)

Add butter, egg white, sour cream and heavy cream. Mix with a fork until combined.

Ingredients

Unsalted butter (softened)
Egg white
Sour cream
Heavy cream

Spray a square microwave or oven-safe baking dish with cooking spray and lay down 2 strips of parchment paper to line the dish on each side. Add bread dough batter to the lined dish and spread evenly.

Quick Tip
The dish used is listed above. It is a 4 inch x 4 inch dish that holds 781 ml.

Place dish in the microwave at bake at 100% power for 90 seconds or until bread is set on top and springs back when you touch the top. Remove from microwave and let cool before slicing.

Bake at 350 degrees for 9-11 minutes or until the bread is set on top and springs back when you touch the top. Remove from oven and let cool before slicing.

Using a serrated knife, cut the bread loaf into two slices by cutting down the middle.

Quick Tip
Make sure the bread is cooled to allow for easy slicing.

Add each slice of bread to a toaster, toaster oven or air fryer and toast for about 2-4 minutes or until golden brown and toasted.

Quick Tip
If using a toaster, let bread cool to room temperature before toasting.