Keto Cinnamon Rolls
by KetoFocus.com
The most authentic keto cinnamon rolls recipe you will ever have. This low carb breakfast pastry is made with almond flour, true cinnamon roll flavors and WITHOUT using cheese to make the keto pastry dough!
Fluffy, golden-brown keto cinnamon buns filled with a buttery, sweet blend of spices and topped with your choice of two gooey, sugar-free icing options. All that is missing is a cup of coffee!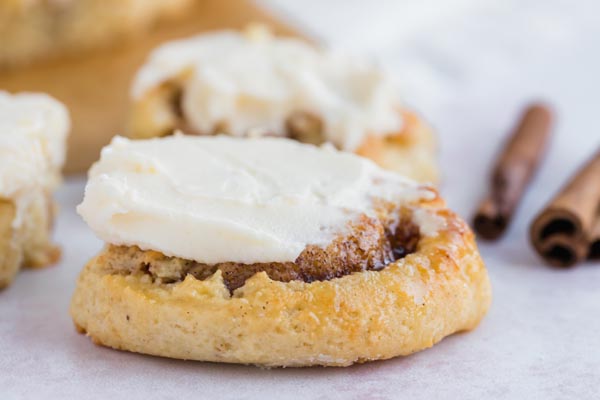 These are a simple solution to a cinnamon roll craving without using keto fathead dough to make them. Because, let's face it, mozzarella cheese doesn't really belong in a cinnamon roll!
The downside of using fathead dough to make low carb cinnamon rolls is that these rolls have a cheese like taste. There is an underlying cheese flavor when you sink your teeth into each bite of cinnamon roll.
This keto cinnamon rolls recipe doesn't use fathead dough. Instead, we use a combination of almond flour and protein powder, along with some levening agents to produce a fluffy cinnamon roll without the need for cheese. In this recipe, the xanthan gum helps hold the dough together. It's structural roll replaces the need for melted mozzarella cheese in other low carb cinnamon roll recipes.
Along with my glazed keto donuts, these buns make for a sweet breakfast in the mornings or for special occasions like Christmas and Mother's Day. They are the best keto cinnamon rolls I've had to date and many others agree. You will never go back to any other keto recipe once you try this one!
These easy keto cinnamon rolls are the ultimate make-ahead breakfast treat because they can be made the night before baking.
How to make keto cinnamon rolls
Since we are making cinnamon rolls without fathead dough, the recipe for this pastry is quite simple.
Combine dry ingredients – Whisk together almond flour, protein powder, sugar free sweetener, baking powder, xanthan gum, cardamom and salt.
Finish the dough – Stir in melted butter, sour cream and hot water.
Roll out dough into a thin rectangle by placing cinnamon roll dough in between two sheets of parchment paper and using a rolling pin.
Make cinnamon mixture using brown sugar free sweetener, ground cinnamon, nutmeg and salt.
Spread on butter and spice by brushing on melted butter on top of the pastry dough and sprinkling cinnamon "sugar" mixture.
Roll and cut into buns.
Bake at 325 degrees until golden brown.
Top each cinnamon roll with your choice of keto frosting options. 
Keto Cinnamon Rolls Recipe Video
Subscribe to the KetoFocus YouTube Channel
With 100s of videos and millions of views, Ketofocus is one of the most popular Keto channels on YouTube.
Cinnamon Buns Ingredients
Buttered Icing Ingredients
Cream Cheese Frosting Ingredients
Keto Cinnamon Rolls Directions
Preheat oven to 325 degrees.

Combine almond flour, protein powder, sweetener, baking powder, xanthan gum, cardamom and salt to a medium bowl. Mix until combined.

Ingredients

2 cups almond flour
1/2 cup protein powder
2 tablespoon sugar-free sweetener
2 1/2 teaspoons baking powder
2 teaspoons xanthan gum
1 teaspoon ground cardamom
1 teaspoon salt

Mix in 1/2 cup melted butter, sour cream and hot water.

Ingredients

1 cup unsalted butter, melted
1/4 cup sour cream
1/4 cup hot water

Quick Tip
Dough will feel sticky.

Place dough in between two sheets of parchment paper and press and roll into a rectangle shape about 1/4 inch thick using a rolling pin.

In a small bowl, combine brown sugar free sweetener, cinnamon, ground nutmeg and a pinch of salt.

Ingredients

1/4 cup brown sugar free sweetener
1 tablespoon cinnamon
1/4 teaspoon nutmeg
pinch of salt

Using a pastry brush or the back of a spoon, spread 2 tablespoons melted butter onto the top of the rectangle of dough. Sprinkle cinnamon sweetener mixture on top the butter.

Ingredients

2 tablespoons unsalted butter, melted

Quick Tip
Leave about 1/2 inch border of dough bare from cinnamon mixture.

Create a cinnamon roll log

Starting at the long end of the rectangle dough, tightly roll up the dough over the filling. Cut the dough crosswise into even slices (about 1 inch thick). Arrange sliced cinnamon rolls onto a parchment lined baking tray or dish. If dough is sticky and too soft to cut, refrigerate the dough for 30-60 minutes before slicing.

Bake at 325 degrees for 16 to 20 minutes or until the rolls are golden brown on top.

To make the buttered keto icing, combine butter, powdered sugar free sweetener and vanilla in a small bowl. Drizzle over baked cinnamon rolls.

Ingredients

2 tablespoons melted butter
1/2 cup powdered sugar free sweetener
2 teaspoon vanilla extract

Quick Tip
Microwave for 20 seconds if mixture is too thick.

To make the keto cream cheese frosting, beat together softened cream cheese, butter and powdered sugar free sweetener in a medium bowl until light and fluffy. Spread on top of cool cinnamon rolls.

Ingredients

8 oz cream cheese, softened
1/2 cup unsalted butter, softened
1/2 cup powdered sugar free sweetener