Keto Krispy Kreme Donuts
by KetoFocus.com
Fried keto donuts with a tender cake like center
Tasting just like a Krispy Kreme donut, these glazed keto donuts are cake based, fried and coated with a sweet vanilla glaze.
This is the BEST recipe for keto donuts. I've tried many low carb donut recipes but this is by far the recipe that tastes the closest to an actual donut. These glazed keto donuts are perfect in the morning paired with a cup of coffee.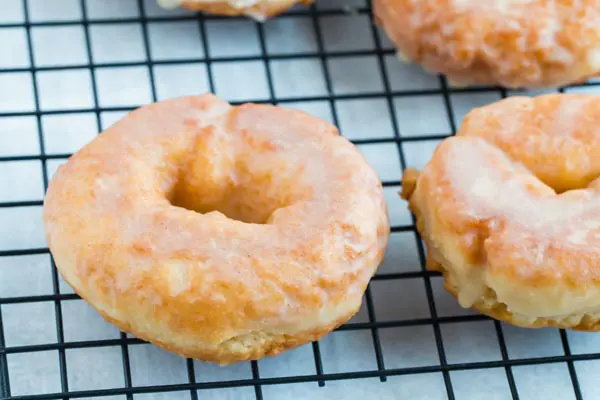 The dough for these almond flour donuts involves simple ingredients to yield a tender, cake like texture. Frying them gives them a crispy crust similar to an actual yeast based donut. However, you can bake these donuts in the oven. It's a sweet way to start off your morning.
The glaze on these low carb donuts is sugar-free and is very similar to the same glaze you would see on a Krispy Kreme donut. But if you are more of a chocolate glazed donut like Homer Simpson, then coated in a sugar free chocolate glaze. Both are easy recipes to make so can easily satisfy your donut cravings!
Whisk together dry ingredients – almond flour, protein powder, sugar free sweetener (like monk fruit or erythritol), baking powder, xanthan gum and salt.
Mix in remaining ingredients – melted butter, sour cream and hot water.
Mold into a donut shape or press into a donut pan.
Fry in lard or avocado oil until golden brown or bake in the oven.
Make sugar free Krispy Kreme glaze, chocolate glaze or cinnamon sugar powder and dip or dust your keto donuts.
Loving keto pastries?? Try making keto cinnamon rolls or low carb apple fritters. 

Key ingredients & substitutions
For this recipe, I like using the combination of almond flour and protein powder. It produces a texture and flavor closest to a traditional cake donut. However, I understand some don't have access to the ingredients required or may be allergic to nuts. Here are some ingredient substitutions you can make for this recipe:
Almond flour – The keto flour to give our low carb donuts substance. Coconut flour could be used instead; however, you will need to decrease the amount used. Use 2/3 cups coconut flour as a substitute. Sunflower seed flour can also be used if allergic to nuts. Sunflower seed flour measures cup for cup with almond flour so you will add the same amount in this recipe.
Protein powder – Works to for a protein matrix and works similar to gluten in all-purpose flour. Will form a spongy texture in this keto donuts recipe. Look for low carb or zero carb protein powder. Unflavored or vanilla flavor.
Sugar free sweetener – Can use monk fruit/erythritol blend like Stevia, Lakanto or even Truvia Sweet Complete. Any will work as long as it measures cup for cup with sugar.
Xanthan gum – Since this donut recipe is egg-free, we use xanthan gum as a "glue" to hold the donut together as it bakes or fries. Don't want to use xanthan gum? You can add an whole egg. Just omit the hot water as well.
Melted butter – Gives flavor; however melted coconut oil can be used if dairy free.
Sour cream – Provides that slight tangy flavor that is iconic in traditional cake donuts.
Keto Krispy Kreme Donuts Recipe Video
Subscribe to the KetoFocus YouTube Channel
With 100s of videos and millions of views, Ketofocus is one of the most popular Keto channels on YouTube.
Keto Cake Donuts Ingredients
Krispy Kreme Glaze Ingredients
1/2 cup confectioners Swerve or use sweetener of choice
2 tablespoons heavy whipping cream
2 teaspoons vanilla extract
Keto Krispy Kreme Donuts Directions
Add the almond flour, protein powder, sugar free sweetener, baking powder, xanthan gum and salt to a medium bowl. Mix until combined.

Stir in melted butter, sour cream and hot water.

Grab a handful of dough and roll it into a short snake shape. Mold the ends together to form a donut shape. Wet hands with a little bit of water or spray oil on your hands to keep the dough from sticking to your hands.

Quick Tip
Can press into a donut pan if baking in the oven.

Add lard to a small non-stick skillet and heat to low - medium heat. Add enough lard to cover the donut almost halfway. Add a couple of donuts to the skillet and fry on each side until golden brown. Can swirl the oil in the pan to help coat the donuts as they cook. DO NOT get your oil too hot - it will cause your donuts to crumble.

Quick Tip
You can also bake these keto cake donuts at 325 degrees Fahrenheit for 10 minutes or until the donuts are set and lightly brown around the edges.

Remove from skillet and place on a wire rack to cool.

Quick Tip
Let donuts cool completely before handling. They will continue to set and dry as they cool.

To make the Krispy Kreme glaze, add confectioner's Swerve, heavy cream and vanilla to a small bowl. Mix to combine. Microwave for 20 seconds to get a thin consistency.

Dip the top of your donut into the glaze and place on a wire rack to set.