Chicken Fajita Marinade
by KetoFocus.com
This easy chicken fajita marinade uses pantry staples and takes only 30 minutes to infuse your chicken with incredible fajita flavor!
Fajitas are one of my favorite weeknight meals, and since this marinade takes only 30 minutes to infuse the chicken with fresh fajita flavor, it's perfect for any busy night. While chicken fajitas are a classic, this marinade is also perfect for steak or shrimp fajitas!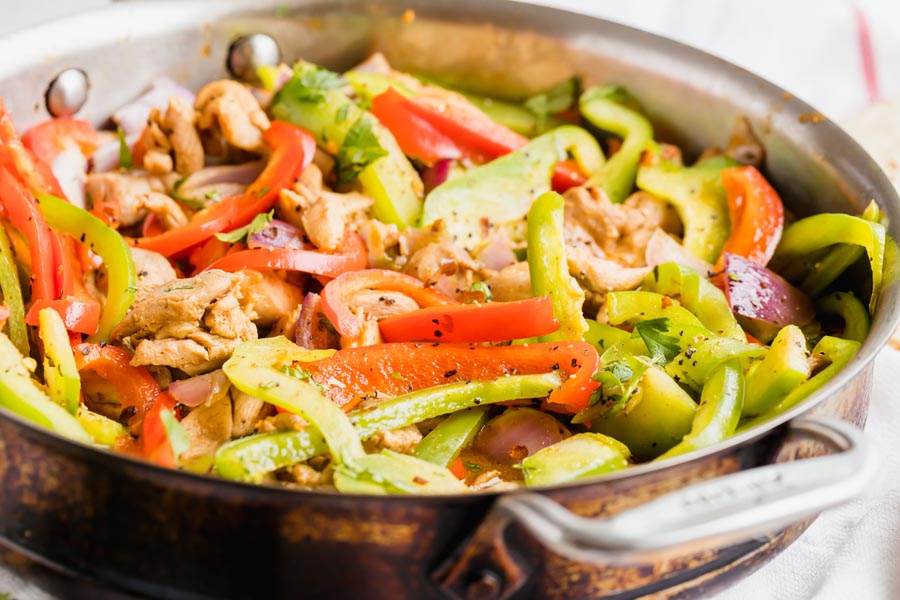 Any good marinade uses simple ingredients – just oil, acid, and flavor. Adding soy sauce to this marinade gives it the perfect savory umami flavor, and the spices heat things up for a fajita flair.
Make your weeknight meal even easier by prepping everything ahead of time – marinade, meat, and vegetables – and stashing it in the freezer for a simple thaw and cook meal. Just wrap them up with this tortilla recipe for a tasty fajita dinner everyone in the family will love!
How to make chicken fajita marinade
Make the marinade – Whisk all ingredients for the chicken marinade together in a small bowl.
Add 3 pounds of sliced chicken thighs or breast and let soak for at least 30 minutes (however 1-12 hours or overnight if ideal).
Cook the chicken by adding chicken and marinade to a hot skillet. Bring to a boil and sauté for 3-4 minutes until chicken is almost cooked through.
Add veggies – Stir in sliced bell pepper and onions and cook until tender.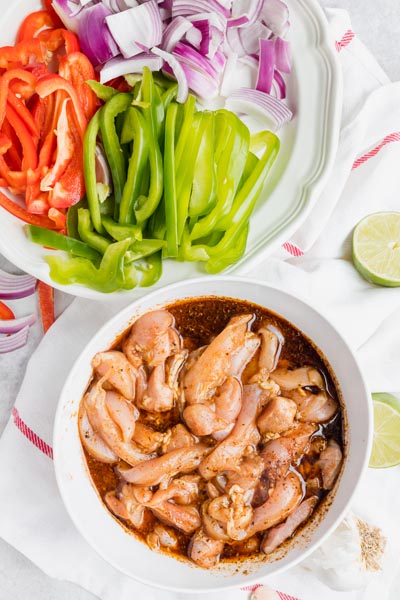 Key ingredients & substitutions
Avocado oil – or any light flavored oil – canola and light olive also work well.
Soy sauce – coconut aminos or liquid aminos can be used if avoiding soy. Tamari can be used if gluten free.
Lime juice – substitute lemon juice if needed.
Apple cider vinegar – White vinegar can be used as a substitute.
Garlic – While I often use fresh minced garlic, you can use jarred garlic or even garlic powder if needed. Just substitute ¼ teaspoon of garlic powder for every garlic clove.
Seasonings – Chili powder, cumin, and oregano.
Chicken Fajita Marinade Recipe Video
Subscribe to the KetoFocus YouTube Channel
With 100s of videos and millions of views, Ketofocus is one of the most popular Keto channels on YouTube.
Chicken Fajita Marinade Ingredients
¼ cup avocado oil
¼ cup soy sauce
2 tablespoons lime juice
2 tablespoons apple cider vinegar
2 cloves garlic, minced
2 teaspoons chili powder
1 teaspoon ground cumin
1 teaspoon dried oregano
1 teaspoon salt
½ teaspoon black pepper
3 pounds diced or slice chicken thighs or breast
Chicken Fajitas Ingredients
1 green bell pepper, sliced
1 red bell pepper, sliced
1 yellow, purple or white onion, sliced
Chicken Fajita Marinade Directions
In a large bowl, whisk together marinade ingredients - avocado oil, soy sauce, lime juice, apple cider vinegar, minced garlic, chili powder, cumin, oregano, salt and pepper.

Ingredients

¼ cup avocado oil
¼ cup soy sauce
2 tablespoons lime juice
2 tablespoons apple cider vinegar
2 cloves garlic, minced
2 teaspoons chili powder
1 teaspoon ground cumin
1 teaspoon dried oregano
1 teaspoon salt
½ teaspoon black pepper

Quick Tip
Can prepare fajita marinade ahead of time and store in the refrigerator for up to 7 days.

Add 3 pounds sliced chicken thighs or chicken breast to the fajita marinade. Let marinade for at least 30 minutes (ideally 1-12 hours or overnight).

Ingredients

3 lbs sliced chicken thighs or breast

Quick Tip
Can marinade in a large Ziploc bag or bowl.

To prepare fajitas, add 1 tablespoon oil into a large skillet preheated to medium high heat. Add chicken and the marinade to the skillet. Bring to a boil and let sauté for 3-4 minutes until chicken is almost cooked through, stirring occasionally.

Stir in sliced bell pepper and onions and let cook until tender. Serve with cheddars, cilantro, pico de gallo, guacamole, tortillas or your favorite fajita toppings.

Ingredients

1 green bell pepper, sliced
1 red bell pepper, sliced
1 onion, sliced