Keto Chicken Tenders
by KetoFocus.com
Juicy, crunchy keto chicken tenders prepared three ways - baked, air fryer and fried
Get crispy, juicy keto chicken tenders using pork panko. You'll be amazed that they are homemade and not from your favorite fast food chicken restaurant and with about 1 g net carb per chicken strip, they make an easy keto meal solution.
Nutrition Facts
Serving Size:
1 chicken strip
Sometimes, you just crave fast food. But there is usually a keto alternative to that carb loaded fast food meal. Whether it's a hamburger and fries or teriyaki chicken from Panda, there are lots of homemade versions that are low in carbs for you to enjoy and these keto chicken strips are no exception.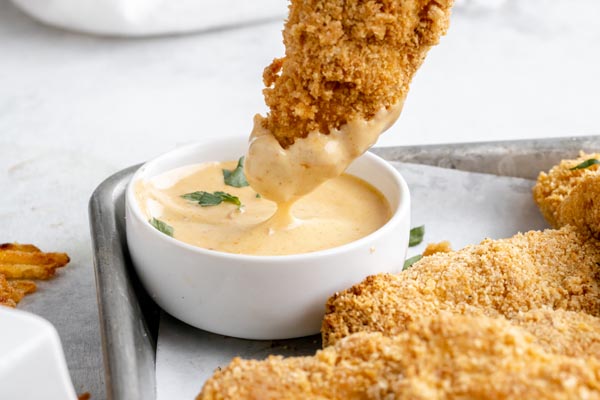 Fried chicken tenders, chicken strips or chicken fingers – however you say it, they are pretty much the same dish. Juicy chicken tenderloins coated with a thick layer of breading and fried or baked to yield a crispy, crunchy piece of chicken perfect for dipping in your favorite sauce – BBQ sauce, ranch or Chick-Fil-A sauce.
This recipe for keto chicken tenders is one of the crunchiest ways to make tenderloins. We triple dip the chicken in a special breading of almond flour and ground pork rinds along with a special seasoning blend. The result, that crunch you have been missing with a flavor similar to KFC or Popeye's Chicken.
How to make keto chicken tenders
Pat dry tenderloins with a paper towel and season with salt and pepper.
Get out three bowls or plates. To the first bowl add almond flour, pork panko, onion powder, garlic powder, salt and pepper. Whisk an egg in the second bowl. In the third bowl, add only pork panko.
Dust one chicken tender in the first bowl. Then dip in egg wash. Dust again with more almond flour and pork panko. Then back in the egg wash. Do a final coating in the third bowl with pork panko only.
Fry in avocado oil on the stove top, bake in the oven or cook in the air fryer.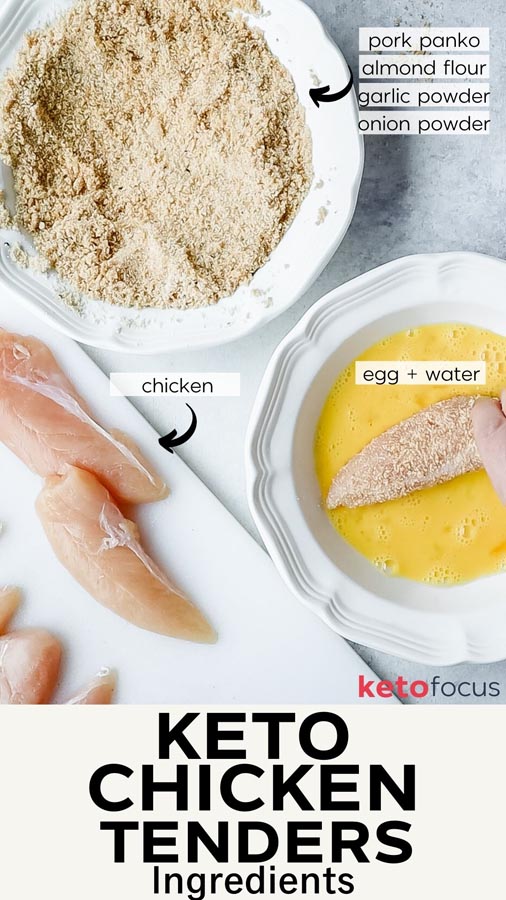 Key ingredients
Chicken – Since this is a chicken strips recipe, we are going to using chicken tenderloin which is that thin flap of meat that comes off of the chicken breast. However, you can actually substitute for chicken breasts or chicken thighs and just cut them into thin strips.
Almond flour – The purpose of the almond flour is to help absorb moisture from the egg wash. It will help create a binder so that the crunchy pork rind breading sticks to your chicken tender as it fries or bakes. If you can't have almond flour, try using parmesan cheese or protein powder. If you use protein powder, you will have to fry your chicken strips at a lower temperature since protein powder can burn easily – especially if you have larger chicken tenders.
Pork panko – The key ingredient for crunchy, crispy keto chicken strips and it is able to keep the net carbs low as pork panko is made from ground pork rinds and is zero carbs. If you can't get a hold of ground pork rinds, just grind up pork rinds in a food processor or blender.
Egg – Creates a binder to help the breading stick to the chicken tenderloin.
Keto Chicken Strips Recipe Video
Subscribe to the KetoFocus YouTube Channel
With 100s of videos and millions of views, Ketofocus is one of the most popular Keto channels on YouTube.
Keto Chicken Tenders Ingredients
1 pound chicken tenders or thigh meat, cut into strips
1 1/2 cup ground pork rinds, divided
1/3 cup almond flour
1 teaspoon garlic powder
1 teaspoon onion powder
1/4 teaspoon salt
1/4 teaspoon black pepper
¼ teaspoon pepper
1 egg
Keto Chicken Tenders Directions
Pat dry the chicken tenderloins with a paper towel to remove excess moisture. Season with salt and pepper. Then set aside.

In a shallow bowl or plate, mix together 1 cup pork panko, almond flour, garlic powder, onion powder, salt and pepper. To a separate bowl, add remaining 1/2 cup pork panko.

Ingredients

Almond flour
Pork panko
Garlic powder
Onion powder
Salt & pepper

Whisk together the egg with 2 tablespoons of water.

Add a couple of chicken tenders to the bowl with the almond flour, pork panko breading. Dust until coated.

Quick Tip
Can add breading to a bag for shake and bake chicken tender.

Dip each tender in the egg wash, then put back into the back into the bowl with almond flour and pork panko for another dusting of breading.

For extra, extra crispy chicken strips, do a final coating with egg wash and a dip in a bowl with ground pork rinds only.

Add in a single layer to an air fryer basket or tray. Spray the top of the chicken strips with oil. Bake at 350-360 for 8-12 minutes or until chicken strips have cooked all the way through.

Quick Tip
Cooking time will vary depending on air fryer make & model and the size of the chicken tender. This is the preferred method for cooking. The crispiest, juiciest keto chicken strips are made in an air fryer. Using an air fryer to cook these chicken strips creates a crispy outer crust and moist interior.

Fill a skillet with 2 cm of avocado oil and heat over medium heat. Once oil ripples as you turn the skillet, you are ready to add your chicken strips. Working in batches, add breaded chicken tenders to the hot oil and fry for 3-5 minutes on each side until chicken is cooked through. Remove and let sit on a plate with a paper towel.

Quick Tip
Shake the skillet after you first put the battered chicken tenders in the skillet. This will allow the hot oil to spill over the top and sides of the chicken strip creating a crispy crust.

Add breaded chicken tenders to a baking tray lined with foil or parchment paper. Coat the top of the chicken strips with spray oil to help keep the strips moist as they bake. Bake at 400 degrees for 15 to 20 minutes.