Keto Carnivore Waffle
by KetoFocus.com
The paffle is a carnivore version of the waffle. Containing only ingredients from an animal - egg, cheese, and pork rinds - the paffle will quickly become your favorite breakfast food on the carnivore diet.
Almost zero carb carnivore waffle recipe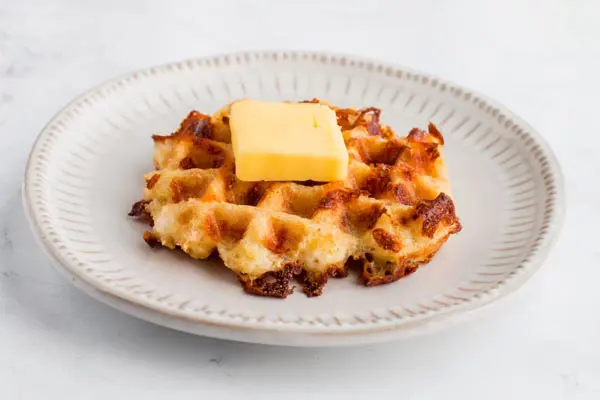 Paffles are a keto carnivore version of the waffle.
These almost zero carb waffles are made up of an egg, cheese and pork rinds.
They are called paffles for two reasons. These waffles contain pork rinds and they are high in protein too.
Paffles are an excellent breakfast option for those following a carnivore diet. If a carnivore gets tired of bacon and eggs in the morning, they can try a paffle. These paffles are delicious with a runny egg placed on top or slather in butter.
Keto Carnivore Waffle Recipe Video
Subscribe to the KetoFocus YouTube Channel
With 100s of videos and millions of views, Ketofocus is one of the most popular Keto channels on YouTube.
Keto Carnivore Waffle Ingredients
1 egg
½ cup ground pork rinds
⅓ cup mozzarella cheese
pinch of salt
Keto Carnivore Waffle Directions
Preheat waffle maker to medium high heat.

Whisk together egg, cheese, ground pork rinds, and salt.

Pour paffle mixture into the center of the waffle iron. Close the waffle maker and let cook for 3-5 minutes or until waffle is golden brown and set.

Remove paffle from the waffle maker and serve.