Chili Garlic Wings
by KetoFocus.com
Juicy, oven-baked chili garlic wings are slathered in a sticky, sweet and spicy sauce that's packed full of Asian inspired flavor.
These Asian chicken wings are for those who think wings should come with a side of napkins. Similar to my garlic parmesan wings or buffalo wings, these party wings are slathered in a delicious sweet and spicy sticky sauce that will have you licking your fingers before you reach for another one.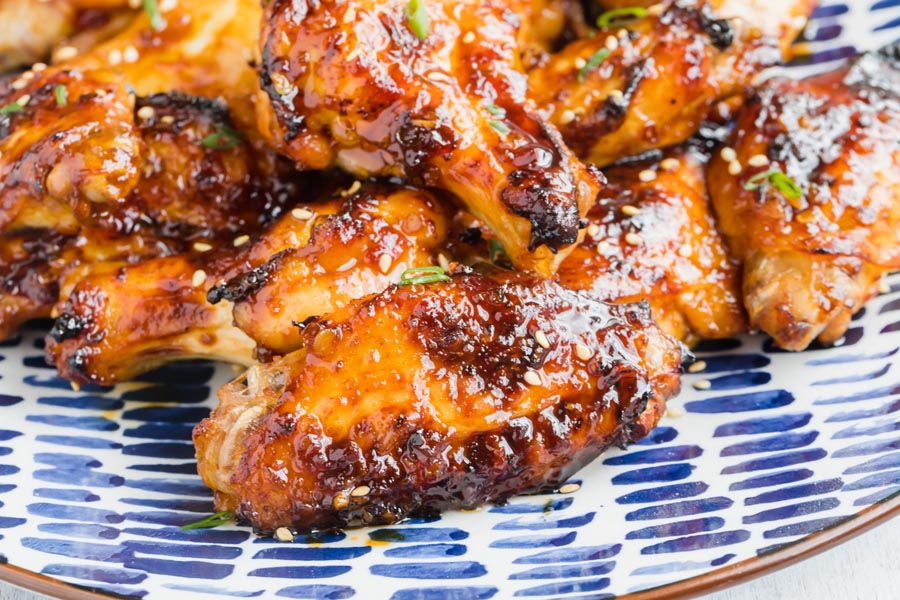 The magic of this recipe comes from the perfect blend of simple, easy-to-find ingredients. Using a combination of avocado oil, soy sauce, sugar-free honey (though regular honey works just as well if you don't mind the extra carbs), chili garlic sauce, fresh garlic, and a little ground ginger, you can create the perfect balance of sweet and spicy to cover these oven baked wings.
Party wings (aka drumettes and flats/wingettes) are marinated in this homemade sauce before baking. But to get ultimate flavor, the Asian chicken marinade is reduced down into a glaze that gets brushed all over the baked chicken for that sticky, finger-licking finish. A quick trip under the broiler will give them that irresistible caramelized finish, and a sprinkle of thinly sliced green onions and sesame seeds adds a touch of freshness and crunch.
Chili Garlic Wings Recipe Video
Subscribe to the KetoFocus YouTube Channel
With 100s of videos and millions of views, Ketofocus is one of the most popular Keto channels on YouTube.
Chili Garlic Wings Ingredients
⅓ cup avocado oil
⅓ cup soy sauce or tamari
⅓ cup sugar free honey, divided
¼ cup chili garlic sauce
4 cloves garlic, minced
1 teaspoon ground ginger
2 lb party chicken wings (drumette & flats)
Chili Garlic Wings Directions
In a large bowl, combine avocado oil, soy sauce, ¼ cup sugar free honey, chili garlic sauce, minced garlic and ginger powder. Reserve ¼ cup of the marinade to use for later.

Ingredients

⅓ cup avocado oil
⅓ cup soy sauce or tamari
¼ cup sugar free honey
¼ cup chili garlic sauce
4 cloves minced garlic
1 teaspoon ground ginger

Add wings to bowl with the chicken marinade. Toss the wings to coat. Cover with plastic wrap and refrigerate for 1-2 hours.

Preheat the oven to 400°F. Line a large baking sheet with aluminum foil and place a wire rack on top the foiled lined tray. Spray the wire rack with cooking spray. Evenly space the marinated wings on the wire rack. Bake at 400°F for 25 minutes. Flip wings, then return to the oven to bake for an additional 25-30 minutes or until cooked through.

Quick Tip
To air fry, evenly space wings in the air fryer basket and air fry at 400°F for 25-30 minutes.

Add the reserved marinade to a small saucepan along with remaining sugar free honey (about 1 tablespoon). Heat over medium heat. Bring to a boil then reduce heat and let simmer until thickened (3-5 minutes).

Ingredients

¼ cup reserved marinade
1 tablespoon sugar free honey

Once wings are done baking, remove the baking tray from the oven and brush chili garlic glaze all over the wings. Return to the oven but place under the broiler on the top rack and broil on high for 1-2 minutes to caramelize the sauce. Keep a close eye on the wings while broiling to make sure they don't burn.

Quick Tip
Garnish with sliced green onion and toasted sesame seeds if desired.