Air Fryer Chicken Legs
by KetoFocus.com
Who doesn't love some amazing, juicy, chicken legs for dinner? With the crispy skin and decadent flavor, they're a dish made in heaven. To make some easily yourself, try this air fryer chicken legs recipe.
Chicken legs are one of the most popular cuts of chicken – especially on the keto diet. I have many air fryer fried chicken recipes that I love, including air fryer chicken wings, air fryer tenders, and these air fryer chicken drumsticks.
The dark meat in drumsticks is flavorful and higher in fat content compared to white meat. The best chicken drumsticks are made in the air fryer. Air fryer chicken legs have crispy skin, are wonderfully juicy and are simple to prepare. It's easy to make chicken legs that fit all those points in your air fryer – our recipe is quick and easy while allowing you to make only the juiciest chicken with the crispiest skin.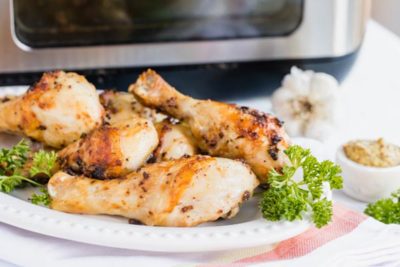 How to air fry drumsticks?
To air fry chicken drumsticks, you want to:
Season or marinate your raw chicken first. For the recipe, we cover our chicken legs in a buttery, garlic Dijon marinade for several hours.
Preheat the appliance to 390˚F for five minutes.
Place your chicken in the air fryer basket, ensuring that no two pieces are touching each other.
Put the basket into the air fryer for 9-10 minutes, then take it out to flip your drumsticks.
Once flipped, cook for the final 9-10 minutes, before serving the crispy chicken.
Alternatively to the Dijon marinade, you could apply our keto BBQ sauce before and after cooking.
Air Fryer Chicken Legs Recipe Video
Subscribe to the KetoFocus YouTube Channel
With 100s of videos and millions of views, Ketofocus is one of the most popular Keto channels on YouTube.
Air Fryer Chicken Legs Ingredients
6 - 8 chicken legs
salt and pepper
2 tablespoons olive oil
2 tablespoons dijon mustard
2 tablespoons minced shallot
1 tablespoon butter, softened or melted
2 teaspoon garlic
1 teaspoon salt
1/4 cup chopped parsley
Air Fryer
Air Fryer Chicken Legs Directions
Pat each chicken leg dry with a paper towel. Season all sides with salt and pepper.

In a small bowl, combine olive oil, mustard, shallot, butter, garlic salt and parsley.

Rub buttery Dijon mixture all over chicken legs. Refrigerate for 8-24 hours.

To air fry, preheat air fryer for 5 minutes at 390 degrees. Place chicken legs in air fryer tray or basket leaving space between each leg to allow for air circulation. Air fry for 20 minutes, turning legs over halfway through.