Asian Cucumber Salad
by KetoFocus.com
A viral TikTok recipe using fresh cucumber and a tasty Asian inspired marinade
Fresh cucumber cut like an accordion and marinated in a spicy, sesame soy dressing, this Asian cucumber salad recipe will have you hooked! Enjoy over cauliflower rice or on it's own!
Nutrition Facts
Serving Size:
1/2 cucumber
Another recipe that went viral on social media is the Chinese Cucumber Salad. Just like the baked feta pasta and dalgona coffee, the marinated cucumber salad recipe blew up on TikTok.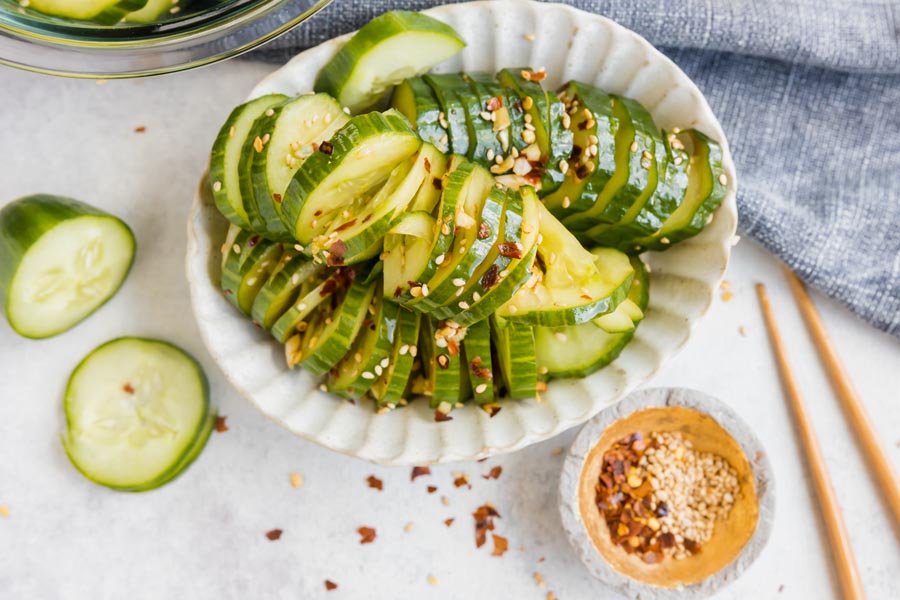 Besides being unique, these viral TikTok recipes are so popular because they are simple to make. This Asian cucumber salad is no exception. It's just cucumber mixed with an easy marinade made up of ingredients most of us already have in our pantries. The only thing special about this salad recipe is the way you cut the cucumbers.
The cucumbers (can use any type – Japanese cucumbers, Persian cucumbers, waxed) are cut at different angles to produce a slinky like vegetable! (Although cucumber is technically a fruit since it has seeds!)
Pair this unique cucumber side dish with sushi or a poke bowl for a complete meal!
How to make the Asian cucumber salad from Tiktok
Cut the ends off of two cucumbers.
Place one cucumber in between two chopsticks. The chopsticks will prevent you from slicing all the way through the cucumber.
First cut down the length of the cucumber at a 45 degree angle.
Flip cucumber over and cut straight or perpendicular to the cucumber. Place in a bowl.
To the bowl, add in minced garlic, soy sauce, sesame oil, rice vinegar, toasted sesame seeds, red pepper flakes and sweetener.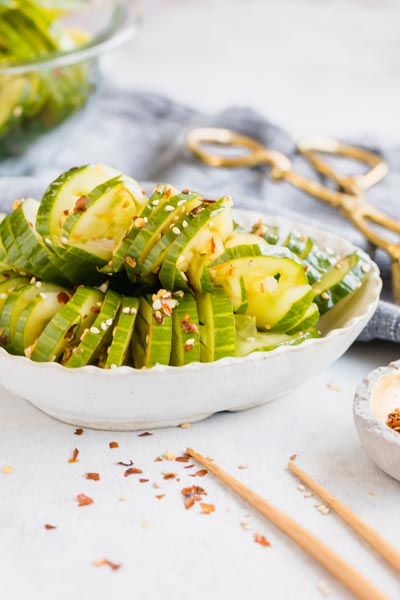 Key ingredients & swaps
Cucumber – You can use a regular waxy cucumber or a thin skinned cucumber like Persian, Turkish or English cucumber for this recipe. Small pickling cucumbers work too. English cucumbers have smaller seeds. Keep the skin on the cucumber since they are filled with nutrition like fiber and beta-carotene.
Garlic – Mince up fresh garlic, use garlic paste or jarred minced garlic.
Soy sauce – For a gluten free option, use tamari sauce. If you have an aversion to soy, use liquid aminos or coconut aminos instead.
Sesame oil – Use sesame oil or toasted sesame seed oil. This adds flavor to the Asian marinade.
Rice vinegar – To bright up the marinade, every good marinade needs an acid. Can substitute the rice wine vinegar with apple cider vinegar or white vinegar.
Sesame seeds – Use toasted sesame seeds or untoasted sesames. Black sesame seeds would work too!
Red pepper flakes – Crushed red pepper flakes gives a hint of spice and heat to our salad.
Brown sugar substitute – For a hint of sweet, brown sugar substitute is used. Can also substitute with sugar free maple syrup.
Chinese Cucumber Salad Recipe Video
Subscribe to the KetoFocus YouTube Channel
With 100s of videos and millions of views, Ketofocus is one of the most popular Keto channels on YouTube.
Asian Cucumber Salad Ingredients
Asian Cucumber Salad Directions
Cut the ends off each cucumber. Place a cucumber in between a pair of chopsticks. This will keep you from slicing all the way through the cucumber. Cut at a 45 degree angle about 0.5 - 0.75 cm spacing along the cucumber.

Flip the cucumber over. This time make 90 degree cuts (or perpendicular to the cucumber). Line up each cut with the previous cut mark to make the perfect slinky shape. Repeat with other cucumber. Place cucumbers in a small bowl.

To the bowl, add minced garlic, soy sauce, sesame oil, rice vinegar, sesame seeds, red pepper flakes and brown sugar substitute. Mix until coated. Refrigerate for 1 hour or overnight to allow the marinade to soak into the cucumber.