Spicy Maple Keto Pork Belly Bites
by KetoFocus.com
A keto pork belly recipe that is an absolute crowd pleaser!
Keto pork belly bites are dusted with a spicy seasoning, tossed in the air fryer to get juicy and crispy then coated with a sweet sugar-free maple syrup for the ultimate crowd-favorite low carb appetizer.
These keto pork belly bites will disappear quickly if you serve them at your next tailgating event, holiday party or family gathering. They are the perfect balance of spice with sweet and fat from the juicy flavorful pork belly and wonderful treat on the keto diet.
The air fryer allow for crispy pork belly on the outside, but juicy meat on the inside.
Serve these bite sized keto appetizers alone or with your other low carb favorites!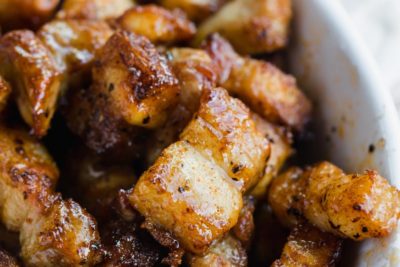 Pork belly is a cut from the underside or 'belly' of a pig.
It is a boneless cut of pork that is served fresh and not cured or smoked. It is succulent and is rich in flavor thanks to all the fat.
Some pork belly cuts include the skin which can crisp more than the meatier part of the pork belly.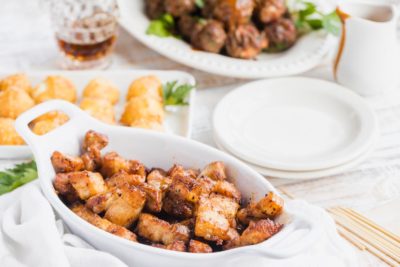 Keto Pork Belly Bites Recipe Video
Subscribe to the KetoFocus YouTube Channel
With 100s of videos and millions of views, Ketofocus is one of the most popular Keto channels on YouTube.
Crispy Pork Belly Ingredients
1 pound pork belly, rinsed and patted dry
3/4 teaspoon chili powder
1/2 teaspoon salt
1/4 teaspoon paprika
1/4 teaspoon black pepper
1/4 teaspoon cayenne pepper
1/4 teaspoon garlic powder
2 - 4 tablespoons ChocZero Maple Syrup
Spicy Maple Keto Pork Belly Bites Directions
Preheat the air fryer to 400 degrees for about 4 minutes

Cut pork belly into 1/2 inch chunks and place in a bowl. An alternative to chunks would be pork belly slices.

Sprinkle in seasonings. Toss to coat evenly.

Prep the pork bell for cooking

Add pork belly to air fryer tray or basket in an even layer. Air fry at 400 degrees for 6 - 8 minutes. May need to cook longer if you chunks are larger.

Pour on sugar-free maple syrup. Mix to evenly coat.