Keto Macaroni Salad
by KetoFocus.com
Keto Macaroni salad is a creamy version of the classic mac salad with shirataki noodles and crisp vegetables dressed in a light mayonnaise dressing. The perfect side dish for your next potluck, BBQ or picnic gathering.
This keto macaroni salad is a go to side dish especially in the summer. It's the perfect potluck recipe – just like my antipasto salad and keto berry trifle, it gets gobbled up by everyone – even those who aren't keto!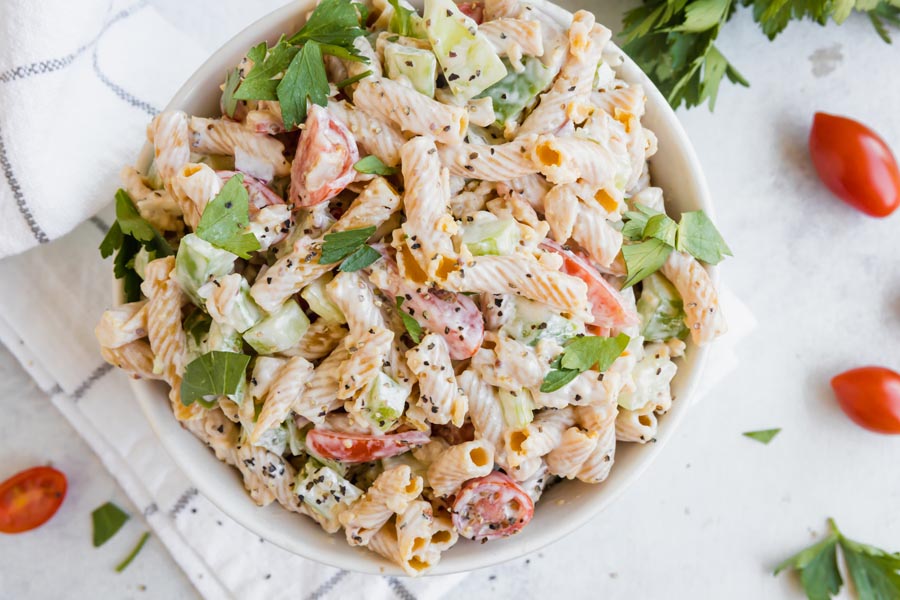 Use your favorite keto noodles to create this easy pasta salad recipe. Combine crunchy vegetables like bell pepper, onion and celery along with a creamy, tangy dressing that soaks into the noodles for delicious flavor in every bite!
How to make keto macaroni salad
Prepare your keto pasta according to package instructions.
Mix the salad dressing. Let sit to give the flavors time to come together while you work on the vegetables.
Chop, dice and mince the vegetables.
Toss to coat. Combine the pasta with the vegetables and salad dressing.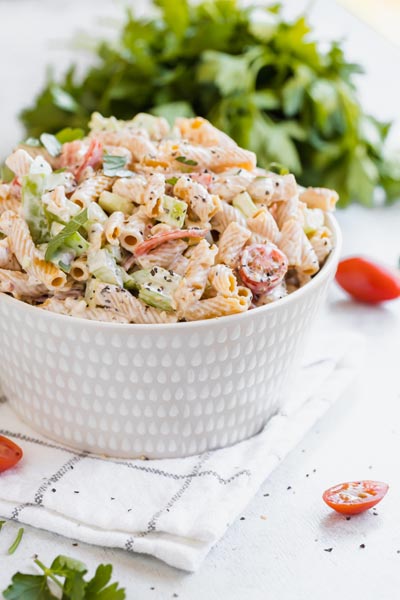 Key ingredients
Keto pasta noodles – From lupin pasta to shirataki noodles there are many different keto noodle options to choose from. I give a few of my favorites down below.
Bell Pepper – Adds crunch and color to your macaroni salad
Red onion – For crunch, color and a little zing
Mayonnaise based dressing – Apple cider vinegar, dijon mustard, lemon and monkfruit are added to mayonnaise and sour cream to produce the tangy and sweet dressing perfect for the mac salad.
Keto Macaroni Salad Recipe Video
Subscribe to the KetoFocus YouTube Channel
With 100s of videos and millions of views, Ketofocus is one of the most popular Keto channels on YouTube.
Keto Macaroni Salad Ingredients
8 oz keto macaroni noodles
½ cup mayonnaise
3 tablespoon sour cream
1 ½ tablespoon apple cider vinegar
1 tablespoon dijon mustard
Juice from ½ lemon
1 ½ teaspoon sugar free sweetener
1 cup diced celery
¼ cup diced red onion
¼ cup diced green bell pepper
¼ cup quartered grape tomatoes
1 tablespoon minced parsley
Keto Macaroni Salad Directions
Prepare noodles according to the package directions. Let cool.

In a small bowl, mix together mayonnaise, sour cream, apple cider vinegar, mustard, salt, sweetener, and lemon juice. Set aside.

In a large bowl, add noodles, celery, red onion, bell pepper, tomatoes and parsley. Mix in the dressing. Stir to combine.