Poke Bowl
by KetoFocus.com
If you're a sushi fan, then you'll love this poke bowl! Not only will the flavors rival your favorite sashimi, but it's a breeze to toss together so that you can have a fresh and flavorful lunch or dinner any day of the week that doesn't involve seaweed.
Traditional poke bowls typically use ahi tuna, short grain white rice and sweetened marinades. If you've want the flavors of your favorite sushi or sashimi but don't want to mess with seaweed or sushi rice, just make this poke bowl recipe instead!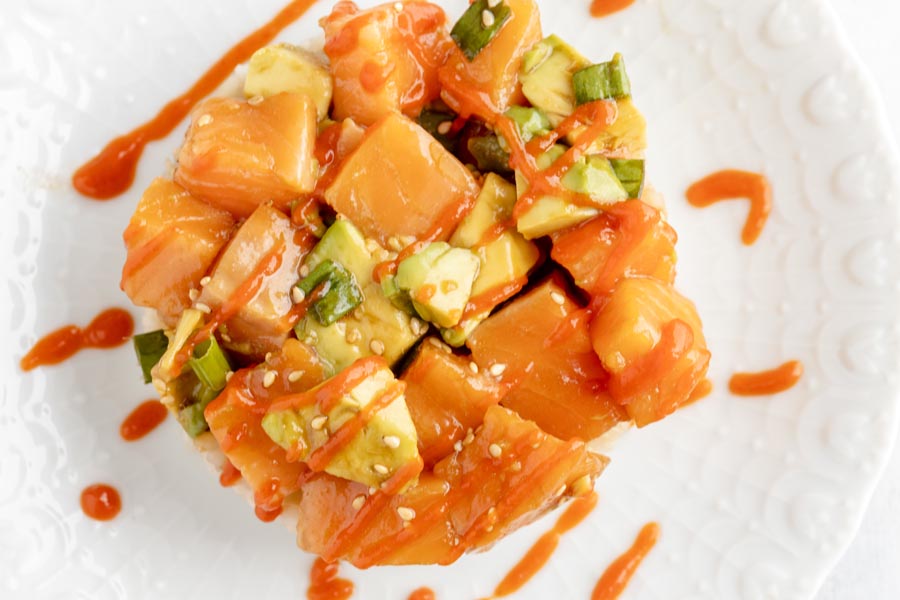 Don't enjoy raw fish and would rather have it cooked?  Try these salmon cucumber bites with smoked salmon or make a cucumber wrapped sushi roll!
This poke bowl works for a healthy lifestyle by swapping short grain rice for cauliflower rice and avoiding sugars in the marinade. But don't worry, even without added sugar, this marinade adds unbelievable freshness and flavor to the salmon. Plus, it's allergy-friendly: no eggs, nuts, or dairy! Top the cauliflower rice and salmon with avocado and a drizzle of siracha for a filling and healthy meal. Serve this with a side of cucumber salad. 
Pat the salmon dry with a paper towel. Cut the fish into small bite-sized chunks and add them to a medium bowl.
Add lemon juice, green onions, tamari or soy sauce, sesame oil, avocado, and sesame seeds to the fish. Gently stir to combine.
Serve over cauliflower rice and top with sriracha if you want a little heat.
Pro Tip: Don't marinade the salmon for longer than a couple of minutes or the lemon juice may start to cook it. You'll end up with ceviche instead of sushi!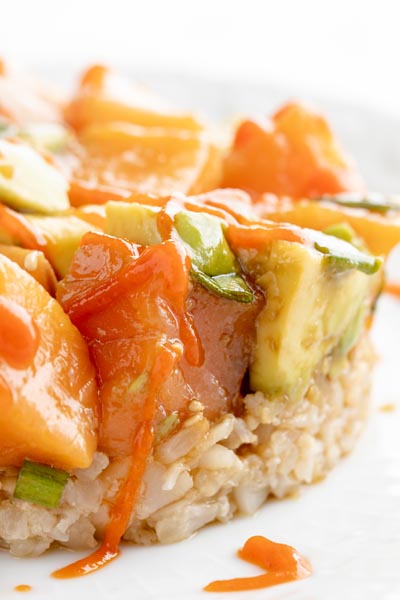 Key ingredients
Sushi-grade salmon:  You can't use just any fish for this poke bowl, as not all fish has been taken care of in a way that makes it safe to eat raw. While the term "sushi-grade" isn't regulated, stores and distributors use this label on their highest quality fish that they deem safe to eat raw.
There is a little extra protection for salmon. Since salmon often contains parasites, sushi-grade salmon must have been frozen to kill any parasites that could have been in the fish. I get my sushi-grade salmon here and love the quality and flavor. You can also use sushi-grade tuna if you prefer that to salmon.
Toasted sesame oil:  Don't swap another oil for sesame oil. While this does help add a little fat to the marinade, it mostly adds an amazingly complex nutty flavor that makes this poke bowl pop.
Soy sauce:  Soy sauce or tamari can be used in the marinade, but if you want to make this recipe soy-free, use liquid amnios instead.
Avocado:  Adds a serving of heart-healthy and filling fats to this poke bowl. The contrast in textures from the salmon to the rice to the avocado adds a fun experience to this dish.
Cauliflower rice:  Short grain rice is often used in sushi and poke bowls but this salmon poke bowl recipe uses cauliflower rice as your base.
Subscribe to the KetoFocus YouTube Channel
With 100s of videos and millions of views, Ketofocus is one of the most popular Keto channels on YouTube.
Poke Bowl Ingredients
4 oz sushi grade salmon
1/2 teaspoon lemon juice
2 tablespoons sliced green onions
2 tablespoons soy sauce or tamari
1 teaspoon sesame oil
1/2 avocado, diced
1/2 teaspoon toasted sesame seeds
1/2 cup cooked cauliflower rice
sriracha sauce, optional
biscuit ring, optional
Poke Bowl Directions
Rinse and pat salmon dry with a paper towel. Cut salmon in bite sized chunks and add to a large bowl.

Quick Tip
Steps for thawing frozen salmon are below

To the bowl with the salmon, add lemon juice, sliced green onion, soy sauce or tamari, toasted sesame seed oil, diced avocado and sesame seeds. Stir to combine.

Add cauliflower rice to a bowl or the center of a biscuit cutter. Top fresh salmon poke on the cooked rice. Remove mold and top with sriracha if using.