Keto Sushi
by KetoFocus.com
When you feel like sushi but want to skip the rice and extra carbs, make keto sushi at home using this simple recipe that uses a suitable replacement to sticky rice that will have you doing a double taste.
Skip the expensive sushi restaurant and make Keto California Rolls at home with this easy recipe you can make in less than 30 minutes.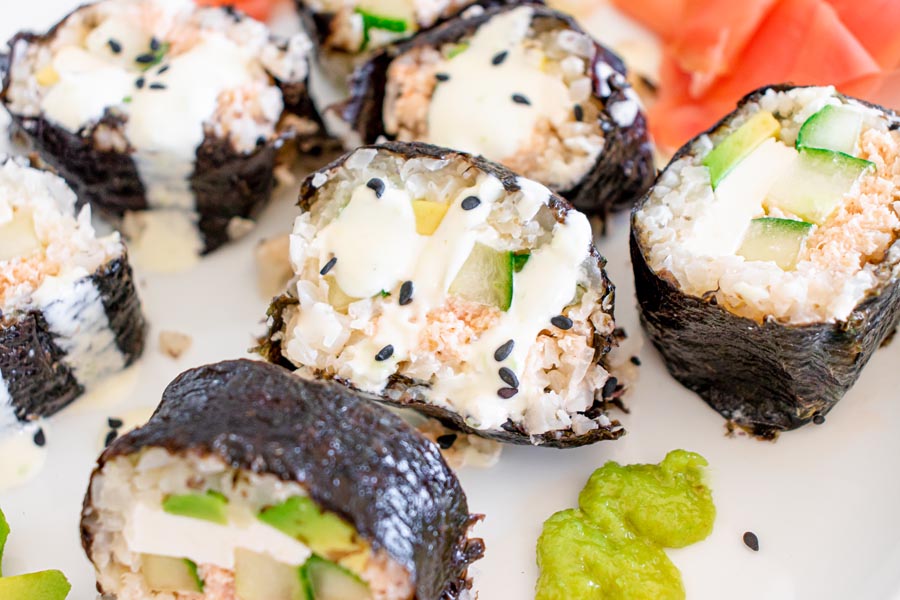 Unless you're a fan of sashimi, traditional sushi rolls are not keto approved since they contain rice. Furthermore, California rolls use imitation crab meat which is loaded with starch and sugar. To get around this, you could resort to make a cucumber roll without rice or you can use this keto sushi recipe as your guide when those sushi cravings hits.
To make Keto California Rolls, or any custom keto sushi roll, we will use cauliflower rice instead. Before you turn your nose up at riced cauliflower, know that a few special ingredients are added to the rice to make it taste more authentic without the pungent cauliflower smell. Some keto sushi recipes suggest omitting the rice all together, but I love the texture and flavor the rice provides.
Instead of imitation crab, a simple low carb solution is to used canned crab meat. Fresh crab could be used if available but canned crab is easily assessible and more cost effective.
FEATURED COMMENT
"Thanks, so far this is the best keto style sushi I have come across. I've missed going out for sushi, although I do get the occasional salad based poke bowl with spicy yellowtail and salmon. Yummy all around."
➥ from YouTube subscriber @4449John
Prepare sushi cauliflower rice. Prepare riced cauliflower by sautéing it in a dry skillet to remove as much of the moisture as possible. This is key to removing the stinky cauliflower aroma from the rice. Then stir in rice wine vinegar and toasted sesame seed oil.
For super sticky cauliflower rice, you could stir in the cream cheese into the rice, but this is only necessary if you are trying to make an inside out roll where the rice is on the outside of the nori seaweed.
Prepare the crab meat by combining drain canned crab with mayonnaise and sriracha sauce.
Layer your sushi roll on a prepared bamboo mat.
Starting from the end with all of the sushi ingredients, roll tightly.
Before cutting your sushi, pop in the freezer for 5 minutes to firm up. Cut rolls with a wet, sharp knife.
Equipment needs
Nori sheets – The seaweed sheets that will encase your keto sushi roll. You can find them in the international cooking section of your grocery store.
Bamboo sushi mat – This helps to tightly roll the sushi.
Plastic wrap or parchment paper
Soy sauce and wasabi – You can still dip your sushi rolls in these keto friendly ingredients. An alternative to soy sauce would be be use tamari or liquid aminos.
Subscribe to the KetoFocus YouTube Channel
With 100s of videos and millions of views, Ketofocus is one of the most popular Keto channels on YouTube.
Keto Sushi Ingredients
10 oz frozen riced cauliflower
3 tablespoons toasted sesame oil
1 teaspoon rice wine vinegar
4.25 oz canned crab meat, drained
4 tablespoons mayonnaise, divided
2 teaspoons sriracha sauce
1 tablespoon water
2 teaspoons wasabi paste
nori seaweed sheets
1/4 cucumber, julienne
1/2 avocado, sliced
4 oz cream cheese
Keto Sushi Directions
Prepare the riced cauliflower according to the package instructions. Empty cauliflower into a bowl. Add in rice wine vinegar and sesame oil. Stir to combine. Set aside to cool down a bit. You want the rice to be slightly warm when rolling the sushi. This will help it roll together and seal the ingredients together. For sticky cauliflower rice, mix cream cheese in with cauliflower rice; however, this is not necessary and the sushi will still roll successfully without it.

Ingredients

10 oz cauliflower rice, frozen
3 tablespoons sesame oil
1 teaspoon rice wine vinegar

Quick Tip
For best results, add frozen cauliflower rice to a dry skillet and sauté until all the moisture is cooked out. This will greatly decrease any cauliflower flavor or smell.

In a separate bowl, combine the crab meat, 2 tablespoons mayonnaise and sriracha sauce. Mix until combined. Set aside.

Ingredients

4.25 oz canned crab meat
2 tablespoons mayonnaise
2 teaspoons sriracha sauce

Make a spicy topping - wasabi cream

To make the wasabi cream, mix 2 tablespoons mayonnaise, water and wasabi paste together in a separate bowl and set aside.

Ingredients

2 tablespoons mayonnaise
1 tablespoon water
2 teaspoons wasabi paste

To assemble your roll, place a sheet of Nori shiny side down on a bamboo mat. Spread out the cauliflower rice in a thin layer all the way to the side edges of the nori sheet, but leave a small gap on the top and bottom of the sheet to allow for sealing the edges together.

Line the julienned cucumber, avocado slices, and cream cheese in the row towards the bottom of the sheet. Top with a small layer of the crab mixture.

Ingredients

1/4 cucumber, julienne
1/2 avocado, sliced
4 oz cream cheese

Wet your fingers with water and spread a thin layer of water on the top of the Nori sheet. This will help seal the end of the sushi roll together after you finished rolling. Start rolling the bottom of the mat ¼ of the way and squeeze to press together, then unroll the mat. Repeat the process until the roll comes together. Squeeze together when done.

Using a sharp knife, cut the roll into 1 inch pieces. Dip the knife blade in water to keep it from sticking to your sushi. Drizzle the California rolls with wasabi cream. Serve immediately.

Quick Tip
Refrigerating or freezing the roll for 5 minutes will help with cutting.